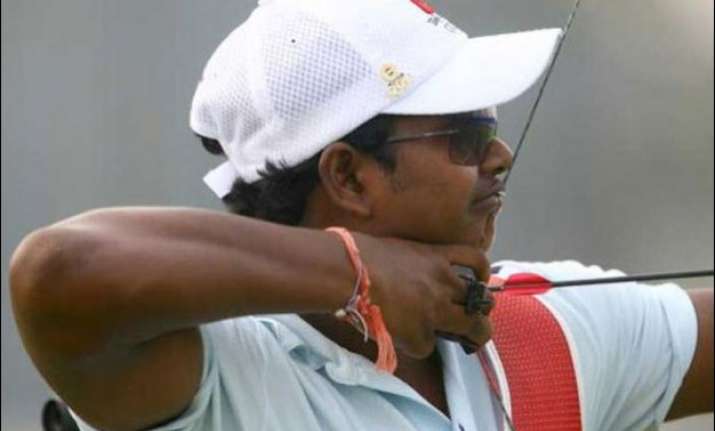 Copenhagen:  Mangal Singh Champia stole the show with back-to-back wins to keep his Olympic hopes alive as he along with Deepika Kumari and Laxmirani Majhi advanced to the last 32 round of recurve section in the World Archery Championships here on Wednesday.
Having failed to earn an Olympic quota berth as a team with fellow archers, Champia has an opportunity to make Rio cut as an individual entry if he wins his last-32 round where he faces Alvarino Garcia Miguel of Spain tomorrow.
Laxmirani was the star of the show in the women's section as she won successive matches including against two-time Olympic medalist and former world No 1 Valeeva Natalia of Italy en route to the last 32.
Deepika on the other hand got a bye into the last 32 by virtue of finishing eighth in the qualification round.
As his teammates Jayanta Talukdar and Rahul Banerjee crashed out in the opening round, Champia hogged the limelight as the 59th seeded Indian ousted Rezende Xavier Daniel and Mussayev Sanzhar by identical 7-3 margins in the first and second rounds respectively.
Down 0-2 against the Brzilian Rezende, Champia won successive sets before drawing the fourth as he sealed the issue from being 5-3.
Against Mussayev of Kazakhstan, Champia was 4-0 and held on to his lead to win 7-3.
As the individual round got underway, the women's trio of Deepika, Laxmirani and Rimil Buriuly who clinched the Olympic berths yesterday, also had some disappointment after Rimil made a first round exit.
Former world number Deepika got a bye into last 32 where she will face 25th ranked Qi Yuhong of China.
Laxmirani put up a gritty show en route to setting up a last 32 clash against Wu Jiaxin of China. The lowly 52nd ranked Indian first overcame a stiff challenge from Frenchwoman Thomas Solenne as they were locked 5-5 before the Indian won 9-8 in the tiebreaker.
Laxmirani had a similar script in the second round before she clinched the issue in tiebreaker 9-7 against two-time Olympic bronze medalist Valeeva Natalia of Italy.