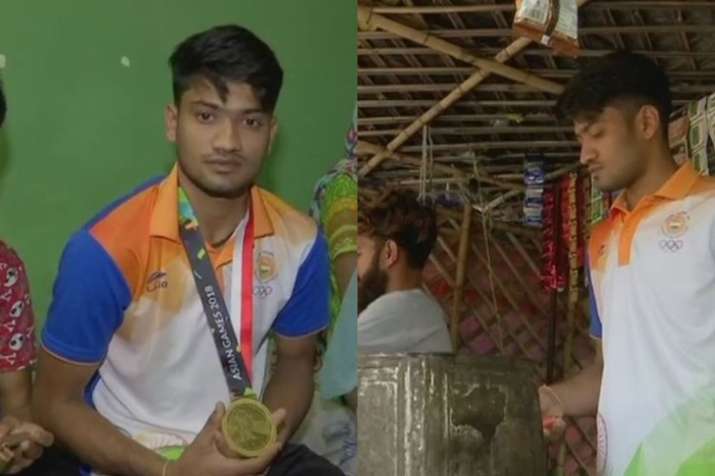 While India claimed their best ever medal haul in the recently concluded 2018 Asian Games at Jakarta, life has resumed back to normality as all the athletes and 69 medal winners returned home as heroes. Well, only a few were gifted the recognition. 
While India prides itself on the 'big names' that bring laurels every once in a while, here's a member of the Indian contingent who won the bronze medal in a sport known as Sepak Takraw. 
Meet Harish Kumar, a young lad who hails from the capital of the nation and his profession is selling tea. Despite bagging bronze in the men's team sepak takraw, he is compelled to sell tea to support his family. He used to drive auto-rickshaws in Delhi, a way of making a living and surviving in the metropolitan city. 
Before the Asian Games, Harish used to train at the Indira Gandhi Stadium in Delhi as well as perform his duties of a driver. 
Harish's perseverance and determination saw him in the squad and his vigour brought India a historic bronze medal in the Asian Games. 
Harish Kumar, a member of bronze winning Sepak Takraw team at #AsianGames sells tea at a shop that is run by his family, he says,"since there are more people at home and less people to earn, I sell tea. I want a job now so that I can support my family." #Delhi pic.twitter.com/YQw19bqFtC

— ANI (@ANI) September 6, 2018
"I have many family members and there is a very meagre source of income. I help my father at the tea shop to support my family. I dedicate four hours every day between 2 to 6 for my practice. For my future, I want to get a good job to support my family," Harish told ANI while at his small tea shop.
Harish has a very intriguing and fascinating tale on what made him take up this sport and how he was brought in front of the world to play a sport, which is not known to many. 
If you've seen footballers perform over-head kicks and screamer for volleys, here's a similar sport, in a smaller area, which is played by the foot and the ball cannot touch the ground. And if you're a fan of over-head kicks, here's the sport you must watch. 
"I started playing this sport from 2011. My coach Hemraj brought me into this sport. We also used to play with a tyre when my coach Hemraj spotted me and introduced me to the Sports Authority of India (SAI). Thereafter I started receiving monthly funds and kits. I practice every day and will keep on doing it to bring more laurels for my country".
His father is an auto driver and we have a tea stall which is run with Harish's help. We are poor but we never let that demotivate him in his journey. I would like to thank the govt and his coach for their support: Indira Devi, Mother of Harish Kumar #Delhi pic.twitter.com/DtKmSavCVf

— ANI (@ANI) September 6, 2018
A proud mother of Harish, Indira Devi also spoke to ANI, discussing the adversities and hardships under which she supported her son to take up the sport. 
"I have brought up my kids with a lot of struggle. His father is an auto-driver and we have a small tea shop. My son also works at a tea shop to assist his father. I am very thankful to the government for providing food and accommodation to my son. I am very thankful to his coach Hemraj who has supported my kid to achieve this accomplishment," said Harish's mother.
Harish's brother, Dhawan, expressed his acknowledgement and indebtedness for the government and requested a job for his brother, a career which can support the family.
We are very poor&I would like to congratulate him for making the country proud. Our coach Hemraj Sir spotted us&called us to play. SAI had also helped us a lot. I would like to thank CM Kejriwal for announcing Rs50 lakh&Sports Ministry for giving Rs5 lakh: Brother of Harish Kumar pic.twitter.com/egdPmb1FZB

— ANI (@ANI) September 6, 2018
"There were times when we did not have money to pay our rent. His coach Hemraj took him under his training and admitted him to the stadium. Later Sports Authority of India supported us by giving monthly finances and sports kits... and I also urge the government to give my brother a government job so that he can support our family," said Harish's brother Dhawan. 
Delhi's Chief Minister Arvind Kejriwal announced a hike in the cash prize which saw Rs. 1 crore to the gold medallists, while the silver and bronze medallists were respectively given Rs. 75 Lakhs and Rs. 50 Lakhs. The Sports Authority of India also gave an added Rs. 5 Lakhs.
India returned with a best-ever medal haul in the continental games, claiming 15 gold, 24 silver and 30 bronze medals at Jakarta.