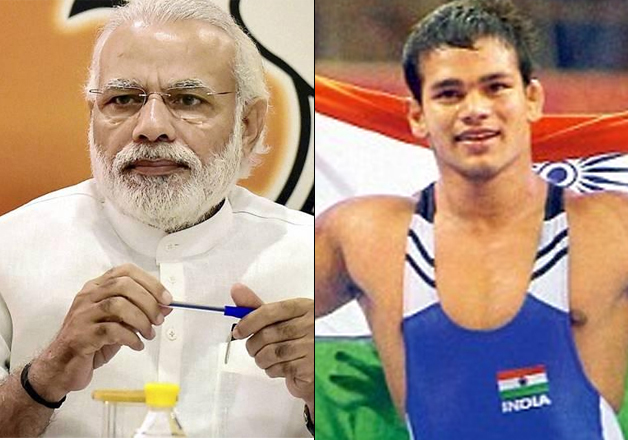 Sensing the impact the doping controversy surrounding Indian wrestler Narsingh Yadav could have on India's image internationally, Prime Minister Narendra Modi today said that the truth in the controversy must come out and asked the Wrestling Federation of India to put forth a clear picture in the entire matter.
In a meeting with WFI President Brij Bhushan Sharan Singh, PM Modi sought all the details about the ongoing controversy. Answering the queries raised by the Prime Minister, WFI provided him a copy of complaint by the athlete.
Meanwhile, in the latest development, Sports Minister Vijay Goel stated Narsingh has been suspended provisionally and will be allowed to go to Rio if national anti-doping disciplinary panel (NADA) exonerates him.
WFI stands in support of its player
Throwing its weight behind Narsingh Yadav, WFI said the grappler is a victim of conspiracy.
Doubting foul play, WFI president Brij Bhushan Sharan Singh said the federation believes Narisingh is innocent and will support him to the hilt.
"The federation believes Narsingh is innocent. Injustice has happened with him and we are hopeful he will get justice. I will try my level best to help Narsingh get out of this problem so that he can represent India in 74kg+ in the Olympics and win a medal," Brij Bhushan Sharan Singh told a press conference today.
The WFI chief said Narsingh has a clean record and would be foolish to jeopardise his career by taking a banned substance just days before the Olympics.
"It is our duty to protect Narsingh and all our wrestlers. Narsingh's record is clean. He is someone who never shied away from dope tests," Brij Bhushan said.
Narsingh demands CBI probe in scandal
In a defiant move, Narsingh Yadav today demanded a CBI probe into the doping scandal which has jeopardised his participation in the Olympics, alleging that a conspiracy has been hatched to scuttle his Rio dream.
"There should be a CBI inquiry. The whole episode relating to my selection had gone to court. There was a CID report that my life is under threat. All this makes it clear, I have been framed so that I am stopped from going to Rio," Narsingh said.
Narsingh has returned positive for a banned substance barely 10 days before the start of the Olympics and that has cast a doubt on his participation in the Rio Games.
The 26-year-old, who would be pleading innocence in front of the NADA panel that is scheduled to meet on Wednesday, is hopeful that he would be able to convince the committee members that the entire episode is a conspiracy.
Interestingly, Narsingh was selected for the Rio Olympics in controversial circumstances as double Olympic medallist Sushil Kumar had also staked his claim to represent the country in 74kg freestyle and demanded a trial.