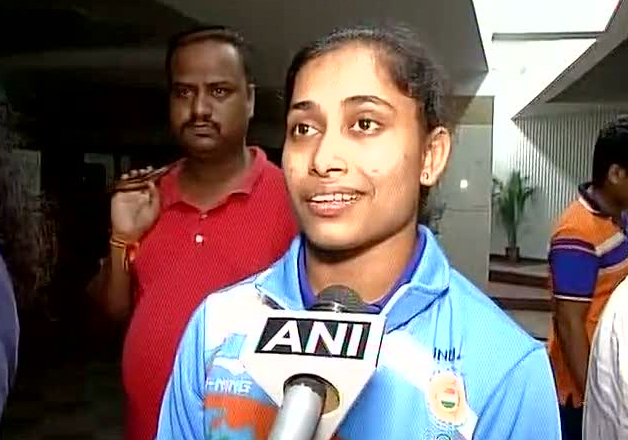 Gymnast Dipa Karmakar, who missed the bronze medal at the Rio Olympics but won hearts across the world, returned to India this morning.
Dipa Karmakar, who finished fourth in women's vault final at the 2016 Rio Olympics, received a grand welcome after she arrived here. Dipa was swarmed by journalists and fans when she was exiting the IGI Airport.
On her return, Karmakar said, "I knew I could reach 7th, 8th position but had never even thought of a fourth place. I'm very happy."
"Agar medal milta toh shayad ye award leke mai bahaut khush hoti (If I had won the medal, I would have been very happy with this award)," the athlete, who has been nominated for the Khel Ratna, said.
"I have this satisfaction that people would now feel that India can win a medal in Gymnastics. Tokyo Olympics is my next target," she said, brimming with confidence.  
Her coach Bisheshwar Nandi shared the sentiment, saying, "I am happy. Would have been even more happy if we had got a medal."
Dipa's success story began in 2002 when she became the champion in the North-East games at the age of nine. From 2007 onwards she consistently won junior and senior national titles capped by a Bronze medal winning performance in the Commonwealth Games in 2014.
Between 2010 and 2014, Dipa won five National Championships, winning five gold medals each at two national games in Jharkhand and Kerala. Since 2007, Dipa bagged 77 medals, including 67 gold, in various state, national and international championships.
With her now famous Produnova vault, Dipa is currently one of the most admired gymnasts in the globe.
After failing to make it within last three in the vault final last Sunday, Dipa told reporters over phone from Rio, "I apologise for not being able to fulfil the dream and expectations of the people of my country and my tiny state which supported me always. I only promise that in the next Olympic in Tokyo, I would bring laurel for you. This is my promise and I would work hard for it."