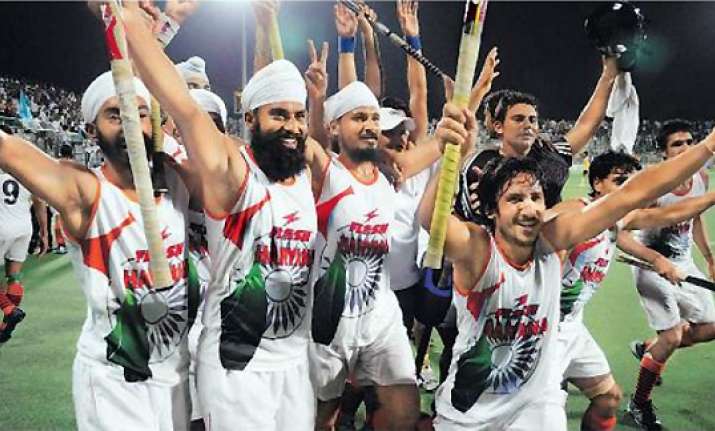 Bhopal, Jun 20 : Haryana defeated Karnataka 2-1 to take the Senior National Hockey title here on Sunday.
 
Sandeep Singh and Mandeep Antil scored for Haryana, while drag-flicker VR Raghunath scored the lone goal for Karnataka. 

Sandeep Singh came into this match with ten goals under his kitty. But Raghunath, who had 11, got first opportunity to increase his and the team's lead when Karnataka XI won their first short corner in the 12th minute.
 
 But the stopper, Vikram Kanth, failed to stop the ball neatly and the opportunity went a begging.
 
Just two minutes later, Haryana won a short corner and Sandeep Singh, determined and confident as ever, flicked the ball to the top-left corner of the goalkeeper, leaving him with no chance.
 
Sandeep had drawn parity with Raghunath while Haryana had taken the lead.

Both teams kept attacking and a few chances also came by, but lack of enterprise and presence of mind ensured the scoreboard remained 1-0, in Haryana's favour.
 
After a few ooh's and aah's, spectators got interested yet again when the action shifted to the Haryana D - Karnataka XI had earned their second short corner in the 28th minute. Raghunath was all geared up but this time Irshad Ali, who was stopping the ball, made a mess of things.

But six minutes after the change of ends, Karnataka XI earned their third short corner and finally Raghunath got a chance to use his flick and he restored parity.

After the goal, two short corners for Haryana and one for Karnataka XI failed to change the scoreboard, until Antil's magical pivot in the D sent a couple of Karnataka XI defenders on the wrong side and put Antil in a scoring position. He slammed home through a reverse hit that Chhetri could do nothing about.

In an earlier match, played for the third position, Punjab beat Jharkahnd 4-1 to get the third position.