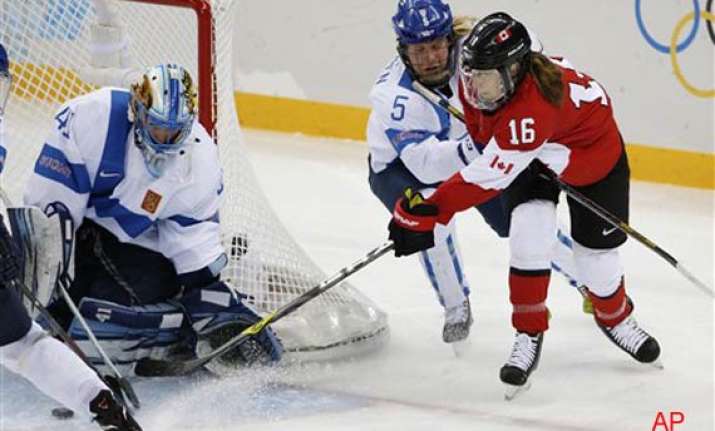 Sochi: Megan Agosta scored to break a scoreless tie in the third period, and Jayna Hefford and Rebecca Johnston added insurance goals to lead Canada to a 3-0 victory over Finland on Monday in the Olympic women's hockey tournament.
Shannon Szabados made 14 saves to help Canada remain unbeaten and clinch a spot in the semifinals.   
Two-time NCAA champion Noora Raty made 39 saves for Finland, but the University of Minnesota graduate couldn't stop Agosta's slapshot on a power play with 10:33 left in the game. Hefford made it 2-0 with 7:36 left, and then Finland got a power play but could not beat Szabados.   
Canada took a 3-0 lead when Marie-Philip Poulin brought the puck in on a 2-on-1 and passed it to Johnston just outside the crease for the easy tip-in.   
The victory left both Canada and the United States unbeaten heading into Wednesday's round-robin finale between the only countries to have ever won the Olympic or world championship gold medal.   
By losing 3-1 to the United States and playing Canada to a scoreless tie for almost 50 minutes, Finland cemented its standing as the third-best team in the world and the favorite to win the bronze medal at the Sochi Games. The Finns play their preliminary round finale on Wednesday against Switzerland, which was not competitive in either game against the North Americans.