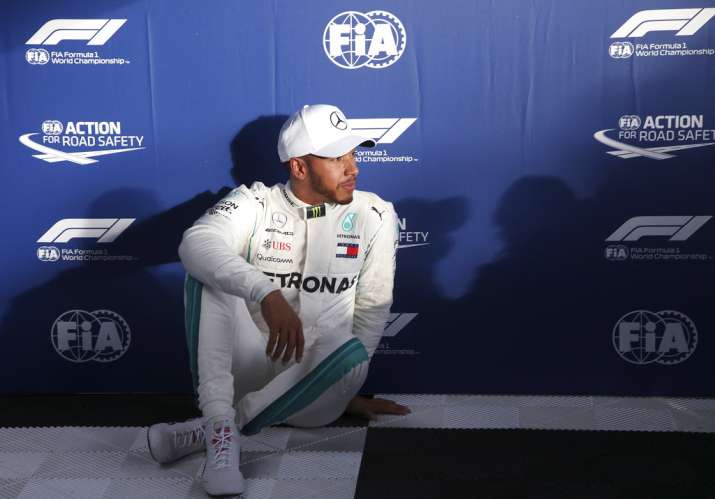 Mercedes driver Lewis Hamilton set a blistering time to take pole position at the Australian Grand Prix on Saturday for a record seventh time, outpacing his nearest rival by a massive 0.664 seconds.
The defending Formula One champion set a time of 1 minute, 21.164 seconds in qualifying at Albert Park circuit, breaking a tie with Ayrton Senna for most poles at the Australian GP. It's the 73rd pole of Hamilton's career.
Ferrari's Kimi Raikkonen finished second with a lap of 1:21.828, with teammate Sebastian Vettel and Red Bull's Max Verstappen and Daniel Ricciardo rounding out the top five.
The four drivers behind Hamilton were separated by just over 0.3 second, setting up the promise of an extremely competitive race on Sunday between Mercedes, Ferrari and Red Bull.
It wasn't all good news for Mercedes, however, as Hamilton's teammate, Valtteri Bottas, crashed at the start of the final qualifying session and will start in 10th place.
Bottas briefly veered off the track going into Turn 2 and then lost his traction, sliding into a wall at high speed. The crash did serious damage to the right side of the car, tearing off both tires and scattering the track with debris. The Finn, however, walked away without any injuries.
The crash is a blow for Bottas, who had finished last season in third place in the driver's standings and was looking to challenge Hamilton from the start this year.
Kevin Magnussen and Romain Grosjean of Haas took sixth and seventh places, respectively, followed by Niko Hulkenberg and Carlos Sainz of Renault in eighth and ninth.
Ricciardo will start in 8th position on the grid, however, after being assessed a three-place grid penalty for driving too fast under red-flag conditions during Friday's second practice session. That will move Magnussen, Grosjean and Hulkenberg up one space on the grid.
Both McLaren drivers, Fernando Alonso and Stoffel Vandoorne, failed to qualify for the final qualifying session and will start in 11th and 12th positions, respectively.
It's not the best start for McLaren's new partnership with Renault after ditching the Honda-made engines the team had been using for the past three years.