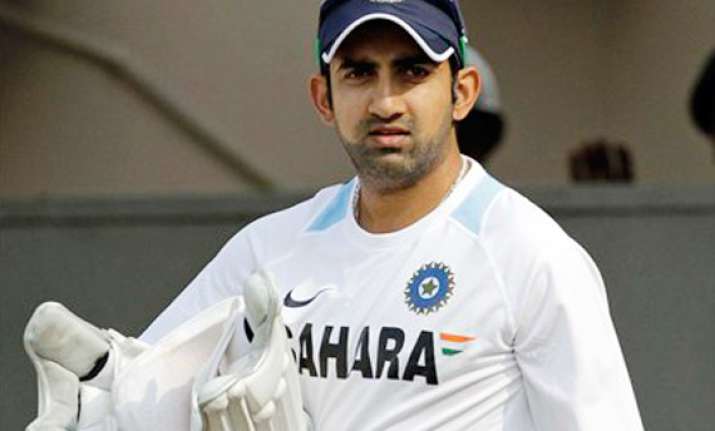 Mumbai, Nov 24: The entire country might be waiting for Sachin Tendulkar's 100th international ton when he resumes his innings tomorrow but the Indian opener Gautam Gambhir today said that the team is fully focused on the end result.

Tendulkar inched closer to his 100th international century with an unbeaten 67 as India gave a strong reply to the huge West Indian total of 590 on day three of the third and final Test here today.

"The team members are not thinking much about Sachin's 100th hundred, but what the team requires at this moment. The West Indies have set a very big target and it is important to save the follow on and in that course if Sachin gets his 100th ton it's good," said Gambhir.

"The bigger goal is to think about the team and what we want to achieve out of this Test match, which is more important than Sachin's 100th century," he added.

At stumps, India were 281 for three in 80 overs -- 110 runs short of saving the follow-on and were 309 runs adrift of the tourists' massive tally on a wicket that was playing true but showing some signs of wear and tear.

Gambhir felt that the Indians, with spinners Pragyan Ojha and Ravichandran Ashwin in their ranks, can press for a win if they can get 500-550 tomorrow.

"We are still 109 runs (actually 110) short of saving the follow on. We all know things change quickly in India. We still feel there is a chance of winning. We have two quality spinners and once it starts spinning, it would be very difficult for the opposition to handle the spin and bounce.

"If we can get 500 or 550 on this wicket, we can try and produce a result from this Test," he insisted.

The Delhi lad, who seemed to have missed edging the ball when he went for an overhead pull off Ravi Rampaul but was given out, said the controversial Decision Review System might have saved him today but can hamper his progress on some other occasion.