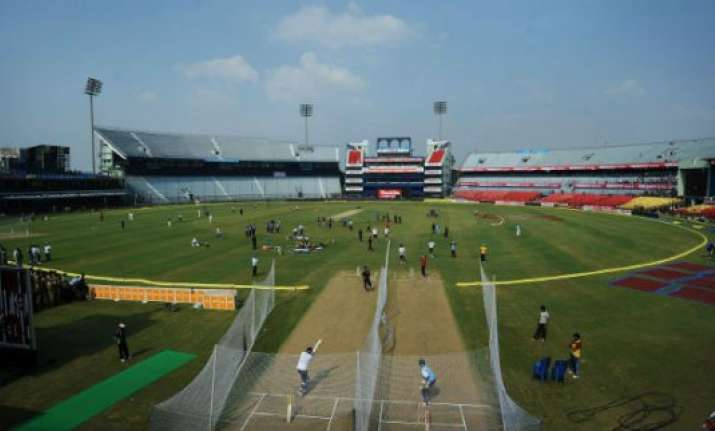 Cuttack: The Police today suggested Odisha Cricket Association (OCA) to add new infrastructures at the Barabati Stadium from safety point of view as preparations are in full swing for the Twenty20 match between India and the West Indies here on Monday.
Commissioner of Police R K Sharma alongwith senior police officers friday visited Barabati Stadium and took stock of the arrangements, especially in connection with the security matters.
"They visited all the gates and stands and advised the OCA Authority to develop some new infrastructures for safety in security point of view," an OCA official said.
Meanwhile, Asish Bhowmick, Member, BCCI Pich and Ground Committee (East Zone) visited the Stadium and oversaw the ground and pitch preparation.
"Bhowmick expressed his satisfaction over the progress of the work," OCA secretary Asirbad Behera said.
As decided earlier by the OCA, Punjab National Bank would sale the tickets to office bearers, Council Members, Affiliated Units, Associate Members and quota tickets of the BCCI affiliated units and Sponsors on October 17 and October 18 from 10 am to 6 pm at OCA Conference Hall. Barabati Stadium, here.
"Ticket will be sold to general public through separate counters by the Bank from October 19 to October 21 from 9 am to 5 pm. One person will be allowed to purchase only two tickets (whatever may be the denomination)," Behera said.
He said the close circuit camera would be installed in each ticket counter.
While the price of ticket for Corporate Box is fixed at Rs 6,000, the tickets for Gallery No. 4 A/C Box will be sold at a price of Rs 4,000. New Pavilion price is Rs 3,000, Corporate Gallery ticket will be available at Rs. 2,000 and price of Special Enclosure is Rs. 1,500.
The ticket price for gallery number 1,2,3 and 4 is Rs 500 while the price of gallery number 6 and 7 is Rs 400.