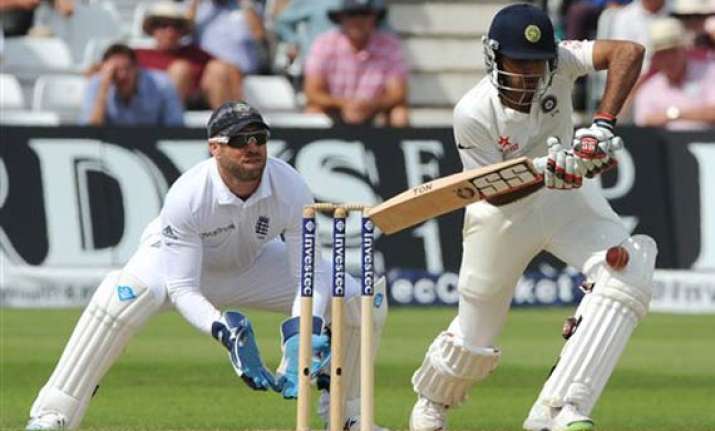 NOTTINGHAM, England: Scoreboard after India were bowled out for 457 in their first innings in the third and last session of Day 2 in the first Test against England at Trent Bridge here Thursday.
The last wicket to fall was Bhuvneshwar Kumar (58), who was caught by Joe Root off the bowling of Moeen Ali. Mohammed Shami remained unbeaten on 51.
Pacer James Anderson clinched three wickets while Stuart Broad and Ben Stokes took two each.
England got an early strike with skipper Alastair Cook got out in 4th over bowled by Shami. After 17 overs England were 43/1, 414 runs behind.
India 1st Innings(Overnight 259-4)
Murali Vijay lbw b Anderson      146 
Shikhar Dhawan c Prior b Anderson        12   
Cheteshwar Pujara c Bell b Anderson        38   
Virat Kohli c Bell b Broad           1   
Ajinkya Rahane c Cook b Plunkett           32   
Mahendra Singh Dhoni run out (Anderson)          82   
Ravindra Jadeja c Prior b Stokes           25   
Stuart Binny c Root b Stokes              1   
Bhuvneshwar Kumar c Root b Ali            58   
Ishant Sharma b Broad           1   
Mohammed Shami not out 51   
Extras: (1b, 8lb, 1w) 10   
TOTAL: (all out) 457   
Overs: 161   
Fall of wickets: 1-33, 2-106, 3-107, 4-178, 5-304, 6-344, 7-345, 8-345, 9-346.   
Bowling: James Anderson 38-10-123-3, Stuart Broad 33-13-53-2, Ben Stokes 34-6-81-2, Liam Plunkett 37-8-88-1, Moeen Ali 18-0-97-1, Joe Root 1-0-6-0.   
England 1st Innings
  

Alastair Cook b Shami 5  
Sam Robson not out 20  
Gary Ballance not out 15  
Extras (1w, 2nb) 3  
TOTAL: (for 1 wicket) 43  
Overs: 17  
Still to bat: Ian Bell, Joe Root, Moeen Ali, Matt Prior, Ben Stokes, Stuart Broad, Liam Plunkett, James Anderson.  
Fall of wickets: 1-9.  
Bowling: Bhuvneshwar Kumar 4-0-12-0, Mohammed Shami 5-1-15-1, Ishant Sharma 5-1-12-0, Ravindra Jadeja 2-1-3-0, Stuart Binny 1-0-1-0. 
Toss: India.