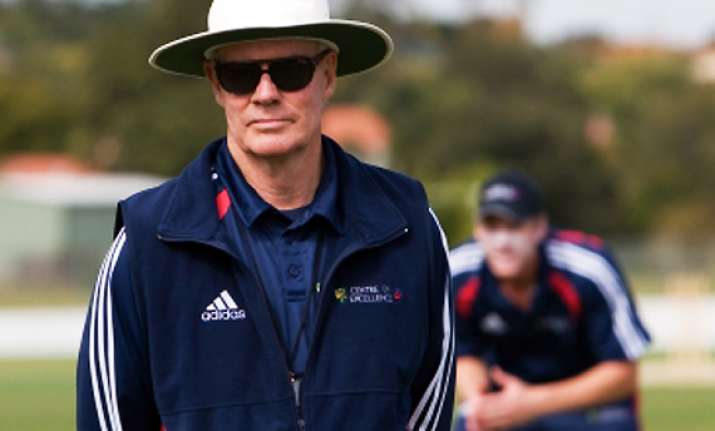 Melbourne, Dec 24: Former India coach Greg Chappell has declined to address the Australian cricket team ahead of the Test series against Mahendra Singh Dhoni's men despite being invited by current coach Mickey Arthur.

"I have not spoken to the Australian team. I will not speak to the Australian team," Chappell told PTI ahead of the opening Test in Melbourne.

Chappell seemed miffed with media reports that he had agreed to join the Australian camp, and also with former India captain Sourav Ganguly's comments in which he had termed the Aussie as "mad" and his reported inclusion in the Australian camp as "good news for the Indian team".

Arthur had asked Chappell, who worked with the Indians between 2005-2007, to share his knowledge with his wards.

The Australian media reported that Chappell had agreed to join the team during the batting camp in Melbourne on December 20-22.

Tongues started wagging when Mike Hussey, during a media interaction yesterday, commented that so far no interaction with Chappell had taken place.

The former Australian captain has now confirmed that he had never agreed to address the Australian team.

"I don't know from where the news came," Chappell said.

Arthur wanted his struggling wards to benefit from Chappell's wisdom, a move which was welcomed by Troy Cooley, head of Australia's centre of excellence.

"Greg knows all about India's weaknesses and would be helping Australia do everything they can to beat India this summer. He will be able to help out our bowlers. He knows what the strengths and weaknesses are of the Indian batsmen.

I am not sure if it's only about revealing Sachin Tendulkar's weaknesses, he must be aware of the rest of the pack too. After all, this is a very experienced Indian side with a lot of giants in it," Cooley said.