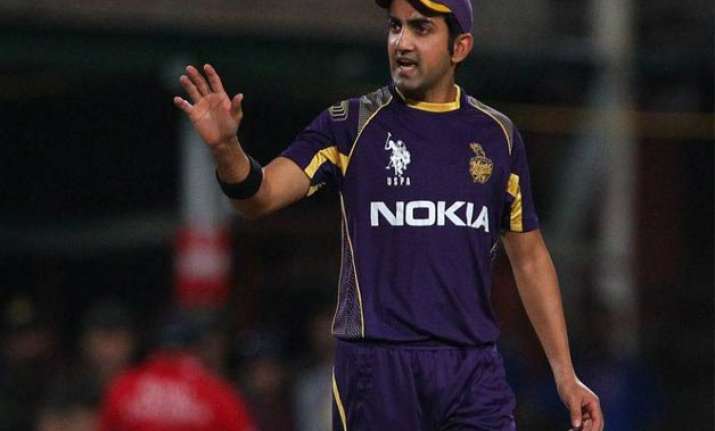 Mumbai:  Praising IPL for improving young cricketers' temperament to play under pressure, Kolkata Knight Riders captain Gautam Gambhir today also emphasised that performance in first class cricket should be the yardstick to judge them rather than the cash-rich and glamorous T20 event.
"I feel if you really want to see a young talent, you should see him in first class cricket and your first class cricket should be given more importance than IPL," said Gambhir at a promotional event of the IPL franchise.
"People in India consider IPL bigger than first class cricket but I think the first class cricket of any country should be far more important than the IPL because in the T20 format it is very difficult to judge a young batsman," said the 33-year-old cricketer.
"I am a strong believer that you should not be judging a young talent on a T20 format. It is going to be unfair because there are going to be times when there are not going to be enough opportunities for a young talent.
"Obviously, IPL is a great opportunity. When you play at this stage and under this pressure you end up getting your temperament right. Your mental toughness can be tested in this tournament, but your actual technique can be tested only in first class cricket.
"First class cricket should be given more importance than the IPL. That is where your actual talent will come from," he concluded.
Turning his attention to the ongoing IPL season, Gambhir said he had expected it to be a close race for the play-off because of the quality of all teams.
"We knew that the competition would be very tough because so many good teams are taking part in the tournament.
Till this stage we don't know who will make it to the play-offs which is a good sign for the tournament," the left-handed opener said. Gambhir welcomed the return to the franchise of former Bangladesh captain and all-rounder Shakib Al Hasan, who had travelled back home to play in the Test and ODI series against Pakistan.
"Shakib coming back has been a big boost for us because he can contribute with both bat and ball," said Gambhir about the player who turned in a superb bowling stint, albeit for a losing cause, for KKR against Mumbai Indians yesterday.
Gambhir maintained that KKR's entire focus will be on tomorrow's make or break game against Rajasthan Royals and not on other teams' results.
"Our destiny is in our hands tomorrow and we don't need to look at any other team or any other results because if we win, we make it to the play-offs. Hope we will win tomorrow and finish in the top two," he said.