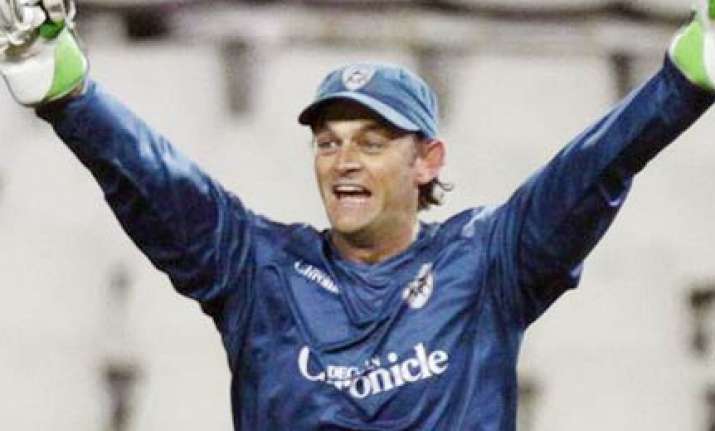 Chennai, Oct 11:Deccan Chargers skipper Adam Gilchrist today expressed "shock" at the BCCI's decision to scrap IPL franchisees Rajasthan Royals and Kings XI Punjab but hoped the fourth edition of the Twenty20 event will not be held without them.  
"I am as shocked as anyone (else is) and did'nt expect it. While I don't know why (BCCI scrapped the teams) but I hope there is some scope for discussion and compromise," he told a press conference here.  
The wicketkeeper-batsman said IPL had a positive effect on cricket, especially from an Indian perspective as many players got a chance to play.  
"Hopefully there is some sort of discussion so that they (the teams) come back," he said.  
Replying to a question on VVS Laxman's performance in the Mohali Test, Gilchrist said Laxman is a match-winner and "when the chips are down, he comes through."  
He showered praises on Sachin Tendulkar for completing 14000 test runs during the second test against Australia and attributed the little master's success to his appetite for success and commitment.  
"He is the best batsman I have played with," Gilchrist said.  
On a tour of Indian cities as the brand ambassador of the University of Wollongong in Australia, the Deccan Chargers skipper said the alleged racist attacks on Indian students were "disappointing" and Australians did not approve such acts.  
"The government has done a lot with education providers on security to foreign students," he said.  
Gilchrist described as "disappointing and embarrassing" the recent incident involving some top police personnel in Victoria for their alleged racist e-mails in connection with the electrocution of an Indian student.  
He said disciplinary action had been initiated against them and added that such incidents were "not indication of what Australians are." PTI