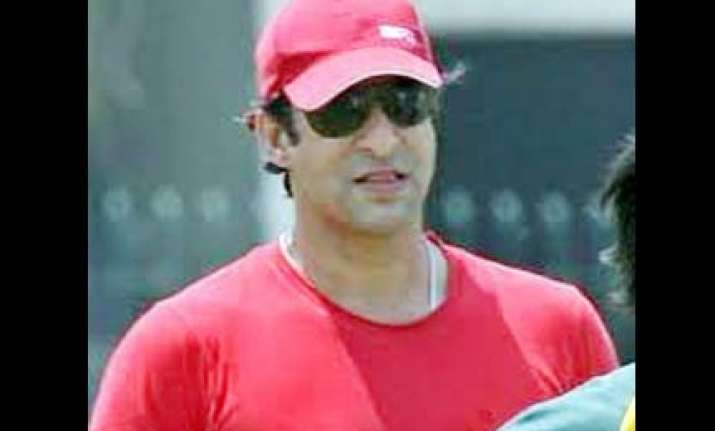 New Delhi: Former Pakistan captain Wasim Akram feels apart from Sachin Tendulkar's tremendous form the just-concluded Test series between India and Sri Lanka turned out to be a rather "dull" affair due to placid tracks.
Akram was especially disappointed with the way the fast bowlers were hammered during the three-match series in the island nation.
"Fast bowlers got murdered and it was not fun at all, believe me. The 1-1 draw is a fair result but it has to be said that apart from two or three brilliant performances, it was a dull series," Akram told 'ESPN-STAR'.
But the former left-arm pacer praised Tendulkar for his performance in the series, during which he also became the most capped Test player in the world.
"Sachin was tremendous in the series. He scored those runs (at third Test) in the hour of need. Also, his double ton in the second game at the SSC, that helped India save the Test, was one of the highlights of the series," Akram said.
"(VVS) Laxman got an amazing hundred under pressure, India were struggling at 62 for four and his contribution went a long way towards the successful Indian chase. Experience is very important in Test cricket and Laxman executed it by staying right there till the end," he added.
Akram was felt a strong batting line-up gave India the decisive edge in the series.
"India have got a very strong batting attack with Rahul Dravid and Sachin coming in at three and four, Laxman comes at five,
Suresh Raina
at six and Mahendra Singh Dhoni at seven. So this experienced line-up augers well for them," he said.
Besides, Akram said dashing opener Virender Sehwag once again redefined aggressive batting in the series.
"Sehwag is a phenomenal player. It does not matter whether he is playing Twenty20s or ODIs or Tests, he never changes his game and that's where his strength lies. He has such strong and quick reflexes.. He judges the line and length of the ball to perfection and plays positive attacking strokes," he said.
"He has almost single-handedly changed the approach of an opening batsman. Instead of the conventional thinking that openers have to weather the new-ball storm, Sehwag takes to the attack and forces the bowlers on the backfoot," he added.