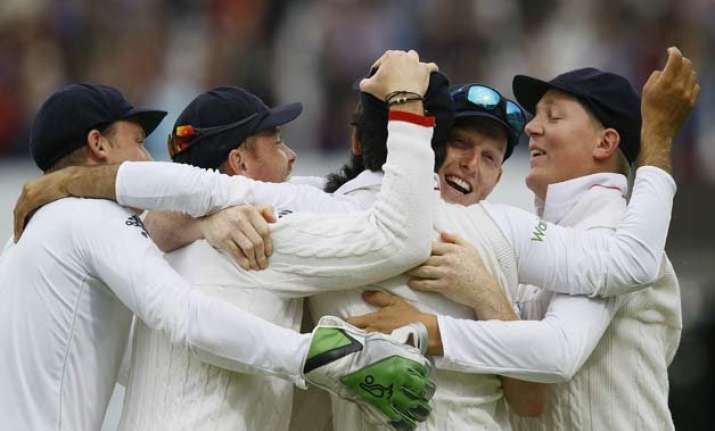 It was only a week ago that the England cricket team was in a state of turmoil, with no coach, no real identity and seemingly no chance of winning the Ashes this summer.
All that changed in five days of absorbing, aggressive test cricket that lifted the gloom hanging over the national XI and brought the English public back on side. Even the incessant chat about Kevin Pietersen has reduced — and that's no mean feat.
England's 124-run win over New Zealand, completed Monday toward the end of a dramatic fifth day at Lord's, was followed a day later by confirmation that Trevor Bayliss — a highly respected Australian — had been hired as head coach.
It means momentum is behind the England squad heading into the second and final match of the series, starting Friday in Leeds.
The motivation for England's players will be more than just about clinching the series. They will also be wanting to make an impression on Bayliss ahead of the upcoming five-test Ashes series against Australia, which marks the start of his tenure.
With captain Alastair Cook back in the runs, a new star in the making in allrounder Ben Stokes, the impressive integration of newcomer Mark Wood as a third seamer and an attacking mentality that is coursing through the team, England is in confident mood.
New Zealand has a couple of fresh injury problems but knows it did little wrong at Lord's, making a major contribution to one of the most exhilarating test matches of recent years. The tourists took 20 wickets and scored almost 750 runs, yet still lost by more than 100 runs.
Here are some more things to know about the second test at Headingley:
___
MILESTONES LOOMING
Cook and Jimmy Anderson are within reach of notable milestones heading into the match
Opening batsman Cook, who scored 162 in the second innings at Lord's, needs another 31 runs to overtake Graham Gooch as England's all-time record run scorer in tests.
Paceman Anderson is one wicket short of becoming the first Englishman to reach 400 in tests.
___
BLACK CAPS APPROACH
New Zealand captain Brendon McCullum was criticized by some pundits for being too aggressive in his approach to field placings at Lord's, which may have allowed England to get off the hook at critical moments in the test.
So, will he consider reining in his attacking impulses at Headingley? Not likely. It was the kind of game plan that helped New Zealand reach the final of the recent World Cup in Australia.
"That doesn't work for us," McCullum said. "For a long time we had that kind of mentality which doesn't serve us anywhere near (as well) as an aggressive mindset which we take into games. Once you remain true to that mindset,that gives you the greatest opportunity.
"You've got to make sure you're authentic to that style of play, whether you're under pressure or not."
___
TEAM NEWS
New Zealand has fitness concerns over allrounder Corey Anderson (back) and wicketkeeper B.J. Watling (knee).
Watling is only rated as a 50-50 chance for the second test after sustaining a knee injury on the opening day at Lord's, preventing him from keeping wicket for the remainder of the match.
Anderson only bowled three overs in the second innings because of his back problem.
Luke Ronchi, who is uncapped in tests, could replace Watling behind the stumps.
___
SUBLIME STOKES
England loves a good allrounder. In New Zealand-born Stokes, it may have found another player in the Ian Botham or Andrew Flintoff mold.
Stokes was voted player of the match after hitting 92 in the first innings and 101 off 85 balls in the second for the fastest test century at Lord's. He also chipped in with three wickets on the last day.
"He is at the start of his career and an exciting prospect," England teammate Joe Root said. "I have known him since I was around 13 years old and he has always been similar in how he approaches the game."