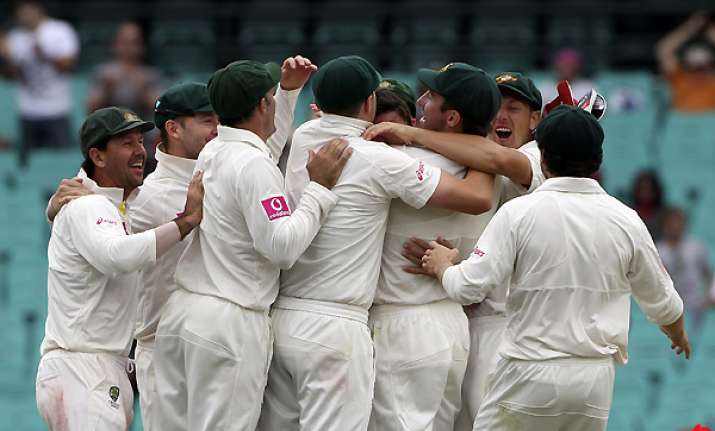 Sydney, Jan 6: Michael Clark dismissed Sachin Tendulkar to spark an Indian collapse a day after scoring a triple century as Australia won the second test by an innings and 68 runs on the fourth day Friday to take a 2-0 series lead.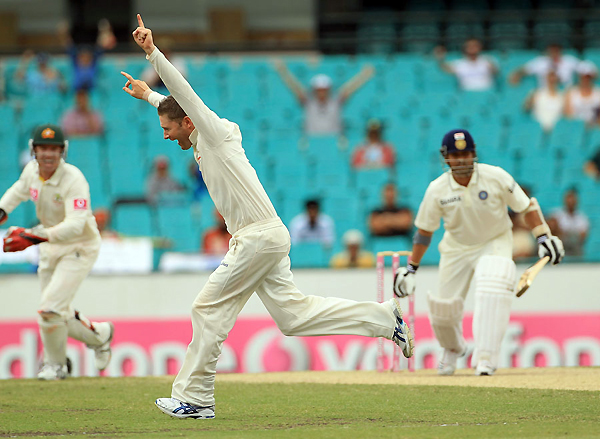 After man-of-the-match Clarke claimed the key wicket of Tendulkar for 80 shortly after lunch, Australia went on to take five wickets in the middle session.

Australia eventually bowled India out for 400 in its second innings shortly after tea to take an iron grip on the four-match series.
"Getting Tendulkar out was a fluke I'd say. Nice to make some runs and most importantly, what a great victory on a really flat wicket," Clarke said. "India played really well so a lot of credit has to go to our bowlers out there today."

Ben Hilfenhaus took his second five-wicket haul from two watches with Australia-best figures of 5-106, while Peter Siddle took 2-81.
"I think they've done really well, especially throughout this test match," India captain Mahendra Singh Dhoni said. "It was quite a good test match from the Australia side."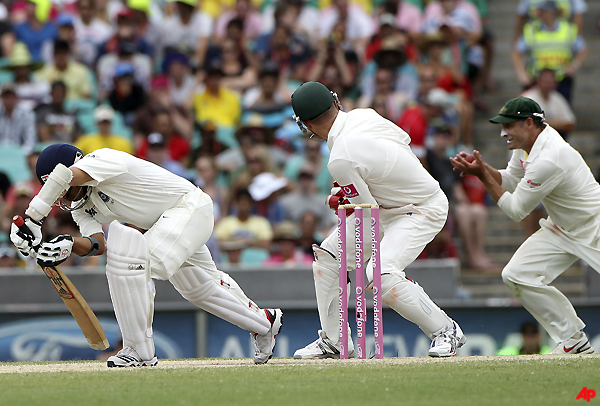 Tendulkar fell tantalizingly close to a 100th international century until Australia captain and part time offspinner Clarke managed to remove the Indian batting great to prolong his quest for at least another week.

Tendulkar was caught by Hussey after Clarke (1-22) found the outside edge of the "Little Master's" bat which deflected off wicketkeeper Brad Haddin's shoulder to Hussey at first slip.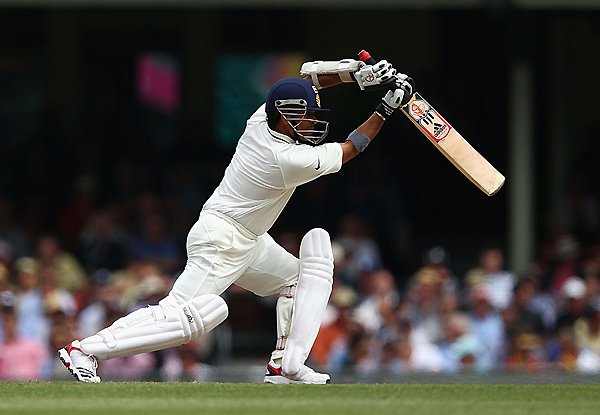 Tendulkar had been in fine touch throughout the first session and reached his 50 off 89 balls midway through the morning with a clip down to fine leg and appeared to be on target to score the milestone century that has eluded for 21 innings since the cricket World Cup in March last year.

Tendulkar's next chance to reach the milestone will be during the third test at Perth starting Jan. 13.

The removal Tendulkar sparked the collapse of the Indian middle order, with four wickets falling for just 15 runs.
"We knew getting to the new ball was the key for us, it was about trying to contain runs from the 70th to the 80th over," Clarke said. "If could manage to get a wicket that was a bonus, and fortunately I managed to spin one, which was a miracle for me."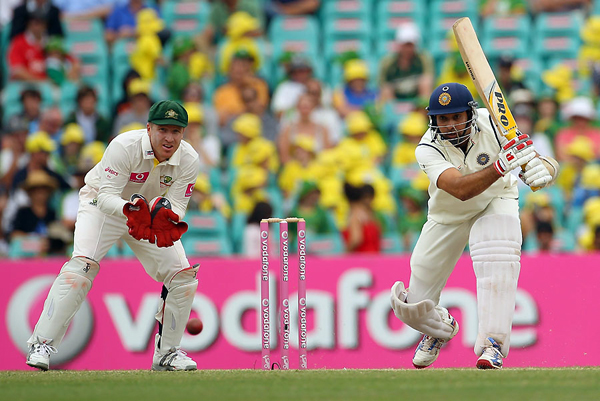 Laxman (66) was out shortly after to a fine delivery by Hilfenhaus which moved slightly off the seam to flick the off stump. It was the veteran's first score over 2 in his four innings this series.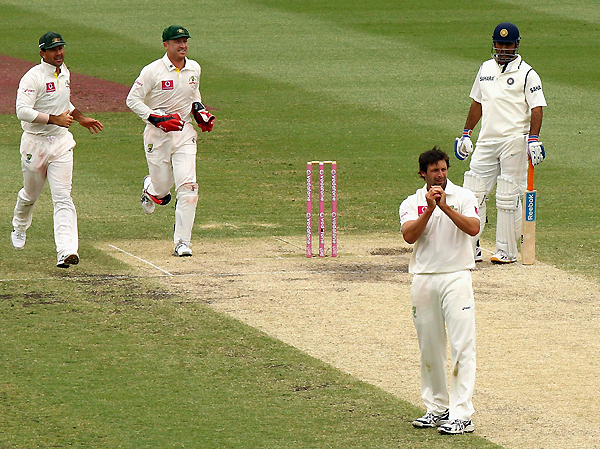 Hilfenhaus then captured Dhoni for 2 when the India captain chipped the ball back to the bowler from a full length ball.

The umpires referred the decision to the television umpire to confirm it wasn't a bump ball, but replays showed it lobbed off the toe of the bat.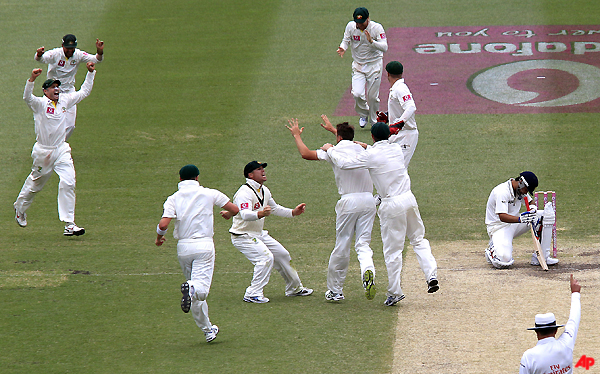 James Pattinson (1-106) trapped Virat Kohli (9) lbw the next over.

Zaheer Khan and Ravi Ashwin shared a 56-run partnership in an entertaining cameo that included eight fours and a six, until Peter Siddle (2-88) had Khan caught by Marsh at point for 35 off just 26 balls.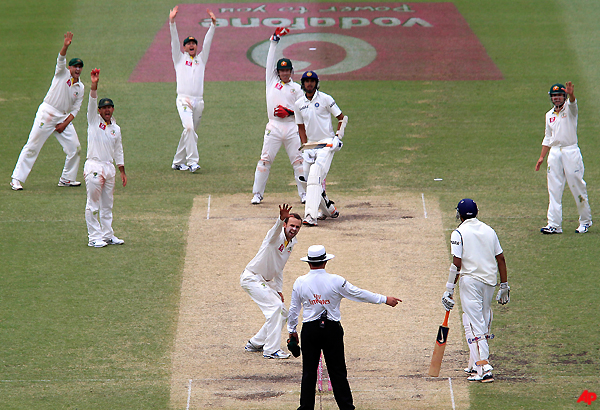 The previously ineffective Nathan Lyon (1-64) struck shortly after tea by trapping Ishant Sharma lbw for 11.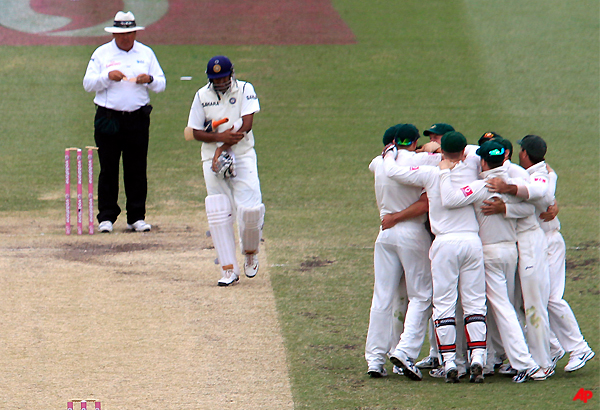 Hilfenhaus took the match winning wicket when Lyon caught Ashwin's mis-timed hit at mid-wicket.

The collapse came after India had made a bright start to the day, resuming for 114-2 and taking 45 runs from the first six overs in its chase of Australia's massive total of 659-4, which included Michael Clarke's unbeaten 329 — the fourth highest test score by an Australian — and Mike Hussey's 150 not out.

Laxman also was in his best form of the series and put on a 103-run stand with Tendulkar before Clarke intervened.

As a part time bowler Clarke has made a habit of taking wickets against India. From his 24 test wickets, 14 have been against India — including his best bowling figures of 6-9 in his debut in Mumbai in 2004 — but this was the first time he has taken Tendulkar.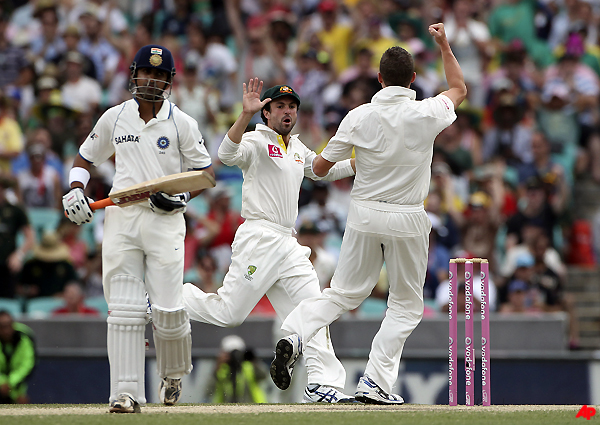 Earlier, Siddle struck with just the second ball of his morning spell to remove Gautam Gambhir for 83.