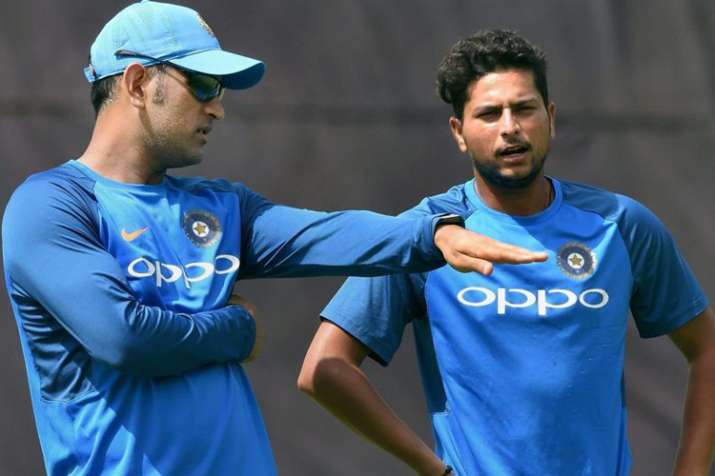 It is his ability to stay calm and composed even in the toughest of situations which has earned former India captain Mahendra Singh Dhoni the nickname - "Captain Cool". Dhoni is the epitome of calmness on the cricket field.
Dhoni, the only captain to hold all three ICC trophies, has powered India home in many crunch situations with a monk-like approach. (Also Read: Another spin-test awaits England as India start as favourites)
Only a few would disagree that except for something exceptional, it is rare for Dhoni to express himself on the field.
However, Dhoni's current teammate and young left-arm wrist spinner Kuldeep Yadav has revealed a side of Dhoni which has remained unknown to most of his fans.
During a talk show, "What the Duck", Kuldeep narrated an incident when Dhoni lost his cool on the young bowler.
The story dates back to India's second T20I against Sri Lanka in Indore last year. It was Rohit Sharma who was captaining the side in the absence of regular skipper Virat Kohli.
During Kuldeep 3rd or 4th over, Dhoni asked the bowler to make specific changes in the field. In his reply, Kuldeep dismissed Dhoni's suggestions and said he was fine with the current setup.
Kuldeep's reply triggered a rare outburst from Dhoni where he yelled at the young Chinaman.
"Wherever I pitched the ball, it went for six. The ground was so small. After every six, I would look at Mahi (Dhoni). He would say, 'it wasn't that far, you should keep it further'," Kuldeep said narrating the incident on "What the Duck" show.
"And when I was bowling my fourth over; the batsman reverse swept me for four. Mahi bhai came to me and said, 'remove cover, move him deep and bring point up'," Kuldeep said.
"And I said, 'No Mahi bhai, that's okay'. After hearing this, Mahi bhai got angry and said, "Kya main pagal hoon yaha pe, mai 300 ODI khela hoon (Do you think I'm mad? I've played 300 ODIs)'," he added. 
Kuldeep said he managed to get a wicket after the field changes. Kuldeep went on to claim three wickets in the match alongside Yuzvendra Chahal's four-wicket haul which helped India beat Sri Lanka by 88 runs.
Earlier, captain Rohit Sharma had hammered a 35-ball hundred.