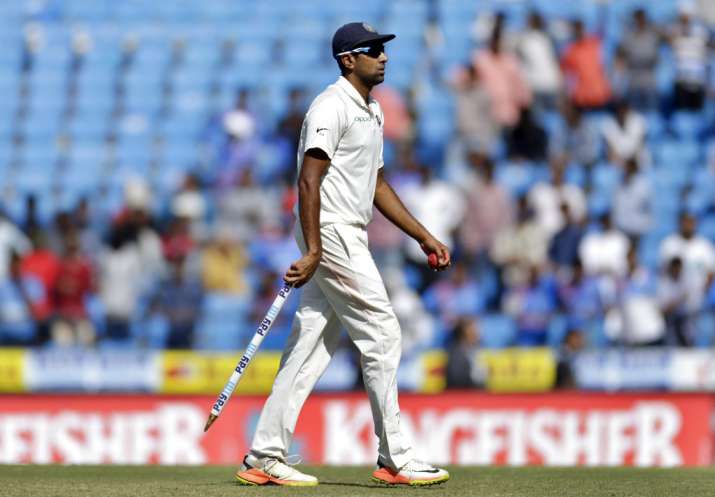 The feeling of becoming the fastest to reach 300 wickets in Test history has not yet sinked in. As his illustrious career continues with the Men in Blue, Ravichandran Ashwin added yet another feather to his cap becoming the fastest bowler to reach 300 Test wickets. The spinner achieved this feat in the second Test against Sri Lanka in Nagpur. 
The 31-year old's description needs no explanation as the off-break spinner reached the coveted landmark in 54 Test matches, surpassing former Australia fast bowler Dennis Lillee who had set the bar in 56 matches. 
Ashwin who spoke to the Indian fielding coach R Sridhar on BCCI TV had plenty to talk about the milestone he achieved. He picked up a four-for in the 2nd innings and bagged eight important wickets in Nagpur. 
"The feeling hasn't exactly soaked in yet and hopefully there are better things to come and do more spectacular things for the team in time to come", said Ashwin to Sridhar after Team India defeated Sri Lanka in the 2nd Test by an innings and 239 runs on the fourth day.
Ashwin mentioned that he is always ready to raise the bar and standards that have been set in the previous matches.
"There's no secret, I'm always looking to improve from the previous Test matches, even if it's one or two percent, I'm always ready to improve my game".
The off-break spinner thanked the people involved for helping him achieve this feat and acknowledged Ajinkya Rahane who played his part in taking the catches off Ashwin's spells.
"I would really like to thank all the people who have been supportive in this journey, people in the dressing room, the support staff the team and the captain, all the people who have chipped in and especially including people who have taken catches. Massive thanks to Ajinkye Rahane who has been taking those catches and also the Umpires who have been a part of it. It's been one heck of a journey. I reached 200 Test wickets in Kanpur and now 300 in Nagpur, the feeling hasn't yet sinked in but its definitely time to celebrate". 
On being asked by Sridhar about which one is the most memorable and important dismissal of these 300, the 31-year old had many in mind but singled out a few.
"There have been a lot, but David Warner in Bangalore, it wouldn't be the best spell out of all but that was a crucial wicket and the ball was a good one. Certainly not to forget AB de Villiers in Nagpur in 2015 , Kane Williamson which was 4/4 for me was also special as he is not an easy batsman to dismiss. Joe Root in Mumbai, Alastair Cook in Mohali but most of all I'm looking forward to the next 18 months as it can be fruitful and rewarding and can set the steam on a real fire blazer".
On being asked about the next 18 months, Ashwin stated that he hasn't set any benchmarks as he looks to use his experience in the remainder of the matches he will play. 
"I haven't really set any benchmarks in the past as I look to catch them and It's really been one heck of journey in these 54 Test matches and will be ready to use every ounce of the experience and put them to use in the next 18 months and as a team we can end up achieving something which will be difficult for anybody to replicate in their career. The team has the ability and material to go forward and do something special". Ashwin concluded.
54 Test matches, 300 test wickets, 27 5-wicket hauls, R Ashwin has surely raised the bar for the future generations in international cricket.