Follow us on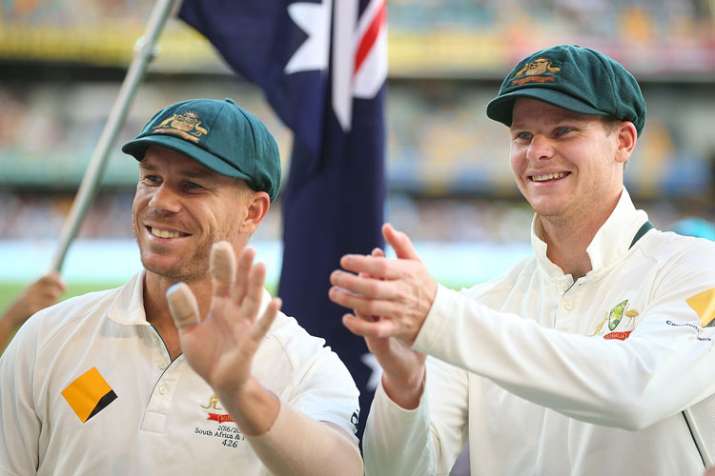 Australia's newly-appointed head coach Justin Langer has backed the disgraced trio of David Warner, Steve Smith and Cameron Bancroft to make a comeback into the national team at the end of their suspensions in the wake of the infamous ball-tampering saga.
At a media conference with Cricket Australia CEO James Sutherland, Langer - who has replaced Darren Lehmann - left the door open for the return of Smith, Warner and Bancroft when their bans end. (Also Read: What is ball-tampering and how it is done)
"They've made mistakes. We have all made mistakes and we can all get better," Langer said. "If they meet the standards of the Australian cricket team, of course, they will be welcomed back."
Langer takes over for Lehmann, who resigned after the embarrassing ball-tampering episode in March that saw Australia's two leading players - captain Smith and vice-captain Warner - banned by Cricket Australia for 12 months.
Lehmann quit as coach in the days after the March 24 ball-tampering incident during the third test in Cape Town, which resulted in Smith and Warner handed the year-long bans and being sent home from the tour. (Also Read: Steve Smith can't return as Australia captain for two years, David Warner won't be considered)
Bancroft, a player who tried to use sandpaper to alter the surface of the ball, was given a nine-month ban.
TV cameras detected Bancroft's clumsy attempt at scratching the surface of the ball with a small piece of sandpaper with the aim of giving his bowlers an advantage over the batters. A CA investigation found that Warner was the instigator of the plot, and Smith said he didn't do enough to prevent the cheating attempt.
During an emotional press conference last month, Warner admitted that he was "resigned to the fact" he may never play for Australia again after being identified as the mastermind.
However, Langer suggested that Warner's career was not over.
"He's a really good young bloke and he made a mistake," Langer said on Thursday. (Also Read: How Australian cricket team hatched a plan to cheat)
"I love the way he plays his cricket. The way he runs between the wickets, the way he fields, the way he bats - they're things that for the less-trained eye, you might not respect as much.
"Has he got areas to get better at? Yep ... we've all got areas we can get better at."
Langer was endorsed as Lehmann's replacement by the Cricket Australia board of directors on Wednesday night.
"Justin was the clear standout, particularly based on his recent coaching and player development achievements," Cricket Australia chief executive James Sutherland said Thursday.
Langer referred indirectly to the ball-tampering episode.
"There will be some significant challenges ahead for our group, but there is a wealth of talent in Australian cricket," Langer said in a statement. "I'm thoroughly looking forward to working with all players ... with the support and respect of the Australian public."
Langer will coach Australia in all three formats of the game and will start on May 22 for a four-year term that includes two Ashes series, a World Cup and World T20 tournament.
The new coach inherits a team that sits third on the International Cricket Council test rankings, fifth in one-day internationals, but one that has lost much of the support it had from the Australian public.
The 47-year-old Langer played for Australia for nearly 20 years, scoring 7,500 runs, including 23 centuries. Langer had been head coach of Western Australia state and the Perth Scorchers Twenty20 team since November 2012, during which time he was lauded for his player development skills.
It's been a busy week for Cricket Australia as it attempts to move on from the ball-tampering blight.
On Tuesday, it said The Ethics Centre, an independent company which conducts reviews for major organizations, would investigate cultural, organizational and governance issues within Cricket Australia to see if they are linked to player behavior.
Langer will also be part of a player review panel announced by CA at the same time as The Ethics Centre probe.
On Monday, Cricket Australia announced its home summer schedule for 2018-19, including a four-test series against India and a two-test series against Sri Lanka.
They are two series which Australia will play with a new coach, but without two backbones of its team, Smith and Warner.
(With AP inputs)