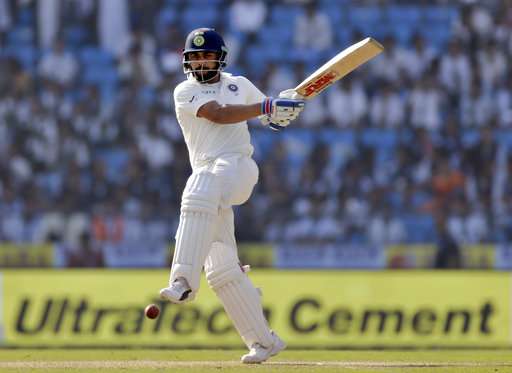 What a day for India! Their domination continues as they trudge back to the dressing room with the heads held high. They batted with sheer authority and denied Sri Lanka any semblance of joy for almost most part of the day. Cheteshwar Pujara couldn't swell his overnight score to much but it was the day the Virat Kohli ain't forgetting any sooner. He stroked a splendid double ton along side Rohit Sharma who on his comeback, registered a ton of his own.
The moment, Rohit Sharma reached the milestone, his side declared and set a lead of a massive 405 in front of the visitors. There came out to bowl 9 overs and guess what? They snipped one wicket too. Ishant Sharma got one to nip back in and made sure the Lankans dent further. Ashwin bowled tight lines and it seems like it's completely a different surface given to the hosts. 2 days to go and only one team can win from here, unless Sri Lanka pull off something miraculous. They were made to toil hard for over two days and now it's on their batsmen if they are to save from the blushes. They trail by a mammoth 384 and it would be interesting to see if they can wipe that off at least. For all I know, they must be already dreaded with the thought of tomorrow and to add to that, they have no choice of running away from it. Join us at 0930 (0400 GMT) to see if this turns out to be the last day of the match. Until then, goodbye and take care. Cheers! (SCORECARD)
HIGHLIGHTS, INDIA VS SRI LANKA, 2ND TEST, DAY 3 at NAGPUR
16.45 IST: ROHIT SHARMA is up for chat. Let's see what he has got to say. Smiles and says that his side was in good position and when he walked out to bat the ball started to take some turn. Adds the ball was soft and the idea was to just rotate strike. States he was nervous as it has been roughly over 500 days he last played a Test match. Is happy that he got to bat when team wasn't under pressure and made the most of the opportunity given to him. On being out of the side for a while, he feels he missed out on something very important as he was injured when India played 13 Tests at home last year. Is disappointed about the fact that his debut got delayed by three years as in 2010 when he was drafted into the side, injuries hampered him.
16.41 IST: 
That brings us to the close of Day 3. Sri Lanka in their second innings 21/1 in reply to India's 610/6d. Sri Lanka trail by 384 runs #INDvSL pic.twitter.com/UndPnXCHyD

— BCCI (@BCCI) November 26, 2017
16.40 IST: MAIDEN! Excellent stop from Pujara! Kohli likes it too. Loopy ball outside off, Karunaratne comes down the track and drives it wide of mid-on. Seemed to go to a boundary but Pujara there dives full length to his left and stops it. He was outstanding on the field in the first innings as well. SL 21/1 in 9 overs, trail IND (610/6) by 384 runs at STUMPS ON DAY 3. 
RAVINDRA JADEJA to bowl the last over of the day. He picked up a wicket in his very first over in the first innings. Can he replicate that?
16.33 IST: MAIDEN! Ishant bangs in a short delivery on middle and leg, Thirimanne quickly ducks under it. SL 20/1 in 7 overs
16.28 IST: Drifting in on off, Thirimanne defends it by lunging forward. A maiden from Ashwin! SL 20/1 in 6 overs
16.22 IST: MAIDEN! Floated delivery outside off from Ashwin, Lahiru digs it out. SL 19/1 in 4 overs
16.19 IST: FOUR! Fuller and coming back in a bit, Karunaratne flicks it but the bat turns in his hands. Still gets it wide of the man at mid-on and picks up a boundary. SL 19/1 in 3 overs
16.14 IST: FOUR! Shot! Loopy delivery outside off, Karunaratne dills it through mid off and gets going.  SL 13/1 in 2 overs  
RAVICHANDRAN ASHWIN to share the new cherry from the other end. Ideal call, as two lefties are out there.
16.10 IST: FOUR! Sri Lanka are away! Ishant sprays one down the leg side, Lahiru moves inside the line and gets enough bat to send it across the fine leg fence for a boundary. SL 8/1 in 1 over
16.07 IST: OUT! Castled! An error in judgement? Maybe! Ishant Sharma drops it on a length outside off and this one nips back in after pitching. Samarawickrama doesn't account for the inward movement, tries to shoulder his arms as the ball curls back in and goes on to hit the stumps. He can't believe what just happened and slowly walks off. Smiles all around in the Indian camp. Sri Lanka 1 down with no runs on the board. SL 0/1 in 0.2 overs
16.04 IST: Sri Lanka, well, what do I say about them. They have been made to toil really hard and have spent over two days on the field already. They must be tried and now have to come out and bat for 10 overs. Perera took 3 wickets but he has an unwanted record under his belt - conceded 200 runs by a bowler in the calendar year! Can the openers see out this tricky period before stumps? Let's wait and find out...
16.03 IST: Virat Kohli then stepped in and looked to score run quickly. Pujara departed this morning but the plot remained the same. Next was Rohit Sharma who made merry on this and offered perfect foil to his skipper. The skipper scored his 5th Test ton and broke a couple of records in the process before perishing in the quest to score more.
16.00 IST: As soon as Rohit reached the three-figure mark, the signal from the dressing room comes - INDIA HAVE DECLARED FOR 610/6 AND LEAD BY 405! Fantastic batting performance from the hosts as apart from Rahul and Rahane everyone came in and scored a big one. It all started with Vijay and Pujara laying the foundation. The former had to prove himself and he did that by scoring a ton. The latter took his time and then cashed in when the bowlers were tired out. The duo stitched a mammoth 209-stand before Vijay fell to Herath.
15.56 IST: 
A century for @ImRo45 followed by the signal from the dressing room. India declare on 610/6, lead Sri Lanka (205) by 405 runs #INDvSL pic.twitter.com/m2SUb9w323

— BCCI (@BCCI) November 26, 2017
15.55 IST: 3rd Test ton for Rohit Sharma! He is a happy man! A century for him after 4 years and something he will cherish for a while now. Superbly done! Length delivery outside off, Rohit punches it through covers. It's through the gap and the fielder gives it a chase. They take three till then and the entire dressing room is up on its feet. IND 610/6 in 176.1 overs
15.52 IST: FOUR!  Bang! Perera tosses it up outside off, Sharma advances down the track and goes bang down the ground for a boundary. Moves to 96 now! IND 607/6 in 176 overs  
15.48 IST: 600 up for India. Sees Sharma coming down the track, Shanaka fires it full and wide outside off. The batsman reaches out and square drives it through point for a single. 600 up for India! This is the 30th time India have reached 600 and 7th vs Sri Lanka in Tests! Woah. IND 601/6 om 175 overs
WRIDDHIMAN SAHA walks out to bat next.
15.43 IST: OUT! Bowled 'em! Perera may have given aplenty but he has picked up his third wicket and is one short of picking up 100 wickets in Test cricket. Fires in a yorker at 83 kph, Ashwin tries to jam it out but it's too good for him. Gets beaten and sees the off stick pegged back. India continue to bat as they now lead by 392 runs! IND 597/6 in 174 overs
Drinks are on the field. Kohli and Rohit were intent on scoring quickly as the declaration looms now. Kohli got to his 5th double ton before he holed out while probably the wait is for Rohit's ton. The Indian players in the dressing room are seen in their whites. Neither of Jadeja or Saha is seen padded up. 
15.32 IST Ashwin drives it through covers for a single. 4 runs from Perera's over. : IND 590/5 in 172 overs
RAVICHANDRAN ASHWIN walks in at no.7 for India.
15.24 IST: OUT! Is it a tired shot? An over-ambitious shot? Over-confident? Neither, maybe it's a shot that was played more to score quickly than any of the above. Who has the wicket? Dilruwan Perera. He tosses it up around off, Virat charges down and looks to go big downtown. Ends up getting more height than distance. Thirimanne at long on has the eyes on the ball like a hawk and pouches it safely. The Indian skipper knew it as soon as he hit it that he hadn't hit it right. Walks out to a standing ovation from the crowd and the dressing room. Raises his bat as he walks off. The Indian lead has swollen to 378, India 5 down. IND 583/5 in 170 overs
15.23 IST: FOUR! Even a lazy shot fetches Kohli a boundary, such has been the day for him today. IND 583/4 in 169.4 overs
15.20 IST: FOUR! Never satiated with runs, is he? Gets another bad delivery, doesn't let it go unpunished. Gamage hurls it full outside off, Kohli gets forward and drives it through wide mid off for a boundary. IND 577/4 in 169 overs
King Kohli scores his 5th double ton in Test cricket #INDvSL pic.twitter.com/k21iKvOZvg

— BCCI (@BCCI) November 26, 2017
15.15 IST: There it is! Double hundred No.5 for Virat Kohli. Most by an Indian skipper and equals the mark set by Brian Lara with 5. He drives this delivery down to long on to get him the run that helps him raise his bat and helmet in acknowledgement of the applause. A wonderful innings this is, as 200s are not something that you score every other day. India lead by 361 now. IND 567/4 in 168 overs
15.14 IST: The decibel levels in the ground go up. Virat Kohli is on strike on 199!
15.11 IST:  The 150-run stand between these two is up. As the innings progresses, they have looked inseparable. This ball is played through point for a run. Lead is 355 now!  IND 560/4 in 166.2 overs 
15.08 IST: SIX! Brilliantly played! Perera tosses this around off and middle, Kohli charges down and whips it over deep mid-wicket for a maximum. The lead goes to 351 now as Kohli moves into 190s! IND 558/4 in 166 overs
14.58 IST: The ball seems to have gone out of shape a bit. Understandably so, as this one is 84 overs old. A new box of cherries is brought in and the umpires select one. Wonder if the change in ball will matter for the Lankans. If the inspiration to do something doesn't come from within, wonder how much the external conditions would matter.
14.44 IST: FOUR! Rohit is very strong with the pull shot and this shot proves why. Lakmal bent his back to deliver this, the Indian batsman picks the length early. Stays on the back foot and hits it through backward square leg. The fielder at fine leg had to rush to his left but had no chance of stopping that. A boundary it is. IND 541/4 in 163.5 overs
14.39 IST: BYES! This is what happens when the keeper is upto the stumps. It may keep the batsmen inside the crease but when the delivery is down the leg side, it is tough to stop and prevent runs. Shanaka sprays it down the leg side, Kohli misses the flick. Dickwella only manages a glove onto that and thus, the byes are restricted to just two. IND 522/4 in 159.4 overs
14.37 IST: FOUR! Kohli has switched on his coloured-clothing cricket mode. Shanaka bowls it a touch fuller around off, Virat stays in the crease and lifts it through mid-wicket for a boundary.. IND 516/4 in  158.2 overs
14.30 IST: Welcome back to the final session of the day. With 31 overs left to be bowled, expect all of them to be completed as the over rate has been good today. And the milestone story might just continue. A double ton for Kohli? A ton for Rohit? Maybe. Both of them walk out to the crease. DILRUWAN PERERA has the ball in hand. He got Rahane soon after the lunch interval. Will he break this stand now? There's a slip and a short leg for him. Let's roll...
14.19 IST: India continue to boss this game! They have scored 103 in 30 overs in this session. Ajinkya Rahane fell early, thereby continued his dry rut but Rohit Sharma walked in and was fluent from ball one. He registered a breezy fifty of his own. Kohli from the other end was happy to rotate strike and notched his 7th 150-plus score in Tests. Just towards the end, both slowed down a bit. Not the question is, with the lead already over 300, how long will India bat? Will they wait for Kohli to get a double century? Or will they look beyond that and bat the whole day? Join us in a short while to catch all the action...
14.15 IST: 
At Tea on Day 3 of the 2nd Test India are 507/4 (Virat 170*,Rohit 51*), lead Sri Lanka (205) by 302 runs #INDvSL

Updates - https://t.co/wUkt7mobyc pic.twitter.com/iJdLQynXBy

— BCCI (@BCCI) November 26, 2017
14.11 IST: Fuller in length from Gamage and aimed at the base of off stump, Rohit pushes it off the front foot towards cover. TEA CALLED ON DAY 3! IND 507/4 in 157 overs
14.07 IST: LEAD TOUCHES 300 NOW! Back of a length delivery outside off, Kohli taps it towards cover for a single. IND 505/4 in 156.1 overs
14.04 IST: Fifty for Rohit Sharma! His 8th in Tests and third consecutive one! Another man who makes the most of the opportunity after Ishant and Vijay! Well played, Rohit! Fuller in length and outside off, driven nicely through covers for a single. India's lead is now one short of 300. IND 504/4 in 155 overs
13.56 IST: Back of a length delivery outside off from Karunaratne, Kohli cracks it through cover-point for a single. 500 up for India. IND 502/4 in 153 overs
13.55 IST: Good observation from the commentators here. They say Rohit Sharma is really good against the spinners and the fact that the way he made use of the feet has really put the spinners out of rhythm. He has scored freely and in no time is about to reach his fifty. Not being a philosopher here, but as the saying goes - opportunities comes through to door and goes through the window, if you don't grab it, it's your loss.
13.53 IST: Kohli eases it down to long on for a single to keep strike. 2 runs from Herath's over. IND 498/4 in 152 overs 
13.43 IST: Sharma flicks it through the leg side for a single. 5 runs from Shanaka's over. IND 488/4 in 149 overs
13.32 IST: FOUR! Why to run and sweat out when you can hit a boundary, says Rohit Sharma! Fuller and around the pads, Sharma chips it over mid-wicket for a boundary. IND 476/4 in 146 overs
13.23 IST: FOUR! And again! Effortless is the correct term if you ask me to describe this shot! More flight around middle and leg, Sharma dances down the track and just chips it nonchalantly over mid-wicket for another boundary. Signs of declaration? IND 466/4 in 144 overs 
13.21 IST: FOUR!  Kaboom! 50-run stand comes up in no time! Herath flights it up outside off, seeing this Rohit decides to go after it. Skips down the track, gets to the pitch of the ball and goes bang down the ground for a one bounce boundary. Such a good player for spin he is. IND 462/4 in 143.2 overs
RANGANA HERATH is called back into the attack.
13.14 IST: An hour done, time for Drinks! It's not about runs anymore. It's turning out to be about milestones. Kohli got to his 6th score of 150 or more as an Indian captain, which is the most. Sri Lanka are failing to exert any control over the proceedings. Wonder how it would be to be in their camp at the moment. Go with the flow? Maybe.
13.10 IST: MAIDEN! Around off from Shanaka, Sharma wants a run towards third man but the guide from him finds gully. This stand is worth 45 runs now. IND 455/4 in 141 overs
13.08 IST: 
A shimmy down the wicket for a six and Virat Kohli brings up his 150 runs #INDvSL pic.twitter.com/xlcXCchUkV

— BCCI (@BCCI) November 26, 2017
13.01 IST: SIX! Virat Kohli gets to 150 in style - his 7th score over that mark. He has looked commanding and seems unstoppable as far as the Lankans are concerned. Perera tosses it invitingly around off, Kohli accepts the offer and shimmies down the track to hit it over long on. Shanaka at that position leaps high but is unable to get a hand to that. A biggie results. The crowd cheers to celebrate their favourite player's milestone. IND 453/4 in 139.2 overs
12.56 IST: Well said! Often in situations, India find themselves in, the outsiders or the people who watch the game opine endlessly about the team declaring quickly. All the talks do revolve on the same lines. Hayden says that the right way forward is for the outsiders to stay patient and let the game take its course. This opportunity can well be used for getting some practice for those who are looking to get their feet in the game.
12.55 IST: Rohit Sharma lunges forward and blocks it solidly. Tidy over from Perera, just a single from it. IND 446/4 in 138 overs
12.51 IST: FOUR! Lucky, very lucky is Rohit with this one! Lakmal angles it on a length around off, the ball comes in a touch after pitching. Rohit looks to push it to the off side away from the body. Gets an inside edge just past the leg stump and into the fine leg fence. IND 443/4 in 136.3 overs
12.48 IST: SIX! Hello! First game in this format after a long time? Chance of being a bit rusty? Put all those talks to trash just line Rohit has put the ball out of the playing area. IND 438/4 in 136 overs
12.41 IST: FOUR! Talk about intent, it's written in bold letters all over this one. Lakmal bowls the first delivery of his spell on a length around off. Kohli charges down the track and smashes it over mid off. The ball almost goes the distance. A one-bounce boundary results. Probably he wanted it to go all the way, as his expression suggests. IND 430/4 in 134.1 overs
12.39 IST: Oh no! This is not good for anyone, let alone Sri Lanka. As he attempted to stop the previous one, Gamage's right knee again got stuck on the ground. He is seen clutching that and is down in pain. The physio has come out to the middle and he is seen taking the player off the field. He is seen limping.
12.32 IST: Tight over from Dilruwan, just a single from it. IND 422/4 in 132 overs
12.25 IST: FOUR! Test cricket is pretty easy, Rohit Sharma would feel. Faces the red ball in a game situation after considerable time and hits it for a boundary immediately. IND 414/4 in 130 overs
12.23 IST: One Mumbai lad replaces the other at the crease. ROHIT SHARMA is the man striding out. He would look to make this chance count to get some batting practice in red-ball cricket. With Rahane not among the runs, the chance is ripe for Rohit to stake a claim for that spot. Remember, he hasn't played a first-class game for about 13 months now.
12.22 IST: OUT! Ajinkya Rahane has frittered another opportunity to get among the runs away! In the previous over we saw a puff of dust come off the pitch, meaning it would be conducive to the spinners. Perera offers width outside off, Ajinkya goes back to cut it. The extra bounce makes it difficult for him to control that and ends up offering an easy catch to Karunaratne at point who just has to take a couple of steps to his right. IND 410/4 in 129.4 overs
12.18 IST: Kohli drives it through cover-point for one. 3 runs from Gamage's over. IND 409/3 in 129 overs
Lahiru Gamage will run in from the other end.
12.14 IST: Rahane gets off the mark with a flick through mid-wicket. India now lead by 200 runs. IND 405/3 in 127.3 overs
12.10 IST: Out walk the players and the umpires to the middle. The Indian skipper and vice-captain will resume the run-scoring spree. If R Sridhar's pre-play chat is something to go by, the pair will be intent on scoring at a good rate. DILRUWAN PERERA will start the proceedings with the ball. Mathews stands in anticipation at first slip and Samarawickrama is at short leg.
12.08 IST: We're back for the post-lunch session, hoping Sri Lanka would have had plenty of food for thought. The visitors should pay heed to their coach's pre-match talk today, when he spoke of confidence coming from within. They need to believe in themselves and not let things veer away from their control. They can't expect easy opportunities from Kohli, who seems intent on scoring big.
... DAY 3, SESSION 2 ...
11.40 IST: Sri Lanka are down and out to say the least. Their body language on the field is quite evident and seems like they have given up already. Apart from Herath no one really bowled well. Shanaka got the breakthrough but he wasn't the best of the lot. Perera towards the end got some purchase but can he continuously land the ball on good areas? Remains to be seen. Join us after the lunch break to see if Sri Lanka can do something extraordinary...
11.37 IST: Needless to say whom the session belongs! India have piled up 92 runs in 29 overs with the loss of Pujara. Both the overnight batsmen, Kohli and Pujara came out with positive intent, particularly the skipper, who scored the majority of runs this morning. Also, he was helped by some really clumsy fielding by the opposition. He then powered himself to another Test ton, a quick one and is not done yet. The Indians have already stretched the lead to 199 and it would be interesting too see how much more they are eyeing.
11.35 IST: 
At Lunch on Day 3 of the 2nd Test India are 404/3, lead Sri Lanka (205) by 199 runs.

Updates - https://t.co/wUkt7m6A9C #INDvSL pic.twitter.com/v1HONpDr1O

— BCCI (@BCCI) November 26, 2017
11.32 IST: FOUR! School boy error from Chandimal, this! A loopy full toss, dipping in on middle and off, Kohli drives it towards mid-off. Chandimal gets across, bends low but lets the ball through his legs for a boundary. Agreed, he got a bad bounce but the basic rule of fielding is to get that body behind the ball. Not acceptable at all. IND 404/3 in 127 overs, lead SL (205) by 199 runs. LUNCH, DAY 3!
11.24 IST: AJINKYA RAHANE is the new man in! Where is the other Mumbai lad, Rohit Sharma? He should have come and given some batting practice... 
11.23 IST: OUT! Perfect toe-crusher! What a ball and Shanaka is up and running. He has breached Pujara's defence and has got every reason to smile now. He comes steaming in and fires in a perfect yorker at the base of the stumps and gets it to tailback in a touch. Cheteshwar wasn't expecting this and all of a sudden tries to jam it out but seems to have gotten beaten for pace and sees the woodwork being disturbed. The 183-run stand comes to an end, India lead by 194!  IND 399/3 in 125 overs
11.15 IST: FOUR! Beats the dive of the man at mid off! Perera drops it short and outside off, Kohli goes back and punches it down the ground. Not sure who the fielder was, he dives but to no avail. The ball races down towards the long off fence. IND 394/2 in 123.1 overs
11.11 IST: FOUR!  Shanaka drifts it fuller on the pads, where Kohli likes. He leans across and flicks it through mid-wicket for a boundary. No need to run for those. IND 387/2 in 122.2 overs
India captain @imVkohli has also broken the record of Ricky Ponting (9 in 2005 and 2006) and @GraemeSmith49 (9 in 2005) for the most centuries by a captain in a calendar year! #INDvSL #howzstat pic.twitter.com/IdBaUlVs2R

— ICC (@ICC) November 26, 2017
11.09 IST: My word! Dickwella whips the bails off quickly much like how Dhoni does. He instantly appeals for a stumping and it's taken upstairs. Kohli's expression suggests that he has his foot grounded...
11.07 IST: On a back of a length outside off, Kohli pats it towards point to keep the strike. 3 runs from the over. IND 380/2 in 121 overs
11.03 IST: Hayden on air shifts his interest to the on-going Ashes! He says three English players go to their fifties but none managed to convert it into a big one. The starts aren't of any use if you don't get a big one under your belt...
DASUN SHANAKA is into the attack. For all those who aren't aware, he was found guilty of tampering the ball yesterday. So, be careful lad. The umpires would be having an eye on you...
10.57 IST: 
The runs have been flowing for the Indian Skipper as he scores his 19th Test ton. Second 💯 in the series so far. #INDvSL @imVkohli pic.twitter.com/oOUhMAhyCJ

— BCCI (@BCCI) November 26, 2017
10.56 IST: HUNDRED! 19th Test on for Virat Kohli! 10th this year and back-to-back in consecutive matches! This lad just loves scoring tons, doesn't he? Takes the helmet off and raises the bat to the dressing room well played! Fuller in length on middle, Kohli lunges across and flicks it through mid-wicket for a single. In the last 3 attempts where he has scored a fifty, he has gone on to make it a big one. IND 373/2 in 119 overs
10.55 IST: There is a discussion regarding the field placement. Arnold says, get a leg slip in place, not sure why... Anyway, Kohli is one short of a ton.
10.49 IST: FOUR!   Wayward delivery and duly punished! Brings up the 150-run stand as well! Hold on, seems like Gamage has done some damage to his right knee in fielding that. Length delivery on the pads, clipped fine down the leg side. Lahiru runs to his right in the deep, dives but his right knee gets stuck on the ground and the ball rolls away to the fence for a boundary. Kohli moves on to 98! IND 369/2 in 117 overs
10.44 IST: Herath darts it on middle, Pujara blocks it out. Just one run from the over. IND 363/2 in 116 overs
10.33 IST: Drinks are on the field. 48 runs have come in this hour, where 16 overs have been bowled. The Pujara-Kohli duo started defensively and have come into their own towards the end. India lead by 155 runs at the moment. Hard to see things pan out in a different manner unless Sri Lanka are a bit more aware and alive on the field. IND 360/2 in 114 overs
10.29 IST: FOUR! What happened there? Lakmal bangs it short around middle, Kohli goes for the pull. Gets beaten for pace and before he can complete the shot, the ball goes off something to the fine leg fence. Runs signaled by the umpire. Replays show that it came off the handle of his bat and that's what he was seen pointing to the umpire. IND 356/2 in 113 overs
10.26 IST: FOUR! Glorious! Fuller outside off, Kohli takes his front foot to the pitch of the ball and drives it through covers. Finds the real eastate between covers and mid off and gets a boundary.  IND 351/2 in 112.3 overs 
After almost every over, Kohli and Pujara are seen having a drink. It could mean that the plan from India is to bat long and hence the batsmen are ensuring that they are hydrated throughout.
No confusion! #INDvSL pic.twitter.com/5Undq0Ugwl

— BCCI (@BCCI) November 26, 2017
10.21 IST: Pujara has played it to the point region. One run added to the total. 4 runs from the over. IND 345/2 in 111 overs
10.19 IST: 3000 TEST RUNS FOR PUJARA IN INDIA. He's the 10th Indian to do so, being the quickest to the mark - in 53 innings.
10.15 IST: FOUR! Confusion between Perera and Karunaratne results in a boundary for Pujara and India. Pujara drives it through cover-point. The former fielder from covers and the latter from point run after the ball. IND 341/2 in 110 overs
10.12 IST: Kohli flicks it off his pads towards deep mid-wicket for a run. 2 runs from Lakmal's over. IND 336/2 in 109 overs
SURANGA LAKMAL is brought into the attack for the first time today. The last game witnessed him being the better one among the Lankan seamers yet Chandimal has opted for Gamage first today. Stresses that the skipper goes as per the wickets column in deciding who'll bowl when.
10.04 IST: Landed around off, Pujara pushes defensively back towards the bowler. 3 runs from the over. IND 334/2 in 107 overs
09.57 IST: Kohli loves batting with Pujara and Rahane it seems. He now has 5 century stands in Tests with both of them which is his most with someone...
09.56 IST: Pujara scores a run after 22 deliveries! That's all the Lankans have managed to do so far - keep Che quiet for some time. He scores run now by clipping it towards square leg. It's a quick run as Kohli had to stretch to make it in and beat the wild throw from the fielder.  IND 328/2 in 105 overs
09.53 IST: Defended off the front foot by the Kohli presenting the full face of the bat. One run added to the total. IND 325/2 in 104 overs
09.51 IST: Good observation from Chandimal. Kohli is someone who whips most of his deliveries and hence Samarawickrama is stationed at short mid-on for him. For Pujara tough, he comes in the firing line at short leg.  
09.45 IST: Ahhh! Not good to see early in the day's play. This was a ball that should have just resulted in a run but here is that extra run as the backing-up players were caught napping. Kohli flicks it to long on and jogs to the other end for a run. Lakmal returns the ball to the bowler, who fails to gather it due to the awkward bounce he got there. Nobody backed that up after him and that results in another run. IND 321/2 in 102 overs
09.42 IST: Murali Kartik and Harsha Bhogle on air discuss about protection for the close-in fielders. The former says that with so much advancement in technology, it's a surprise that the players are yet to have complete protection from external injury. The latter at his witty best, quips that, whether insurance companies would increase the premium if one says that he fields at short leg. To this, Russel Arnold says that the insurance agent wouldn't know what a short leg position is. Good to hear such witty things on-air at the start of the day.
09.39 IST: FOUR! 100 partnership comes up between Pujara and Kohli. Stats show that the cover drive has been Kohli's most productive shot against pacers in Tests since 2014. But if you follow the man though, you won't need the stats to show which his favourite shot is. Gamage serves it fuller outside off, Virat leans forward and drives it gloriously through covers past the diving fielder there for a boundary.  IND 317/2 in 100.1 overs
09.38 IST: Just a single from Herath's first over of the day. IND 313/2 in 100 overs
RANGANA HERATH will bowl from the other end. Chandimal's logic seems to be to go with the wicket-takers to begin the day.
09.36 IST: In line of the stumps from Gamage, Pujara gets forward in defence. A maiden over to begin. IND 312/2 in 99 overs
09.32 IST: Strange! As Russel Arnold rightly points out, this second new ball is just 18 overs old so far. Yet Sri Lanka don't have any slip in place.
09.29 IST: PUJARA and KOHLI look all set to resume their stints at the crease. LAHIRU GAMAGE will steam into bowl the first delivery of the day. Only a gully in position. A short cover and short mid-wicket in position too. Here we go...
09.26 IST: Blue skies keep us company as we are set to get the ball rolling on Day 3! The players and the umpires soak in the sun and make their way out to the middle.
09.20 IST: 
Here's a close look at the pitch on Day 3 of the 2nd Test. Thoughts? #INDvSL pic.twitter.com/tiL7VR1BzV

— BCCI (@BCCI) November 26, 2017
09.10 IST: Murali Kartik has a chat with India's fielding coach, Ramakrishnan Sridhar, who feels that it has been a good couple of days in the game so far. Today is the day where India will push harder after consolidating in the first session, he adds. States that each batter is comfortable against a particular bowler and they target the respective ones. On being asked about the Indian skipper, he says that after Kohli walked in, he changed the tempo of the game. Adds further that he never shut shop even towards the end of the play yesterday and made Pujara run hard between the wickets, oblivious to the fact that the latter had been out there for long. Opines that the Indian bowlers were frugal with the ball. States that Ashwin and Jadeja bowled well in tandem and were prepared to shoulder extra responsibilities after they weren't required to bowl much in Kolkata. Their variations in flight and the control they exhibited impressed him.
08.55 IST: PITCH REPORT - Simon Doull reckons that this pitch, after being in the sun for a couple of days, has developed some cracks. Sunil Gavaskar observes that there are cracks visible on the good length area and the effort should be to land the cherry in those areas. Batting with a positive intent is the key he feels. Both of them agree that from a selection point of good to have a problem of plenty, which India seem to have. Doull ends saying that these are decent batting conditions as of now, but if cracks widen and the spinners come into play, it will be hard work for the men with the willow.
08.45 IST: Russel Arnold catches up with Sri Lanka's coach, Nic Pothas. He says that it was a long day yesterday but is an improvement from the last series against India. Feels that the side maintained the intensity over the day. Asserts that improvement is the focus as every side does that. Admits that they couldn't capitalize on some situations like the dropped catch of Vijay. Agrees that their batting is the most disappointing part on a track which hadn't seamed or spun a great deal and hence they were well short of the 300-350 mark which would have been ideal. He states that confidence plays it part as well and it should come from the inside. Ends saying that once individual bats for 30-35 balls it is up to him to cash in and carry on.
DAY 3, SESSION 1
08.35 IST: 
And that brings the end of Day 2. #TeamIndia 312/2 with Cheteshwar Pujara on 121* and Virat Kohli going strong on 54*. India lead by 107 runs #INDvSL pic.twitter.com/GG8qziHjdr

— BCCI (@BCCI) November 25, 2017
Brief Preview: Opener Murali Vijay added to the selection conundrum with a patient 128 and was ably complemented by 'Run Machine' Cheteshwar Pujara's unbeaten 121 as India grinded a mediocre Sri Lankan attack on the second day of the second Test in Nagpur on Saturday. Pujara and Vijay added 209 runs for the second wicket to set a platform from where India would look to bat the Islanders out of the contest. 
Ending the day at a comfortable 312 for two, the hosts are 107 runs ahead of Sri Lanka's first innings total of 205. Playing his first Test match after eight months, Vijay increased the happy headache of the team management as they will be spoilt for choice during the third Test match in Delhi and more importantly, the Test series in South Africa. (Read Full Day 2 Report)