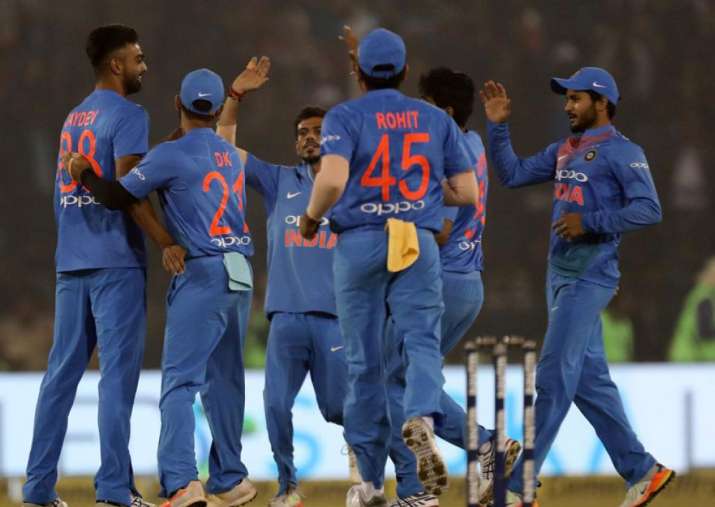 A dominating performance from India here tonight! Yes, they had runs on the board but still, with the fear of dew factor looming around, they had to be at their best. The Indian spin twins, Yuzvendra Chahal and Kuldeep Yadav once again came to the fore and spun the web in a gleeful manner to leave the batsmen stunned. Their variations and ability to thrive under pressure has been the talking point for a while now. Together they shared the spoils by bowling 8 Overs, giving just 41 Runs and picking up 6 wickets between them. Once they did the damage, Pandya decided to take the advantage and came back well, in the end, to get three wickets to his name.
Well, Sri Lanka, they will be really kicking themselves at the moment. Firstly, they leaked too many at the death while bowling and then once again their batsmen were found wanting by the Indian spinners and they meekly surrendered without even showing any fight. From 46/2 they got bowled out for a scanty 87, handing India their biggest win in this format in terms of runs, shows how much they need to gear up in the years to come. (SCORECARD)
HIGHLIGHTS, INDIA VS SRI LANKA, 1ST T20I at CUTTACK
22.40 IST: So that brings us to the close of another one-sided affair. India continue to rule the roost while the Sri Lankans keep on slipping downhill. The visitors need to improve drastically if they are to challenge the hosts or else the one-way traffic will continue. Hope you enjoyed our coverage. Join us for the second T20I in Indore on 22nd December at 1900 local (1330 GMT). Till then, cheers and take care!
22.35 IST: Man of the Match, Yuzvendra Chahal says he was struggling at the start but found his rhythm when he got the wicket of Tharanga. Adds he was mixing the googlies and leg spinners to the left-handers and it worked. Praises Yadav for the way he bowled and they enjoy each other's success. Reckons they are used to bowling when the ball is wet and today they had enough on the board which allowed them to flight the ball.
22.30 IST: Indian skipper, Rohit Sharma starts by saying he knew that the toss wouldn't make much of a difference. Adds they needed to bat well, be it first or second and is happy as the conditions remained same in both the innings. Praises Rahul for the way he batted. Not an easy task when you come to a side after a break. Lauds Pandey as well to show good character to finish the things and is short of words to describe Dhoni's innings. Reckons they weren't sure what score would be good, they just wanted to get as many as possible. On Chahal and Kuldeep, he says they are the wicket-takers and every time they come out and deliver for us. They understand what the team expects from them. Has a word to say for Unadkat who provided an ideal start to them. Opines Bumrah and Pandya understand their jobs and ends by saying he is really happy to bowl well when the conditions weren't conducive.
22.25 IST: Sri Lankan skipper, Thisara Perera is disappointed to be on the losing side despite winning the toss. Credits the hosts' batsmen to bat really well to get so much on the board. Feels 160-170 was gettable, even 180 would have been gettable but rues the batting department for another flop show. On the Indian spinners, he reckons his side needs to practice well to counter them. Adds they practiced hard in the net sessions and ends by saying they don't have any players apart from this fifteen which are in the squad. Hopes for a better show in the next game.
22.17 IST: OUT! And Hardik Pandya wraps things up! This is the biggest T20I win for India in terms of runs! That's some way to get going in the series! Ball - Pandya bowls the cutter, it's on the shorter side and Fernando backs away and chips it straight to Unadkat at point who takes a dolly. INDIA WIN BY 93 RUNS! SL 87-all out in 16 overs
22.14 IST: OUT! Good catch from Rahul! Pandya gets his second! Length delivery, angling in on middle. Chameera swings it across the line and it goes towards deep square leg where Rahul moves a couple of steps to his right and takes it neatly. Can Pandya wrap it up in this over? SL 85/9 in 15.2 overs
22.11 IST: FOUR! Runs are coming but it is perhaps too late. Full toss outside off, Chameera slices it behind point to pick up back-to-back boundaries. SL 85/8 in 15 overs
22.10 IST: FOUR! On a length, Chameera clears his front leg and drags it off the bottom hand of the bat over mid off for a boundary. SL 80/8 in 14.4 overs
Vishwa Fernando strides out next to bat. Also, Jasprit Bumrah comes back into the attack.
22.08 IST: OUT! What a reflex catch from Pandya! He lands it on a length around middle, Akila backs away and flat-bats it straight down the ground. Pandya in his followthrough sticks his hands out and plucks it magnificently. Akila can't believe and starts to walk back. SL 76/8 in 14 overs
Dushmantha Chameera comes out to bat.
21.59 IST: OUT! Top edge! Kuldeep Yadav tosses it up around off, Perera gets down to slog sweep it but there is a bit of extra bounce and some turn off the deck which means the ball takes the top edge and goes high up in the air. Dhoni calls for it and takes easily. SL 70/7 in 12.4 overs
21.56 IST: Nearly a wicket! Bowls a wrong 'un, Dananjaya somehow tries to keep it out but gets an inside edge past the leg stump. The ball goes towards fine leg and they take three. 6 runs from the over. SL 67/6 in 12 overs
Akila Dananjaya is the new man in!
21.52 IST: OUT! Stumped! A 4-fer for Chahal! What a spell from him! In every, over he has picked up a wicket, that is exceptional from Yuzi! He sees Perera giving a charge and so he smartly bowls a googly wider that the batsman's reach. Thisara swings across the line and gets beaten. Dhoni behind the stumps is quick to take the bails off and claims a stumping. It's taken upstairs and replays show the Sri Lankan skipper is well short. Can Chahal pick up a 5-fer here? SL 62/6 in 11.1 overs
21.51 IST: Has Chahal got another? Dhoni has whipped the bails off and he is confident. When he is, we know the batsman is in danger. SL 62/5 in 11 overs
Thisara Perera, the skipper is the new man in! 123 required from 58 ball. What can Perera do here?
21.47 IST: OUT! Kuldeep opens his account as well! Tosses it up around the middle, it's the wrong 'un. Shanaka tries to go big down the ground but is undone in the flight. Miscues it high in the air towards long on where Pandya comes sprinting in to take a safe catch. Half the side back in the hut for Sri Lanka. SL 58/5 in 10.2 overs
21.45 IST: Chahal bowls a slider now, Dasun misses his flick shot and is hit high on the thigh pad. Chahal's figures read - 3-0-17-3!   SL 57/4 in 10 overs 
Dasun Shanaka is the new man in!
21.41 IST: OUT! Stumped! Asela comes and he perishes! This wasn't the cleanest of the takes from MS but India wouldn't mind it at all. Chahal continues to weave his magic, third one for him! Chahal bowls it quicker, it's fuller and around the pads. Gunaratne looks to flick it away but loses his balance while doing so. The ball goes to Dhoni who fumbles but has the presence of mind to keep his gloves low on the stumps so that the ball ricochets onto the stumps. Sri Lanka in dire straits. SL 55/4 in 9 overs
21.40 IST: Kuldeep bowls a leg spinner around off, turning away, Kusal looks to reverse paddle this but is beaten. Good take by MS again. 5 runs from the over. SL 54/3 in 9 overs
21.36 IST: Slower through the air, landed full outside off. Asela eases it down to long on for a single. SL 49/3 in 8 overs
Asela Gunaratne strides out to bat next. The asking rate is close to 11 RPO. Can he strike a few to get his team back on track?
21.33 IST: OUT!  Caught and bowled! Chahal gets his second! Mathews' struggle at the crease comes to an end. Yuzvendra tosses it up around the middle, it stops a bit on the pitch. Angelo lunges forward to drive but ends up chipping it straight back to the bowler who accepts the catch gleefully. He dismissed him in the third ODI and does so again. Sri Lanka are in huge trouble now.   SL 46/3 in 7.2 overs, need 135 runs to win 
21.29 IST: Another good stop from Chahal! Loopy ball outside off, Kusal gets down and reverse sweeps it past Dhoni. The Indian leggie gives it a long chase from backward point and does well to stop it inside the rope. 5 runs from the over. SL 45/2 in 7 overs
Kuldeep Yadav to roll his arm over now.
21.26 IST: Four dots in a row and just a single from the last over of the Powerplay! Mathews hangs back and keeps this length delivery out on the leg side. All of a sudden, the Indians have put a lid on the scoring rate. SL 40/2 in 6 overs
Jasprit Bumrah comes into the attack.
Angelo Mathews is the next man in.
21.20 IST: OUT! Caught down the leg side! Excellent take from Dhoni, he dropped him in the previous over but takes a good one to limit the damage! To be honest, this wasn't a wicket-taking delivery by any means. Chahal bowls it down the leg side, Tharanga looks to sweep it away but all he manages is a tickle and Dhoni is quick to take it to his right behind. Replays show there was a clear edge there. SL 39/2 in 5 overs
21.17 IST: SIX! That's gone all the way! Tharanga comes down the track, isn't to the pitch of the ball either but trusts his power and goes bang over long on. Tremendous hit that. SL 39/1 in 4.3 overs 
21.16 IST: FOUR! Nicely done! Chahal bowls it around middle and leg, Upul knows the man is inside the circle on the leg side and so he takes his chance. Sweeps it cleanly over the man at the short fine leg for a boundary. SL 33/1 in 4.2 overs
Yuzvendra Chahal is brought into the attack. We saw the Sri Lankan spinners finding it difficult to grip the ball. Let's see what Chahal can do. Dhoni, Sharma and Chahal are seeing discussing something.
21.15 IST: Slower delivery, fuller in length, Perera drives it uppishly but it falls short of the man at point. Brilliant over from Jaydev, just two off it. SL 29/1 in 4 overs
21.12 IST: The bowlers are finding it really difficult here. More sawdust is being sprayed near the landing area...
21.08 IST: Back of a length delivery on middle, Tharanga looks to pull it away. Gets it off the higher part of the bat but the ball falls safely near the mid-wicket region as the batsmen take two. 11 runs came from the over. SL 27/1 in 3 overs
21.06 IST: SIX! Ahhh! Mind blowing! Length delivery on middle, Tharanga just waits for it and dispatches it over mid-wicket. All power as the ball sails over the fence for a maximum. SL 23/1 in 2.4 overs
21.03 IST: Tharanga got some medical attention in the previous ball. He had an issue with his left thumb but he is fine now. Meanwhile, the long leg comes inside the circle.
21.02 IST: Edgyyy! Jaydev has his tail up. After bowling a slower one, he bowls a pacy delivery to Perera. Kusal is opened up a bit and gets a leading edge which flies past the man at backward point for a single. SL 16/1 in 2 overs
Kusal Perera walks out next.
21.00 IST: OUT! Got him! Unadkat strikes in his very first over! Maiden T20I wicket for him and he has his hands aloft in celebration! Bowls a slower one, just outside off, Dickwella is ages early into the shot. His bottom hands comes off and as a result he ends up mistiming it high in the air towards extra cover. KL Rahul moves a few steps to his right and grabs it easily. Dickwella departs cheaply. SL 15/1 in 1.4 overs
20.56 IST: FOUR! Welcome Unadkat, says Dickwella! Jaydev bowls a length delivery, angling in, Niroshan walks across and just chips it over mid-wicket for a boundary. SL 15/0 in 1.1 overs
Jaydev Unadkat is asked to bowl from the other end.
20.55 IST: Overthrows! Sri Lanka wouldn't mind this at all. Manish Pandey what have you done? Rohit Sharma shakes his head! Very full around off, Dickwella digs it out towards the off side and sets off for a single. Pandey from point, comes charging in, gets to the ball and fires an unnecessary throw at the striker's end. Chahal is the one backing up who gets a bad bounce as the ball hits his left knee and rolls away to the fence for a boundary. SL 11/0 in 1 over
20.50 IST: We are back for the chase. The Sri Lankan openers are Niroshan Dickwella and Upul Tharanga. Watch out for the former, he was it in him to provide a rollicking start. Hardik Pandya is asked to open the bowling for India. Let's go...
20.39 IST: SIX! Perera tries to go for the yorker again but it's a full toss, a cardinal sin. Dhoni gives it a full swing of the bat and deposits it high and over the deep square leg fence to end the innings with a maximum. 12 from the over and INDIA FINISH ON 180/3 in 20 overs
20.35 IST: Very full on the stumps, Dhoni swings across the line. Gets it off the inner half through mid-wicket and calls for two. Pandey is the one running at the danger end, the bowler's end as the throw from the deep isn't a good one. Could have been a goner had the bowler collected or had that hit the stumps. Nevertheless, two taken. IND 170/3 in 19.1 overs
20.33 IST: FOUR! Makes the most of the Free Hit! Another full toss, this time outside off. Pandey belts it through covers and the man in the deep stood no chance to cut that off. What an over for India, 21 runs off it! Pradeep has gone for 38 in his 4 overs! IND 168/3 in 19 overs
20.32 IST: SIX! It's a no ball as well! Pradeep seems to be losing his rhythm here! Bowls a waist high full toss, Pandey arches back a touch and just ramps it over the keeper to send it all the way. Free Hit coming up as well. IND 164/3 in 18.5 overs
20.31 IST: FOUR! And there he goes! Pradeep in his quest to keep bowling the yorkers, ends up delivering a full toss to Dhoni. The Indian keeper at this stage won't miss out. He bludgeons it over mid-wicket as the ball bounces just inside the rope.  IND 156/3 in 18.4 overs
20.29 IST: 150 up for India. This is superb death bowling! Another yorker, Pandey looks to play the helicopter shot but gets it off the toe end again. The ball rolls towards mid on for just a single. IND 150/3 in 18.2 overs
Nuwan Pradeep to bowl the 19th over. He has conceded 17 in his 3 overs.
20.26 IST: FOUR! Nicely done! Slower delivery down the leg side, Dhoni moves inside the line and rolls his wrists well to ensure that the man at short fine leg had no chance to stop it from crossing the fence. IND 147/3 in 18 overs
20.23 IST: Edged but safe! Bowls the back of the hand delivery outside off, MP swings across the line. Gets a thick outside edge which falls well short of the man at third man. A single to end the over, 19 off it! IND 138/3 in 17 overs
20.21 IST: FOUR! More runs! Chameera looks clueless! Tries the yorker but ends up serving it a bit too full outside off. Pandey is up for it as he makes a bit of room and goes inside out over extra cover for a boundary. IND 135/3 in 16.4 overs
20.18 IST: SIX! That's gone a long way! What a shot, that is! Fuller in length, angling in on middle and leg. What does Pandey do? He clears his front leg and smacks it high and handsomely over the deep mid-wicket fence for a maximum. IND 131/3 in 16.3 overs
20.17 IST: FOUR! Boom! Dhoni gets the crowd going now! Back of a length delivery, angling in on middle, Dhoni comes down the track and muscles the pull over mid-wicket for a boundary. A much-needed one for the Indians. IND 124/3 in 16.1 overs
20.15 IST: Back of a length on middle and leg, helped towards fine leg for a single. Another good over for Sri Lanka, just 5 singles from it. IND 119/3 in 16 overs
Manish Pandey is the new man in!
20.09 IST: OUT! Slower one does the trick for Perera! He persisted with it and gets the result he wanted! Removes the dangerous Rahul here. Bowls a slower one on the stumps, Rahul gets down on one knee to slog it across the line but is outfoxed by the lack of pace on it. The ball sneaks under his bat and disturbs the timber behind. Rahul walks back after playing a classic knock. Can Sri Lanka continue to chip away at the wickets now? IND 112/3 in 14.3 overs
20.07 IST: FOUR! Tossed up delivery around middle, Dhoni once again skips down the track and belts it back. Rahul at the other hand takes evasive action as the ball goes through his legs to the long on fence for a boundary. IND 110/2 in 14 overs IND 110/2 in 14 overs
Huge cheer from the crowd as MS Dhoni walks out next to bat!
20.00 IST: OUT! Edged and taken! Pradeep is getting the extra bounce which is helping his cause! He hits the length hard, it's a bit outside off. Iyer makes room to go over point but the extra bounce gets the better of him. Gets an outside edge which flies into the gloves off the keeper. The threatening stand has been broken at the right time by the Lankans IND 101/2 in 12.4 overs
19.57 IST: 100 up for India. Length ball outside off, Iyer dabs it down to third man. Mathews in the deep, slips but does well to stop it in the end. Two taken. IND 100/1 in 
Nuwan Pradeep is back into the attack.
19.56 IST: FOUR! Deft from Iyer! Quicker through the air outside off, Iyer waits for the ball and then at the very last moment, opens the face of the bat and runs it down to third man fence for a boundary. IND 98/1 in 12 overs
19.52 IST: FOUR! 50-run stand comes up! Length delivery outside off, a bit wide as well, Rahul flays it over point for a boundary. IND 88/1 in 10.2 overs
Vishwa Fernando comes back into the attack.
19.48 IST: FIFTY! 2nd T20I fifty for KL Rahul! Shortish delivery, Rahul plays it with soft hands and scurries to the other end. A top class knock from the opener. This has been a two-paced wicket but he has adjusted beautifully. Raises his bat towards the dressing room and sinks in all the applause. IND 84/1 in 10 overs
19.45 IST: FOUR! Freebie and taken full toll of! On a length on the pads, Rahul clips it over short fine leg for a boundary.  IND 81/1 in 9.3 overs
Nuwan Pradeep comes on for a bowl.
19.42 IST: SIX! What a response from the batsman! He was expecting a bouncer after getting hit. Takes guts to take on the pull and execute it to perfection. Short ball on middle and leg, Rahul smashes it with aplomb over backward square leg for a maximum. IND 75/1 in 9 overs
19.40 IST: The physio comes running in and attends to Lokesh Rahul. He is in a lot of pain. Always difficult to cope with a blow near the box region.
19.38 IST: FOUR! Rahul is flowing at the moment. Good length ball on off, Rahul takes a couple of steps down the track and lofts it cleanly over covers to find the ropes. IND 65/1 in 8 overs
19.36 IST: FOUR! This time Rahul nails the pull! Shortish delivery in line of the stumps, Rahul swivels across and pulls it over square leg to pick up another boundary. IND 59/1 in 7.2 overs
19.35 IST: Shortish delivery, Rahul goes for a pull but top edges it over covers for a couple. He was in no position to play that and is lucky to survive. IND 55/1 in 7.1 overs
A slight halt. There is dew on the ground and the groundsmen are called in. They are using a rope to take the moisture off. Meanwhile, Thisara Perera comes into the attack.
19.31 IST: NOT OUT! Sri Lanka waste their review! Good length ball on off, angling in. Rahul tries to clip it through but misses to get rapped on the pads. The Sri Lankans roar in appeal and the umpire decides to rule it out. IND 50/1 in 6.1 overs
19.29 IST: Review time!  Rahul has been trapped in front but he opts to take the DRS after a thought. Looks close to the naked eye.
19.28 IST: FOUR! 50 up for India. Back-to-back boundaries! Fullish and straying on the pads, Iyer clips it with good timing past the short fine leg fielder to find the ropes again. IND 50/0 in 6 overs
19.26 IST: FOUR! Shot! Short and room on offer, Iyer pounces on it and crashes it through backward point to find the fence. IND 46/0 in 5.5 overs
Shreyas Iyer is the new man in. The youngster has been in good form and will be eager to continue his run. Meanwhile, Dushmantha Chameera returns.
19.22 IST: OUT! Mathews draws first blood! Important breakthrough for Sri Lanka as we all know how dangerous Rohit can be. Good length ball on middle, stops a bit on the pitch. The move to bring the keeper up keeps the Indian skipper inside the crease. He gets into an uncomfortable position and miscues his lofted shot towards mid on. Chameera runs in and dives to take a good catch. A promising start is cut short. IND 38/1 in 5 overs
19.21 IST: FOUR! Easy pickings! On a length on leg stump, Rahul hops and tucks it through the vacant backward square leg region to pick up a boundary. IND 37/1 in 4.4 overs
Angelo Mathews to have a bowl now.
19.18 IST: FOUR! Brilliant shot! Short delivery outside off, ample time for Sharma to rock back and slap it through covers for a majestic boundary. With that, Rohit Sharma reaches 1500 runs in T20I cricket. IND 31/0 in 4 overs
19.15 IST: FOUR! Poor delivery and duly punished! Full toss well outside off, Rahul kneels and sweeps it over the backward square leg. Good timing on that and the ball races to the fence. IND 24/0 in 3.1 overs
19.14 IST: FOUR! Not from the meat off the bat but gets the desired result. Good length delivery around off, Rahul tries to go inside out but slices it over the cover region. Kusal Perera sprints after it, puts in a swimming pool dive but comes second best. IND 20/0 in 3 overs
Dushmantha Chameera comes into the attack.
19.10 IST: Rahul waits deep in the crease and tucks the shortish ball to square leg for a run and will retain strike. Really good over from Dananjaya, only 3 from it. IND 13/0 in 2 overs
Interesting, spin early on in the innings. Akila Dananjaya to roll his arm over.
19.06 IST: Rahul strides forward to the fullish delivery and strokes it to covers for a swift single. Good start for India. IND 10/0 in 1 over
19.02 IST: FOUR! Crisp! That flew from the bat. Fuller in length on off, Rohit Sharma drives it beautifully through covers and away she goes to the fence. IND 6/0 in 0.2 overs
18.59 IST: ROHIT SHARMA and KL RAHUL will open for India. The debutant, Vishwa Fernando to start off with the new ball. A slip in place. Here we go...
18.56 IST: The players are all in readiness for the National Anthems. It will be Sri Lanka first followed by India. After the completion, we are set to get underway. There is a lot of buzz around. 
18.45 IST: India captain, Rohit Sharma says that they would have bowled first as well. Mentions that a game is being played after a year on this ground so he is not sure how the track will play. States that dew will be there throughout the match and as a result no side has an undue advantage. Feels that they didn't have the start they would have liked to in the Tests and ODIs but is confident of doing well in this format. Announces that Shikhar Dhawan has been rested and KL RAHUL comes in his place while Bhuvneshwar Kumar has also been given a break and he makes way for JAYDEV UNADKAT.
18.40 IST: Sri Lanka captain, Thisara Perera says that they will bowl first. Adds they need to forget what happened in the ODIs and perform well today. Mentions that they will give their best and will hopefully win. States that there are four changes from the last ODI. DUSHMANTHA CHAMEERA, DASUN SHANAKA, VISHWA FERNANDO (T20I debut) and KUSAL PERERA are in.
18.35 IST: Teams: 
Sri Lanka (Playing XI): Upul Tharanga, Niroshan Dickwella (wk), Kusal Perera, Angelo Mathews, Asela Gunaratne, Thisara Perera (C), Dasun Shanaka, Dushmantha Chameera, Akila Dananjaya, Vishwa Fernando, Nuwan Pradeep
India (Playing XI): Rohit Sharma (C), Lokesh Rahul, Shreyas Iyer, Dinesh Karthik, MS Dhoni (wk), Manish Pandey, Hardik Pandya, Jaydev Unadkat, Kuldeep Yadav, Jasprit Bumrah, Yuzvendra Chahal
Sri Lanka have won the toss and will field first. Here's the playing XI for #TeamIndia #INDvSL pic.twitter.com/NvhklNGCfA

— BCCI (@BCCI) December 20, 2017
18.30 IST: TOSS - Sri Lanka win the toss and elect to bowl against India at Cuttack
18.05 IST: 
Exciting young brigade in the house #TeamIndia #INDvSL pic.twitter.com/UX3kOgWn1l

— Ravi Shastri (@RaviShastriOfc) December 19, 2017
​18.00 IST: 
After the @Paytm ODI series it is time now for the T20I series and we are on our way to Barabati Stadium in Cuttack for the first match. #TeamIndia #INDvSL pic.twitter.com/GrolhF6mzc

— BCCI (@BCCI) December 20, 2017
​Brief Preview: The bench strength is expected to be tested but India are unlikely to lower the intensity when they take on Sri Lanka in a three-match Twenty20 series starting on Wednesday in Cuttack. With the Test series already in the pocket, the hosts hardly broke a sweat to clinch the just-concluded ODI series 2-1 under the leadership of stand-in skipper Rohit Sharma who marshalled his troops brilliantly in absence of Virat Kohli. The men in blue now will be aiming to extend their dominance against the Islanders in the shortest format as well by winning the three-match T20I series as well. 
Sri Lanka have been no match for India barring their one-off spectacular bowling effort in the first ODI in Dharamsala. Post that, India bounced back in Mohali, the tourists had their best chance in Visakhapatnam but they collapsed from 136/1 to be bundled out for 215. (Read Full Preview Here)