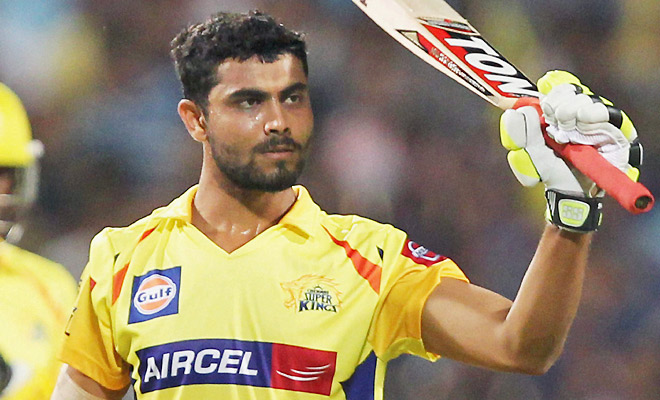 Aiming for a comeback in India's limited-overs squad, Ravindra Jadeja has been focussing hard to improve his batting calibre to make a return. Jadeja last played an ODI for India in July last year and has since found himself out of the national side following the emergence of wrist spinners Yuzvendra Chahal and Kuldeep Yadav. 
The athletic all-rounder strongly said that he does not want to be recognised as a part-time batsman and revealed that MS Dhoni has assured him of more batting chances in the upcoming edition of cash-rich Indian Premier League (IPL).  season at Chennai Super Kings (CSK). Jadeja was one of the three cricketers to have been retained by IPL franchise Chennai Super Kings during the player retention event in January. The other two cricketers retained by CSK are - Dhoni and Suresh Raina.
"Mahi bhai (Dhoni) told me that I will get batting opportunities in the IPL this year. He said that I have the ability of a proper batsman, and I am not the flash in the pan type of batsman. And I should think like that," Jadeja was quoted by the The New Indian Express.
"It was really encouraging for me. So, I am concentrating more on the batting aspect of my game and trying to get used to playing the anchor role," he continued.
Adding more about his conversation with the former India skipper, Jadeja wants to play for longer duration and wants to spend more time in the middle. "I am quite happy with the way I am bowling. In fact, I am focusing more on my batting now. I do not want to be a player who is known for hitting those 20-odd runs. I want to play the anchor role, just like I did today," the Saurashtra cricketer added.
The former world number one Test bowler last played for India in the three-match Test series against Sri Lanka last year. He failed to make it to the playing XI in the recently-concluded three-match Test rubber in South Africa.
Jadeja suffered a side-strain during the ongoing Vijay Hazare Trophy that did not let him bowl more than two overs. He hit his second List A century (113 not out) to guide his team past the finish line against Jharkhand.
"The pain was unbearable sometimes while playing certain shots. But this was really important for my self-confidence. It is morale boosting. To chase the target (330) under the circumstances is really special for me," Jadeja said. The knock on Sunday could be attributed to the additional balls that he has been facing in the nets during practice sessions, all in preparation to wear the blue jersey again.
Earlier, India's bowling coach B Arun has maintained that both Jadeja and Ravichandran Ashwin were not out of contention for the 2019 World Cup.