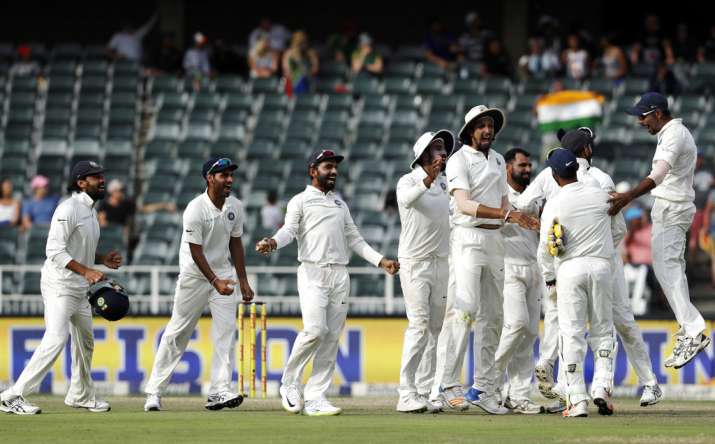 Indian skipper Virat Kohli says his team never lost faith in itself despite the criticism that came with consecutive Test losses to South Africa, crediting this belief for the turnaround that gave the visitors a consolation win in Johannesburg. 
"We don't think like people on the outside. When things don't go well, we as a team don't say 'oh we should have done this' or 'we should have done that'. That's the easiest thing to do. I can say or write anything about anyone," Kohli said after the 63-run win here after two heavy losses in the first two Tests.
"But when you're in there, facing their bowling attack on that sort of a wicket, and then when you decide to bat first, you need to be sure. You need to have belief in yourself.
"So, we certainly back ourselves as a team and that's something we have done throughout this tour. Yes, we were disappointed things did not come together in the first two games but we are really proud of this effort," he added.
Kohli and Co. had received a lot of flak after losing the opening two Tests in Cape Town and Centurion.
"A lot of people didn't have belief in us but as a team we knew that we were very close in the first two Tests too. We knew that if we played better in pressure-situations than them, then we would win," he said.
"And we did that in this Test match. This win was very important from our and the Indian team's point of view, and we were determined to win this match," he added.
Dean Elgar and Hashim Amla put on 119 runs for the second wicket and South Africa were placed at 124/1 at one stage. The Proteas though collapsed afterwards and succumbed to the pressure of the fourth-innings' chase.
"We got stuck into them in the second innings at Cape Town as well. Then they had a collapse in Centurion in the first innings. So we knew that if we get a couple of wickets the same thing could be repeated.
"Because as a batsman you are certainly reminded of the collapses that you have had and you don't want to repeat that. We knew that the kind of bowling attack we had and the way we are bowling right now, even if get a couple of wickets it will only be a matter of time," Kohli added .
The India skipper said India were hardly ruffled by Elgar and Amla's stand.
"I don't think like people on outside (and worry about wickets not falling). It's very important for me to have belief in the team. At all stages I was thinking if we were in this position, and if we lose a wickets, that suddenly makes things difficult for the next batsmen to coming in to bat.
"We knew that when they lose a couple of wickets, guys coming in are going to be nervous because this is Johannesburg.
"They need to play well and do the job. We had nothing to lose, we were playing expressive cricket, and we got stuck into them. This is probably one of our sweetest wins and I am really proud of the whole team," he added."
Now the two teams look forward to the six-match ODI series starting in Durban on February 1.
"There is a lot of mutual respect. The rivalry stays on the pitch. We don't see anyone talking ill about the other team. They give credit to us when we do well and we give credit to them when they do well.
"Lot of these guys play with us in the IPL as well so we know them really well also. But when you step out as a team there is no friendships there, there is only competition.
"And it is exciting for world cricket and that's why this win was important for us also. Because we are the no.1 side in the world and we played like that at Wanderers," the Indian skipper signed off.
(With PTI Inputs)