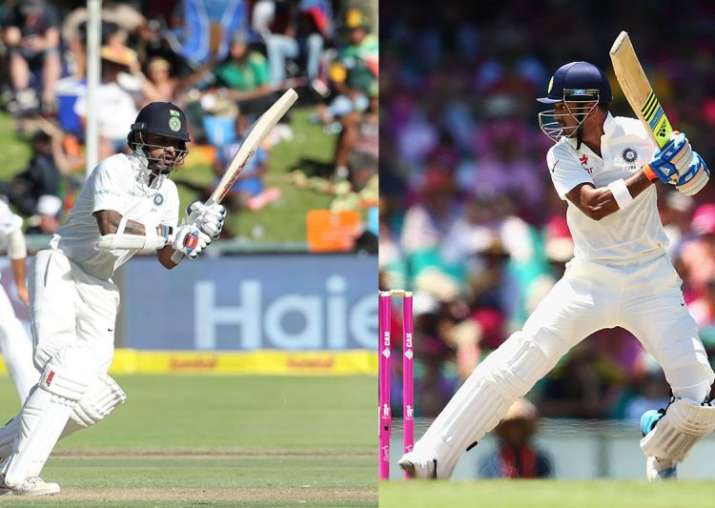 Receiving much criticism for his bold selection decision in the first Test, underfire India skipper Virat Kohli is likely to play wicketkeeper Parthiv Patel in place of Wriddhiman Saha and opener Kl Rahul will replace Shikhar Dhawan in the second Test, starting January 13 in Centurion.
According to reports, Kohli has decided to exclude wicketkeeper Saha from the playing XI that played in Cape Town, to make the way in for Patel, who can open India innings with Muarli Vijay. Rahul, who comes in place of Dhawan, might get to play in the middle-order.
However, the most shocking thing is that Kohli has decided not to pick Ajinkya Rahane, India's most averaging overseas batsman,
Earlier in the day, captain Kohli had taken a dig at critics questioning Rahane's exclusion in the first Test, saying those who wanted his deputy's omission are now clamouring for his comeback.
"It's funny how things change in a matter of weeks, or just about five days. Before the first Test no-one thought that he should be in the eleven and now suddenly people are looking at the other option," Kohli said in the press conference on the eve of the second Test.
The captain's comment is interesting given that Rahane's selection in the playing XI had not been called into question even once.
In fact, given his stupendous overseas record, it came as quite a shocker when his name was missing from the final XI for the first Test which India lost by 72 runs in three playing days in Cape Town.
"For us as a team, it's all about finding the right balance. If players fit in in the kind of balance we want to go in with as a side, then they will fit in. We certainly don't go on opinions that are created outside, and talk of the town and all those sort of things," Kohli's sarcasm at the pre-match conference was not lost on anyone.
"He (Rahane) is a quality player. He has done well in South Africa, in all conditions actually away from home. He is probably been our most consistent and solid player away from home," the skipper said.
He repeated that Rohit Sharma was selected because of his current form.
"I explained the reasons why Rohit Sharma started ahead of him. I am not saying that Ajinkya cannot or will not start in this game. Possibilities are all open at the moment and we shall decide after practice."
It is learnt that the conditions in Centurion may not aid swing bowling and Ishant Sharma could be considered in place of Bhuvneshwar Kumar, despite his six-wicket match haul and a gritty 25 in the first Test.
However, the Ishant-Bhuvneshwar swap is still not confirmed even though the other two changes are more or less certain.
Pint-sized Gujarat wicketkeeper-batsman Parthiv Patel, who is universally acknowledged as a far more accomplished batsman than Saha, is set to get a look-in along with Karnataka opener KL Rahul.
Dhawan's susceptible technique in bouncy and seaming conditions has been under the scanner and Rahul, who had hit his maiden Test hundred in Australia, is considered to be more well equipped technically. Parthiv last played against England and scored 195 runs in three Test matches, when Saha was injured.
"The team management understands that they need to shore up the batting. Apart from his 878 Test runs in 23 Tests, his first-class average is phenomenal.
He has more than 10,000 runs with 26 centuries. The team management couldn't have possibly avoided that," a senior BCCI official, who is privy to team management's decision, told PTI.
Parthiv is known to be a better backfoot player compared to Saha and can hit horizontal bat shots well unlike the Bengal player, whose frontfoot trigger movement makes him a possible leg-before candidate.
In the case of Dhawan, the team management at last seemed to have understood that he does not have the technique to play short-pitched stuff coming at a lively pace, as it was evident in both innings at Cape Town, where he was not in control of the pull shots.
For the team management, Dhawan can be be a good choice in Mumbai, Delhi or Colombo but not in Brisbane, Headingley or Cape Town. Rahul, on the other hand, has till now played 21 Tests, scoring 1428 runs at an average of 44.62 with four hundreds and 10 half-centuries.
He is among the only three Indian batsmen in international cricket, who has got hundreds across all formats, apart from Suresh Raina and Rohit Sharma.
The logic behind bringing back Ishant is his ability to bowl long spells to the tune of 11-12 overs, and the team management is well aware that the kookaburra seam wears out easily.
Mohammed Shami, with his eternal dodgy knee and Jasprit Bumrah, with a stressful action, needs to be used judiciously. For Bhuvneshwar, the conditions become paramount and Ishant could be used more as a restrictive option rather than an attacking one.
(With PTI inputs)