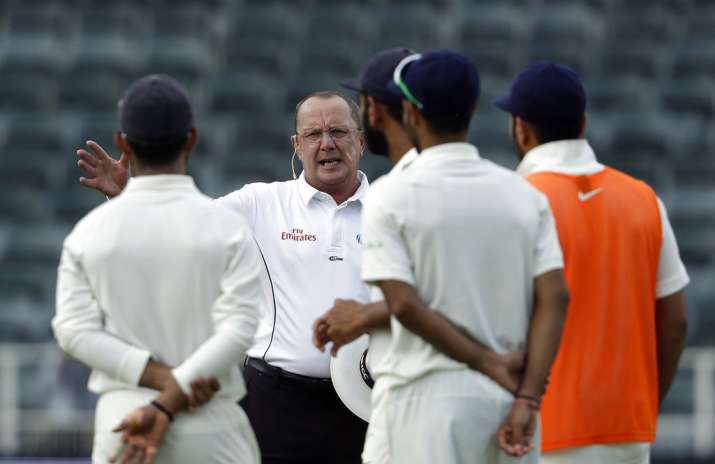 India's day completely and they are in pole position at the moment. Even though they lost a couple of quick wickets, Virat Kohli showed a lot of confidence and guided his side to safe harbors along with Ajinkya Rahane. They batted sensibly, showed positive intent whenever required and put the poor balls away at ease. It is important to assert yourself on a track which is playing a lot of tricks. The Indians doing that dented the morale of the Proteas and they also dropped some catches to let the game slip away. Bhuvi also played a very useful knock down the order and proved his street smartness while Shami had fun to loot away some runs.
Kagiso Rabada was the standout bowler for the hosts and took a 3-fer. Morkel and Philander also took 3 wickets but they failed to make optimum use of the track. Chasing a target of 241 on this track is a daunting task and as they came out to bat again, they found it out. Shami nipped out Markram with a beauty of a delivery and bowled a fiery spell. Elgar took a few blows and looked completely at sea before that hit on the temple which halted the game. Right then, there is uncertainty looming over the game. Will the match get abandoned? Will it go forward? These questions remain unanswered for the time being. If play resumes tomorrow, South Africa will have to bat out of their skins to get back into the contest on this notorious pitch.(SCORECARD) (DAY 2 HIGHLIGHTS)
HIGHLIGHTS, IND vs SA, 3RD TEST, DAY 3 AT NEW WANDERERS, JOHANNESBURG
21.01 IST: STUMPS! South Africa 194 & 17/1, need 224 runs to win vs India (187 & 247). Elgar 11*, Shami 1/7
20.56 IST: More drama. The floodlights were already switched on and it has started to drizzle! On come the covers. Looks a passing shower but play is suspended for now.
20.55 IST: The on-air commentators explain us about the situation. They say that the umpires need to consult both the captains before calling the game off. Meanwhile, Kohli and du Plessis walk inside along with the umpires. Certainly it has got to do with the safety of the batsmen but you need to be fair to both the sides. Kohli is definitely not happy but Shastri calms him down. Guess it is going to be a heated room under air-conditioning.
20.52 IST: Unfortunately, it has started to rain and the covers are being brought on to cover the pitch.
20.51 IST: The Indian players are all going back to the dressing room which means that we should be done for the day.
20.45 IST: Andy Pycroft goes towards Ravi Shastri and informs him something. The Indian coach is not amused at all. The on-air commentators explain us about the situation. They say that the umpires need to consult with both the captains before calling it off. Meanwhile, Kohli and du Plessis walk inside along with the umpires. Certainly it has got to do with the safety of the batsmen but you need to be fair to both the sides.
20.42 IST: The match referee, Andy Pycroft is being called into action. Grim faces in the South African dressing room. Faf du Plessis is waiting in anticipation. There is some arm waving from Dar. He is walking towards Virat Kohli who is looking angry. He has a right to be that way as India also batted on this surface. Meanwhile, Gould walks across to the batsmen and tells them to walk off.
Play has been stopped for now by the umpires after a few big blows to the body of Elgar, the last to his head. The pitch is the issue at the moment. SA are 17/1 for now chasing a target of 241 #SAvIND #SunfoilTest #FreedomSeries pic.twitter.com/uurXQn4XqP

— Cricket South Africa (@OfficialCSA) January 26, 2018
20.41 IST: The players are leaving the field. Aleem Dar is having a chat with Kohli who seems animated and unhappy with the decision. The two captains and coaching staffs are likely to have a discussion soon I reckon
20.38 IST: The umpires are having a chat now, and the match referee has also come into the ground.
20.37 IST: OUCH! On the helmet! This is really shocking. The pitch, really. Poor Elgar. Thank God, he is alive. This is now getting out of control. The balls are exploding like a bomb does.
Jasprit Bumrah is into the attack. He got a fifer in the first innings. India will pin their hopes on him to be at his belligerent best.
20.34 IST: FOUR! Stylishly played! Short of a length around off, Elgar lifts his front leg and pulls it past the short leg fielder to the deep square leg fence. He is not going to go down without a fight.  SA 194 & 15/1, need 226 to win vs IND (187 & 247)
20.32 IST: Few words of praise for Ajinkya Rahane's brave knock. 
Almost missing from our minds in the #Wanderers pitch debate: @ajinkyarahane88 's innings here. How do you leave this guy out the first two tests? There can be no reasonable answer. #SAvsIND

— Gerald Imray (@GeraldImrayAP) January 26, 2018
20.28 Experts views on the 'Wanderers pitch' 
Looks like a pitch gone wrong at The Wanderers .....

— David 'Bumble' Lloyd (@BumbleCricket) January 26, 2018
Wanderers pitch exploding. Chasing even 160-170 in fourth innings would be daunting. Can India set such target for SA is the question after loss of 2 early wickets. All eyes on @imVkohli

— Cricketwallah (@cricketwallah) January 26, 2018
20.26 IST: Ooh.. these blows are getting so common now! Back of a length ball, climbing on the southpaw. He takes his bottom hand off but gets an inside edge onto his stomach and the ball falls down safely. That is why the short leg is in place. SA 194 & 6/1, need 232 runs to win vs IND (187 & 247)
20.18 IST: MAIDEN! That's a jaffa! Short of a length ball outside off, angling in with extra bounce. Elgar keeps his eyes on it and drops his wrists to make a good leave. SA 194 & 6/1, chase 241 to win vs IND (187 & 247)
20.11 IST: Oh no! Elgar looks to be in a lot of trouble! On a length around off, shoots off significantly. Elgar tries to shoulder his arms as any batsman will try to do but this pitch is uncertain. The ball hits him flush on the gloves. He is walking away and has a look of anguish on his face. Calls for the physio straightaway.
20.08 IST: Another case of the pitch being dangerous. The umpires get together to have a discussion. However, the game continues.
20.07 IST: Hashim Amla strides out to bat. He played a really good knock in the first innings. His team needs him to rise to the occasion.
WICKET!!! India have started with a bang here as Markram falls to a poor shot attempt at Shami and ends up edging to Patel for 4. SA 5/1. Target 241 #SAvsIND #SunfoilTest pic.twitter.com/aZTL4nULgf

— Cricket South Africa (@OfficialCSA) January 26, 2018
20.06 IST: OUT! India are on the attack! What a delivery to get rid of the right-hander. He steams in from over the wicket and bowls a short of a length around off. Probably hits one of the cracks and moves away significantly. Markram could have left it alone but the variable nature of the pitch makes him fish at it. Ends up getting a nick behind. It is travelling at a fast pace. Patel moves to his right, leaps in the air and takes a stunning catch. He is fired up and so is Shami. Seems like the pep talk from Ravi Shastri has rubbed off on him. South Africa look jittery.. SA 194 & 5/1, need 236 runs to win vs IND (187 & 247)
20.01 IST: Mohammed Shami to share the new ball from the other end.
19.57 IST: FOUR! Great way to start the innings for South Africa! Fullish delivery, swinging in, Markram stays well balanced and clips it through square leg to find the fence. All about timing and grace. SA 194 & 4/0, chase 241 to win vs IND
19.56 IST: Welcome back to the chase. Aiden Markram and Dean Elgar are at the crease. Markram is on strike. Bhuvneshwar Kumar will open the attack for the visitors.
19.55 IST: SOUTH AFRICA INNINGS
19.47 IST: 
WICKET!!! SA have finally dismissed India for 247. Philander with the last wicket for figures of 3/61 and five wickets in his 50th Test. Morkel bagged 3/47 and Rabada 3/69 #ProteaFire #SAvsIND #SunfoilTest pic.twitter.com/oZkyNKCNAF

— Cricket South Africa (@OfficialCSA) January 26, 2018
19.45 IST: OUT! SA NEED 241 TO WIN. It just needed one delivery with the second new cherry to dismantle the last wicket stand. Landed outside off, almost like a loosener, 125 kph, Bumrah backs away a touch and looks to drag it to the leg side, he gets a top edge. The ball goes straight up in the air and Kagiso Rabada calmly takes it at mid-on. Three wickets for Philander too. . India 187,  247-all out, give South Africa (194) 241-run target to win. Rahane 48, Kohli 41, Morkel 3/47, Philander 3/61
19.36 IST: FOUR! FEROCIOUS! Ishant is not going to hang around. Backs away and bashes a length ball through mid off for a boundary! IND 187 & 244/9, lead SA (194) by 237 runs
19.33 IST: Jasprit Bumrah is the last man in. How much can numbers 10 and 11 add? 10+11=21 at least?
WICKET!!! Finally Kumar falls after another fine knock under the circumstances. He edged Morkel behind to De Kock for 33 and India are 240/9 and lead by 233 #ProteaFire #SAvsIND #SunfoilTest pic.twitter.com/5lYQuN9bc6

— Cricket South Africa (@OfficialCSA) January 26, 2018
19.32 IST: OUT! Caught behind! Bhuvi misses his half-century but what a knock by him. He has played 76 balls for his 33, which means a good hour. Keeping the South Africans on the field. This was unplayable, at least for a lower order batsman. Morkel comes in from around the wicket and bangs in a short one, around middle. Kumar has to play at that but is unable to adjust to the bounce. Only manages to edge it behind to the keeper. Fantastic innings. India inching closer to 250 - effectively 233/9.. India 187 & 240/9, lead South Africa (194) by 233 runs.
19.28 IST: A sharp short ball, around off, coming in, Bhuvi looks to fend it away but the ball jags back and bounces sharply, catches BK off guard and goes off the inside edge towards fine leg. A single taken.
19.22 IST: Ishant Sharma now, at number 10, replacing Shami.
19.21 IST: WICKET! Ngidi removes Shami for 27 runs. Caught! Ahem... they say, never run on a misfield, don't they? Well, if Shami had not run on that previous misfield, he would not have been on strike! Anyways. A short ball around off, Shami pulls it comfortably but it is straight to AB de Villiers at deep square leg! End of an entertaining knock - 27 from 28 balls, with 1 four and 2 sixes. Another priceless stand for India - 35 from 43 balls.  India 187 & 238/8, lead South Africa (194) by 231 runs. 
WICKET!!! Ngidi into the attack and he gets the breakthrough SA were craving for. Shami goes for a quick-fire 27 and India are 238/8 #ProteaFire #SAvsIND #SunfoilTest pic.twitter.com/IhGDmhvoLC

— Cricket South Africa (@OfficialCSA) January 26, 2018
19.20 IST: Interesting thoughts from Jonty Rhodes on air. He accepts that South Africa are not having their minds on the current innings at the moment. He observes that Hashim Amla got hit in the first innings, the physio had come out, then Aiden Markram and AB de Villiers have their fingers taped and all. So, on this pitch, if one of them gets hit on the gloves, will the Proteas continue to bat if asked?
19.17 IST: IND 236/7, lead SA by 229 runs.
19.14 IST: Even though he missed his 13th Test fifty by 2 runs, Rahane (48) received much acclaim from former cricketers.
Highly impressed with the courage of the Indian batsmen,on a very difficult wicket.While Kohli has been sensational,Rahane in his comeback match showing his class and character,along with Bhuvi who impresses me every match he plays.

— VVS Laxman (@VVSLaxman281) January 26, 2018
Amazing skills from Ajinkya Rahane and Bhuvneshwar Kumar , truly Dabangg. The resolve and determination will make every cricket lover proud, even though SA have been sloppy

— Virender Sehwag (@virendersehwag) January 26, 2018
Brilliant innings from Ajinkya Rahane. India missed him in the first two tests. Now the more India get,the more difficult it is going to be for SA. #IPLAuction might also be a distraction chasing:)

— Mohammad Kaif (@MohammadKaif) January 26, 2018
19.06 IST: SIX! And with this, Shami slams another one. CREAMED! A Shami special here! A short ball, Shami swings again and clears mid-wicket with ease! IND 229/7, lead SA by 222 runs.
19.04 IST: Shami receives praises after scoring a sky-scrapping six.
India lead by 200 runs and Mohammed Shami Celebrate that with first six of the test match...

— Broken Cricket (@BrokenCricket) January 26, 2018
Mohammed Shami hits the first SIX off the game. His best contribution in this game so far. #SAvIND

— Sampath Bandarupalli (@SampathStats) January 26, 2018
"He certainly has increased his value for the IPL Auction tomorrow", says Sunil Gavaskar as Mohammed Shami smacks a six #SAvIND

— Shubh AggarWall (@shubh_chintak) January 26, 2018
18.54 IST: SIX! Shami handles it his way. CRASH! It is party time over the weekend! A short ball outside off, does not bounce much and Shami is ready. Goes back and pulls it way over mid-wicket! IND 213/7, lead SA by 206 runs.
18.47 IST: Mohammed Shami walks in next, at number 9, replacing Rahane.
18.46 IST: OUT! Morne Morkel removes Ajinkya Rahane for 48. This time Rahane is indeed gone! Full and down the leg side, Rahane looks to flick but misses. There is another noise heard, Quinton de Kock dives to his left to catch and then appeals, the bowler joins in and this time, umpire Ian Gould raises his finger! Rahane does not bother challenging and when asked by Bhuvi, he nods, to the inside edge. The 55-run stand is broken. IND 187, 203/7, lead SA (194) by 196 runs. 
WICKET!!! Finally SA have their breakthrough to end a superb 55-run stand. Rahane is out caught behind attempting a leg-side flick. He falls for 48 and India 203/7. Lead is 196 #ProteaFire #SAvsIND #SunfoilTest pic.twitter.com/AvwQHy5qJS

— Cricket South Africa (@OfficialCSA) January 26, 2018
18.41 IST: Vernon Philander to bowl from the other end.
18.40 IST: NOT OUT! No bat at all, just the pad. On a length down the leg side, Kumar looks to flick but misses. There is a noise as the ball goes past and Morne appeals for the catch. The umpire is not interested and neither is the slip cordon. But then, the bowler convinces his captain to take it upstairs. Snickometer shows a spike when the ball hits the pad, not when the ball goes past the pad. IND 202/6, lead SA (194) by 195 runs.
18.38 IST: Caught behind? Faf du Plessis does not look too confident but Morne Morkel convinces his skipper to go for the review.
18.35 IST: We are still playing. The players are back out in the middle. The Indian dressing room looks pretty confident while the South African one seems pretty worried. The fielders get into a huddle. Morne Morkel vs Ajinkya Rahane first up...
18.32 IST: ... DAY 3, FINAL SESSION ...
18.13 IST: India 187, 199/6 at tea, lead South Africa (194) by 192 runs. Rahane leads the visitors' charge with unbeaten 46 runs.
18.15 IST: 
And it's time for tea. One of the most productive sessions in terms of runs during this 3rd #SunfoilTest of the #FreedomSeries. India have done well thanks to Rahane (46*) and Kumar (23*), a 51-run stand at the moment #SAvsIND pic.twitter.com/s3Ene1vunL

— Cricket South Africa (@OfficialCSA) January 26, 2018
And, that's Tea on Day 3 of the 3rd Test with #TeamIndia 187 &199/6 (Ajinkya 46*, Bhuvneshwar 23*), lead South Africa (194) by 192 runs.

Updates - https://t.co/ixhjf9zV0h #SAvIND #FreedomSeries pic.twitter.com/9xyLkHIhqo

— BCCI (@BCCI) January 26, 2018
18.10 IST: Fifty-run partnership comes up for Rahane and Bhuvneshwar. Andile Phehlukwayo to Bhuvneshwar Kumar, 1 run. Down the leg side now, tucked fine for a single.
17.54 IST: FOUR! Slashing hard again. Full and wide outside off, Bhuvi throws his bat at it and gets it off the thickish outside edge over gully to third man! Moves to 22 from 30 balls! IND 193/6, lead SA by 186 runs.
17.52 IST: You dropped the catch, now get me a wicket. Here comes Andile Phehlukwayo. By the way, that was not me saying. Just felt, Faf du Plessis must have said that...
17.47 IST: RAHANE DROPPED! Another catch put down. What is happening with the hosts? Kagiso Rabada to Ajinkya Rahane, 2 runs. DROPPED! Second one in the space of 6 balls! Definitely South Africa do not have their minds on the game at the moment. A short ball outside off, Rahane upper cuts it towards sweeper cover where the man is placed to perfection. Andile Phehlukwayo has to take only a couple of steps to his right, gets to the ball but then drops it! Two runs taken. 
17.40 IST: Morne Morkel is back on.
17.46 IST: Meanwhile, Twitter knows how to react on this.
Clever from Elgar. Delays having to open the batting #SAvIND

— Gaurav Kalra (@gauravkalra75) January 26, 2018
Elgar dropped another catch? pic.twitter.com/vgYhfLJEeM

— Sibongile Mafu (@sboshmafu) January 26, 2018
Can't understand why Elgar is in the slip/gully catching positions in this team. He drops so many so often.

— Simmi Areff (@simmiareff) January 26, 2018
17.44 IST: BHUVNESHWAR DROPPED! Dean Elgar is the culprit. Morne Morkel to Bhuvneshwar Kumar, no run. IN AND OUT! Oh dear... more worries for South Africa! Already the lead is mounting and this won't help. Outside off, Kumar looks to slash but gets a thick outside edge. The ball goes straight to Dean Elgar at third slip, who, well, takes the catch but just like some buckets have holes and the water runs through those, the ball goes right through his hands and slips down.
17.39 IST: FOUR! Bhuvneshwar plays it fearlessly here. India on the counter-attack! A length ball outside off, Bhuvi backs away and slashes it over mid off for a boundary!
17.32 IST: The umpires get together to confer. Aleem Dar and Ian Gould have a chat and seemingly ask the batsmen whether they want to play. Kohli signals to his mates from the dressing room to stay there. Don't think India will mind a few blows from here on. They are in pole position. It is the 11 South African players to come out to bat next who will have to worry. Kagiso Rabada to Ajinkya Rahane, 1 run.
17.26 IST: FOUR! AMAZING! Half volley outside off, Rahane just pushes his arms across, gets to the pitch of the ball and drives it exquisitely through the covers! The lead climbs again, 150 IT IS!
17.22 IST: Except for a 93-run knock in the first Test in Cape Town, Hardik Pandya hasn't impress much with the willow in the ongoing Test series. Earlier in India's first innings, Pandya lost his wicket for a duck, while this time he was dismissed for just four runs. Watching him struggle in South Africa, this is what fans and expert have to say about the all-rounder.
That should end the Pandya versus Sobers debate

— Sanjay Subrahmanyan (@sanjaysub) January 26, 2018
I don't think India should play Hardik Pandya in England. Rather back your specialists. Don't @ me.

— Nikhil 🏏 (@CricCrazyNIKS) January 26, 2018
Expecting Ajit Agarkar to come up with "Forget Kapil Dev, Please don't compare Hardik Pandya with me" after this Test.

— Saurabh Malhotra (@MalhotraSaurabh) January 26, 2018
17.16 IST: Bhuvneshwar Kumar strides out to bat.
17.15 IST: WICKET! Rabada removes Pandya for 4 runs. A gem of a catch to get rid of the dangerous Pandya! Fuller length ball on off, Pandya goes for the drive on the up but doesn't quite get to the pitch of the ball. Ends up pushing it back towards Rabada. He stays cool as a cucumber in his followthrough and takes a right-handed stunner. However, he loses his cool and fires a throw that goes past Pandya.  Aleem Dar has a chat with him regarding that. That was a poor gesture from the young quickie. Needs to be careful. His dad in the dressing room has a beaming look on his face. He is happy with the way his son is performing.  India 187 & 148/6, lead South Africa (194) by 141 runs.
WICKET!!! And the break helps SA get another wicket thanks to a brilliant caught and bowled by Rabada to send Pandya packing for 4. It's 148/6 #ProteaFire #SAvIND #SunfoilTest pic.twitter.com/EiFhZWLcnj

— Cricket South Africa (@OfficialCSA) January 26, 2018
17.12 IST: Time for Drinks. India right on top and they have swelled the lead to 141. Rahane along with Kohli played some eye-catching strokes to keep the scoreboard moving. The pressure is on South Africa now and they need a flurry of wickets. India will believe that a target of 200 will be good enough on this track.
17.06 IST: Ngidi returns for a bowl.
17.05 IST: Was it an unplayable delivery?
Another unplayable delivery from Rabada to get Virat Kohli Out. 🔥

— Trendulkar (@Trendulkar) January 26, 2018
17.00 IST: FOUR! Rahane in mood of counter-attack. Terrific! On a length on off, Rahane comes forward confidently and punches it on the up past mid on. He has timed that beautifully and the ball whistles to the fence.
16.54 IST: Yet another halt due to the dangerous pitch.
16.51 IST: Hardik Pandya is the new man in. His intention will be to score some handy runs with his usual aggressive approach.
16.50 IST: Rabada claims his second wickets as Kohli departs for 41 runs. Timber! look at Rabada, he is absolutely fired up. Unplayable delivery really. A top, top confrontation from the skipper comes to an end. Good length ball outside off, hits the deck and seams in like a banana. Kohli prods forward to counter it but the ball goes right through the gap between his bat and pad, brushes his back leg and hits the off stump. The look on Kohli's face is of bewilderment. Needed to bowl a delivery like this to get rid of him as he was batting with a lot of authority.  The Proteas are over the moon. Just shows that how much this breakthrough means to them. India are ahead by 127 and are quite strongly placed though. India 187 & 134/5, lead South Africa (194) by 127 runs.
WICKET!!! It's taken a while after lunch, approximately 40 minutes and 34 runs, but the next strike has arrived as Rabada cleans up Kohli for 41. India 134/5 now and lead by 127 #ProteaFire #SAvIND #SunfoilTest pic.twitter.com/INBtUjoXt5

— Cricket South Africa (@OfficialCSA) January 26, 2018
16.45 IST: Kohli's batting on a "treacherous surface" delights cricket commentator Harsha Bhogle.
I don't know how many Kohli will get today but on this treacherous surface, his batting has been an absolute delight to watch.

— Harsha Bhogle (@bhogleharsha) January 26, 2018
16.41 IST: FOUR! Brilliant approach from Rahane! He is taking the bowlers on and is coming out on top. Fractionally overpitched outside off, Rahane lifts it over extra cover to pick up a boundary. True class on display.
16.32 IST: The man at square leg goes deeper.
16.28 IST: FOUR! Brilliant drive. Up and over! A low risk shot and he gets the desired result! Short and room on offer, Rahane rises on his toes and upper cuts it over point for another boundary. Runs are now flowing for India.
16.21 IST: Change of field. A man comes in the gully region now.
16.20 IST: FOUR! 100-run lead comes up for India. Well played! Time and again, he is finding the boundaries to keep the scoreboard ticking. Back of a length outside off, Kohli waits for it and guides it through the vacant gully region to find the fence.
16.17 IST: Philander is brought back into the attack.
16.11 IST: We are back and so are the players as well as the umpires. The weather is clear at the moment and let's hope it stays this way throughout. The South African team is in a huddle. Faf du Plessis is giving them a pep talk.
15.32 IST: 
Lunch Break | India 100/4
with a lead of 93 runs #SAvIND #FreedomSeries pic.twitter.com/aqioAO5uQt

— Cricket South Africa (@OfficialCSA) January 26, 2018
15.30 IST: OUT! Bowled 'em! Take the pitch out of the equation, any top batsman would have found it extremely difficult to answer that. Rabada raises his arms skywards and makes a roar. Gets a hug from his skipper. A pinpoint yorker on off, Vijay was not expecting that. He is late in bringing his bat down and as a result, a bottom edge is induced which goes onto crash into the stumps. However, the opener has done his job. Scoring 25 runs on this tricky track is worth in gold. THAT'S LUNCH ON DAY 3! India 187, 100/4, lead South Africa (194) by 93 runs. Kohli 27*, Philander 2/21, Morkel 1/13
15.22 IST: Well played! That brings up the 100 for India and the lead moves to 93. South Africa will start to worry now. On a length outside off, tapped with the swing past backward point for a brace.
15.18 IST: Too good a ball to get the outside edge! Good length ball in the zone of apprehension, angling in initially but seams away after hitting the deck. Vijay has no option but to play at it and is beaten all ends up. IND 97/3, lead SA by 90 runs
Vernon Philander is back on. South Africa desperately need their key bowler to break this partnership.
15.12 IST: Former Australian cricketer Dean Jones feels happy with the fact that he's not on the field right now.
His pitch at Wanderers is getting dangerous... I am quite happy sitting in my room than playing on that pile of crap facing those bowlers! #beentheredonethat #windies

— Dean Jones (@ProfDeano) January 26, 2018
15.06 IST: FOUR! Kohli is constantly waiting for the right deliveries to score. Kohli at his best! No matter whatever is happening around, the skipper is going ahead with a calm and stable approach. Fullish ball on off, Kohli leans into it and drives it elegantly through mid on to find the fence.
15.02 IST: FOUR! Byes. Bonus runs for India! Swinging down the leg side, Vijay misses his glance. De Kock dives full length to his left but the ball goes past him in a flash and through to the fence. Four byes signaled by the umpire.  IND 88/3, lead SA by 81 runs.
15.00 IST: The umpires, Ian Gould and Aleem Dar walk towards the middle of the pitch and have a serious conversation.  The two skippers are also present. This is certainly a dangerous pitch to play on. The batsmen are getting blows consistently and it is a serious matter to ponder upon.
14.54 IST: Former India batsman Aakash Chopra believes the wickets like Wanderers threaten player safety.
A dust bowl like Pune doesn't get better with time. But it doesn't present a physical danger.
Pitches like the one at Jo'burg 'might' get better with time...but also, threaten player safety. #SAvIND

— Aakash Chopra (@cricketaakash) January 26, 2018
14.46 IST: FOUR! A very determined batting from Virat Kohli. Every run on this track is worth in gold! Fractionally overpitched outside off, Kohli strides ahead and creams it past extra cover for a glorious boundary. The skipper is playing really well. He is not missing out on any scoring opportunity.  IND 76/3, lead SA by 69 runs.
14.43 IST: FOUR! A rarity at this surface. This is the way to play on this track! Hit the bad balls away. Shortish delivery well outside off, Kohli stands tall and pulls it past mid on. The ball slows down near the fence as Morkel hares after it. However, it manages to roll to the fence.
14.40 IST: Kohli is in a bit of discomfort. He is getting attention from the physio. Kagiso Rabada to Virat Kohli, no run. In the avenue of apprehension, takes off extravagantly. Kohli looks to fend it off but can't do anything about. Is hit on the gloves. Takes them out and immediately calls for medical help. Micheal Holding on air says that this is ridiculous. Certainly this track is a nightmare for the batsmen.
14.34 IST: Lungi Ngidi into the action now.
14.31 IST: Time for drinks! After 29 overs, IND are 67/3, with a 60-run lead over SA. An intriguing hour's play. 12 overs, 18 runs and the wickets of Rahul and Pujara. Batting is difficult is an understatement. It is just impossible to hang around and survive. The Indians are trying their best but the ball landing on the cracks is making playing very, very difficult. To be honest, India have done well to lose just 2 wickets in the hour.
14.26 IST: Kagiso Rabada comes back on to bowl after bowling that first over of the day.
14.24 IST: KOHLI DROPPED! Is that the slice of luck India and Kohli need? A length ball on middle, Kohli flicks it straight to Aiden Markram at deepish short leg who is unable to react in time. The ball goes off his legs but does not lob to the deepish leg gully. Too tough a chance.
14.20 IST: Just one run from the over. Vernon Philander to Virat Kohli, no run. Similar ball, perhaps a touch wider than the previous one, Virat defends it solidly towards cover. So important to forget what happened on the previous ball. Else one would never be able to score.  IND 64/3, lead SA by 57 runs.
14.12 IST: Earlier, South Africa's Hashim Amla, who scored a 61-run knock here, called Wanderers pitch 'a spicy wicket'. (Read full story)
14.09 IST: FOUR! Here come some runs for India. SWEET! Probably the most confident shot of the morning. Gets the scoreboard moving. That is the difference Kohli brings to the crease. He won't back down and just try and fend at balls, rather he will look to be a bit busy. Full and outside off, normally, a batsman would leave those early in the innings seeing the previous ball but not Kohli. He sees it as a scoring opportunity and leans into the shot. Then drives it sweetly through the covers and find the fence. What a way to get off the mark.
14.06 IST: Pujara, who scored a fifty in India's first innings, earlier said 187 on this surface is as good as 300. Leaving the crease with just 1 run, the Saurashtra batsman misjudged the delivery by Morkel.  Fans and pundits believe the Wanderers pitch has turned "a batting hell" now.
Pujara gone now... puff off the pitch as the ball went through... this pitch is quickly becoming a batting hell. #SAvInd

— Chetan Narula (@chetannarula) January 26, 2018
Another bites the dust, a length ball from Morkel makes Pujara play at it. Goes straight to Faff yet again.
India lose their third at 58.#SAvIND#OrangeArmy

— SunRisers Hyderabad (@SunRisers) January 26, 2018
Not spicy ? Not even after pujara's dismissal ? Ball rose abruptly higher than normal. Rahul threw away his wicket, got sucked into playing forward. However pujara got an unplayable one quiet early. Unlucky..

— Harsha Anand (@HarshaAnand9) January 26, 2018
13.58 IST: Virat Kohli comes in at number 4, replacing Pujara.
13.57 IST: Morkel removes Pujara for 1 run. Pujara goes cheaply too! Boy, this was really unplayable. Morkel lands this on a crack outside off, Pujara is forced to play at it because of the angle but then, the ball bounces steeply and takes the outside edge. Pujara cannot do anything. Just fends at it and hands a simple catch to Faf du Plessis at second slip again. India 187 & 57/3, lead South Africa (194) by 50 runs.
WICKET | C du Plessis B Morkel
India 57/3 lead now at 50 runs#SAvIND pic.twitter.com/HpoeAaR9gt

— Cricket South Africa (@OfficialCSA) January 26, 2018
13.54 IST: FOUR! Leg byes. Useful runs. Morkel slants it down the leg side, Pujara misses his tuck and the ball goes off his pads to the fine leg. IND 56/2, lead SA by 49 runs.
13.52 IST: Fans slam Rahul after he loses his wicket early on Day 3.
Rahul's patience ends. He was leaving same kind of balls yesterday. Batting overseas is all about patience. #INDvSA

— Twelfth Man (@D_Misplaced1) January 26, 2018
#INDvSA Awful shot bt Rahul..

— M(an)i Views.. (@ManikandanN13) January 26, 2018
Very bad shot from KL Rahul. Effects of t20 on him, chasing unnecessary

— Rohit Singh ♈️ (@rs_social15) January 26, 2018
There is a race between KL Rahul & Shikhar Dhawan....

Let's see who will get out playing the worst shot?#INDvSA #SAvInd

— Sir Rohit Sharma (@NotThatSharma) January 26, 2018
13.47 IST: Vijay has called for the physio. Seems to have copped a bit of the seam on the rib. A slight delay.
13.42 IST: A quick change. Morne Morkel comes on straightaway.
13.41 IST: Cheteshwar Pujara walks in now, at number 4, replacing Rahul.
13.40 IST: WICKET! Philander, who claimed the wicket of Parthiv (16) on Day 2, dismisses Rahul (16) this time. There is the first wicket of the day in just the second over! Did that hit the crack? Don't think so. Nor was there any exaggerated movement. But because Philander can move the balls both ways, Rahul is not sure which way this one will move - in or out. Still, to be extremely critical, he could have left it alone on the line. It was certainly wide but he pushed at it. The ball then took the outside edge and went straight to Faf du Plessis at second slip who took it comfortably. India are effectively 44/2.
WICKET | Philander gets the wicket of Rahul 16 who's caught by du Plessis at second slip. India 51/2. Pujara is the next batsman for India. #SAvIND #FreedomSeries #ProteaFire pic.twitter.com/G3qN8tWEcZ

— Cricket South Africa (@OfficialCSA) January 26, 2018
13.34 IST: The national cricket team of India, which is also known as Team India and the Men in Blue, has seen and scripted many glories under the leadership of superheroes in disguise of captains. Here is the saga of all of them. From CK Nayudu to Virat Kohli, know your cricket captains since 1932.
13.30 IST: The morning session, which could be pivotal to the game's result, begins on Day 3 in Johannesburg. Rabada to start for South Africa. Murali Vijay to face. A short leg is in place. Interesting. 
13.20 IST: Shaun Pollock doing the pitch report says that the cracks are getting wider and wider by the day and the grass cover is still in place. Mentions that there will be a lot of activity. Informs that they have seen the ball hitting the batsmen on the gloves and ribs. Adds that balls have flown past batsmen while some have stayed low. Reckons that the good length and short of length are the areas of concern. Feels that if the bowlers bowl a stump-to-stump line, life will be very difficult for the opposition. Informs that India have decided to go with a light roller instead of a heavy roller. He doesn't quite agree with their way of going about things.
13.10 IST: Meanwhile, Indian cricket team wishes the nation on India's 69th Republic Day.
Here's wishing everyone a very #HappyRepublicDay #TeamIndia pic.twitter.com/00EwGWyOLn

— BCCI (@BCCI) January 26, 2018
13.00 IST: Sunil Gavaskar standing at the ground opines that the conditions seem to have got a BIT better to bat. Hence, he feels that India might do well in the second innings. But he further adds, this pitch is only going to get more and more difficult to bat. Hence, if the visitors see off the first hour without much damage, they could be in a position to set a decent target on a tricky pitch with the cracks starting to open.
Weather Report: Thunderstorms were predicted on Days 1, 2, 3, 4 and 5 of this Test match. After the heavy overnight rain on Tuesday, the heavens have been kind not to open up. Another bright and sunny morning welcomes us. Hopefully, the sun will not go away from the cricketing action.
We will shortly get underway with the live scores and updates of the live cricket match between India and South Africa 3rd Test Day 3 at Johannesburg.
India playing XI: Murali Vijay, KL Rahul, Cheteshwar Pujara, Virat Kohli (C), Ajinkya Rahane, Hardik Pandya, Parthiv Patel, Bhuvneshwar Kumar, Mohammed Shami, Ishant Sharma, Jasprit Bumrah.
South Africa playing XI: Aiden Markram, Dean Elgar, Hashim Amla, AB de Villiers, Faf du Plessis (C), Quintin de Kock, Vernon Philander, Andile Phehlukwayo, Kagiso Rabada, Morne Morne Morkel, Lungi Ngidi.