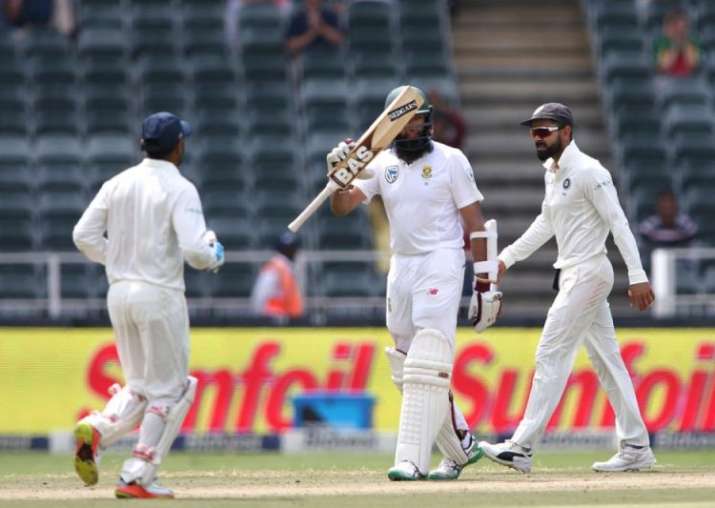 South Africa batsman Hashim Amla on Thursday termed the Wanderers wicket as one of the toughest and quickest pitches he has ever batted on.
India finished day two at 49 for one in their second innings after the Proteas were bowled out for 194 in their first innings.
"It is probably one of the toughest (wickets). I can think back recently in England we played and there were a couple of tough wickets there as well," Amla said at the post day's press conference.
"But this one has a lot of pace and bounce. It is probably one of the pacy wickets that I have played on. There have been a couple in one or two years, quite fickle. In England, certainly there were one or two. It's quite challenging to bat on," he said.
Amla said for a batsman it's always a challenge to bat on this kind of surface.
"It's quite a spicy wicket. No one can hide from the fact you can get out on any ball, so in the same token it's challenging as batsmen," he said.
"Sometimes we get on to wickets where you can score when it's pretty flat. Bowlers are enjoying themselves. It's quite difficult to bat," Amla added.
Amla scored a fighting 61 runs off 121 balls and got good support in the morning session from Kagiso Rabada, who batted for nearly two hours scoring 30 runs off 84 balls.
"I was happy to get 60-odd. Obviously, as a batsman you always desire to get as many runs as possible, you never like getting out. I just figured that the ball is doing so much, so get into the channel. If its outside, try and leave it," he said.
"I know you can take a few on the body and hands but it's part of the game.
"He (Rabada) did his job as a night watchman. On wickets like this, there is more chance of playing and missing, so any batsman can get out at any stage. But he kept good intensity and kept leaving as well as he could," he added.
Asked to compare this Wanderers' wicket with the one offered at Centurion, Amla said: "Both were very difficult to bat on. I think the difference here is that the Centurion wicket didn't suit us. But we won that game in those subcontinental conditions.
"South Africa have been playing good cricket. I am happy that we won a match on a wicket that offered something for the bowlers (in Cape Town) and we won match on a wicket that offered something to the batters," he said.
"Test cricket is a bowler's game. The wickets have been pretty tough to bat on. It's nice that we are coming on this type of wicket 2-0 up. So it does help in that respect."
India now have a lead of 42 runs lead with nine wickets in hand and three full days play remaining, and Amla feels the match is evenly poised.
"I think it's very evenly poised. They are 30-40 ahead, and anything can happen tomorrow morning. Even if we have to chase 300, it's fine because we have to do our best to get there," he said.
"In these type of close matches, we see the value of the lower order. Runs at the bottom order are extremely valuable because every run counts when it's so difficult to bat," Amla said.