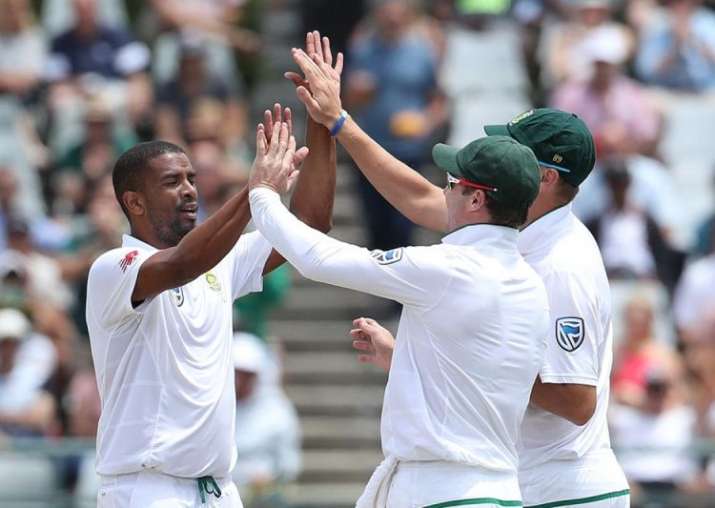 The first 4-day Test of 2018. In spite of losing a whole day to rain, this game does not even go the distance on Day 4. 40 wickets have fallen in around 231 overs. Runs scored - 760. Average runs per wicket? 19. Welcome to the African safari. Poor batting? Excellent bowling? Guess the second question is right but the first statement may be a bit harsh. Both sides faltered on a pitch which was doing something and just three batsmen could cross the 50-mark. The bowlers were always in, except the spinners and the batsmen were tested. 
For someone who has followed Indian cricket over the years, he or she would have perhaps expected this defeat before the game began. Coming over to a new country after beating non-competitive teams back home, not choosing to play a warm-up match and so on. The mistakes committed in this game would have been committed in that match and the visitors could have been better prepared perhaps. The bowling has stood out for both teams but admiringly, more for the visitors. They bowled collectively well as a unit and responded well this morning, dismissing the Proteas for 130. Even in the first innings, you take out AB de Villiers' counter-attack, then this game could have had a different ending. Positives in Bhuvi, Shami and Bumrah and yes, Hardik Pandya can be that fourth bowler for the Indians. (SCORECARD)
HIGHLIGHTS, INDIA vs  SOUTH AFRICA 1ST TEST DAY 4 AT NEWLANDS, CAPE TOWN
20.20 IST: South Africa go 1-0 up! Philander has 6 and he has sent India reeling. Almost a similar delivery to the previous one, Bumrah too, lunges to this one and opens the face of his bat. Gets an outside edge to second slip again and Faf du Plessis takes another catch. Only this time, he has to dive forward. SOUTH AFRICA WIN BY 72 RUNS!
Jasprit Bumrah is the last man in...
20.18 IST: OUT! Gone next ball. Outside off, Shami comes forward and opens the face of the bat slightly, looking to push it to the off side. Ends up getting an edge and Faf du Plessis does the rest at second slip, falling over a bit to the leg side. South Africa a wicket away from giving us a holiday tomorrow... IND 135/9 in 42.3 overs
20.17 IST: FOUR! Confident shot! On middle and off, Shami comes forward and chips it over mid-on and gets a boundary! Some confidence that! IND 135/8 in 42.2 overs
Mohammed Shami is the new man in. Guess there will be some entertainment now.
20.15 IST: OUT! That is a terrific catch and the big Vern gets the breakthrough! What a brilliant field change and it has done the trick. Quinton de Kock was asked to come up a few steps for this ball and he obeyed his captain. Philander bowled this outside off and Ashwin looked to punch it to the off side. He got a thick outside edge but a sharp one. But Quinton de Kock takes it brilliantly and straightaway throws the ball up in the air in jubilation. Philander does not even bother to appeal and the umpire is smart. Does not give it out. Ashwin is smarter. Does not walk. Now QdK appeals and up goes the finger! The 49-run stand is broken. IND 131/8 in 42.1 overs
20.13 IST: More runs! Ashwin is playing well here. A length ball outside off, the off spinner runs this one from the other off spinner past the first slip fielder towards third man for another couple. 77 more to win now! IND 131/7 in 42 overs
20.03 IST:  FOUR! Back-to-back boundaries! This stand is now worth 41 from 61 balls without any fuss, chipping away at the target. Full and wide outside off, Kumar leans and drives it through point. Morne Morkel starts to chase but then gives it up. IND 123/7 in 39.1 overs
20.02 IST: FOUR! Fine shot! A short ball outside off, Ashwin punches this through point and gets a boundary! 89 more to win now! IND 119/7 in 39 overs
19.56 IST: NOT OUT. Missing leg. South Africa loses a review but that was worth reviewing. Maharaj gave this a bit of loop around leg and Ashwin who was playing around the ball, missed it, getting hit on the pads. Keshav appealed vociferously but the umpire was as calm as a cucumber. The bowler convinced his skipper to go for the review but Hawk Eye showed the ball to be going down the leg side. IND 112/7 in 37.1 overs
19.55 IST: HOWZZATTTTTTTTT? Maharaj has screamed his lungs out. But the umpire is unmoved. Faf has given his consent for the review. Is Ashwin gone? Pitched outside leg?
19.53 IST: FOUR! EDGED, SHORT, FOUR! Important runs for India. Does not matter how they come, does it? On a length outside off, Ashwin pokes at it and gets an outside edge. The ball goes towards Faf du Plessis at second slip who dives to his right but does not carry. He is not able to stop it and the ball speeds through to the third man fence. The target is less than 100 now.  IND 112/7 in 37 overs
19.48 IST: FOUR! Outstanding timing. A full ball but a bit too straight, Ashwin flicks it through mid-wicket. The ball nearly reaches the ropes but Keshav Maharaj gets to the ball from short mid-wicket, reaches the ball and pulls the ball back in. Three runs are taken and the umpire wants to check the legality of the fielding and replays show that while pulling the ball back, the foot touched the ropes.  IND 107/7 in 36.1 overs
Vernon Philander is back on. Needs two more for a fifer.
19.47 IST: LBW? No, says the umpire and don't review, says AB de Villiers. The arm ball, but PITCHED OUTSIDE LEG, BK misses his flick and the ball goes off his pads to the off side. Maharaj appeals but the umpire stays put. Faf du Plessis has a chat with his bowler and the team but AB de Villiers says do not review. Replays justify. IND 103/7 in 36 overs
First signs of spin in this innings. Can Keshav Maharaj finish this game off? Or do India have a breather?
19.44 IST: FOUR! 100 up for the visitors. LOVELY! This pitch is still so good for batting. Half volley outside off, Ashwin comes forward and drives it sweetly through mid off. Not a soul manning that region and it is a boundary! The stand moves to 21. IND 103/7 in 35 overs
19.40 IST: On a driveable length outside off, Kumar resists the temptation to go for an expansive shot and lets it go. 2 runs from the over. IND 97/7 in 34 overs
19.35 IST: Nicely played from Ashwin! Full delivery outside off, Ashwin times his push sweetly through covers and returns for a brace. 3 runs from the over. IND 95/7 in 33 overs
19.30 IST: FOUR! Well-controlled! It was a good delivery but it was really nicely handled by Kumar. Back of a length ball, attacking the rib-cage of the batsman. Kumar hops and tucks it nicely through the backward square leg for a boundary. IND 92/7 in 31.4 overs
19.27 IST: Terrific stuff from Bavuma! Kumar punches it towards Bavuma at short cover who misjudges it initially but has the alertness to move back swiftly. Chases it, slides and hurls in a flat throw at the bowler's end as Ashwin is forced to dive in for the second run but the throw misses the target. He is quick as lightning. IND 86/7 in 31 overs
19.23 IST: Rabada to continue his spell.
19.21 IST: Morne Morkel to Bhuvneshwar Kumar, 1 run. Edged but safe! Good length ball outside off, shaping away. Kumar feels for it and gets an outside edge that flies towards the gully region but falls short of the fielder. IND 84/7 after 30 overs, chasing SA by 124 runs.
19.18 IST: Morkel, with the cherry in his hand, starts the proceedings in the third session. The evening session which can be the final one of this game. Bhuvneshwar Kumar joins Ravichandran Ashwin at the crease.
16.58 IST: WICKET! Saha departs for 8 runs. And it's tea. IND 82/7 need 126 runs to win. No, it is not sliding down leg! Though India do not lose a review, they are in dire straits. Rabada goes wide of the crease and angles in a full length ball that is swinging in prodigiously. Saha in a bid to keep it out falls over a bit and is hit flush on the pads. Rabada roars in an appeal and the umpire rules it out. Saha walks across to his partner and finally challenges the decision. Time for the replays. The Hawk Eye shows it is clipping the leg stump and that is enough. The gritty Saha departs. Another ripper of a delivery brings about the reward.
16.57 IST: REVIEW! India are falling apart! Saha has been adjudged LBW but after a conversation with Ashwin, he opts for the review. Seems close to the naked eye but might be sliding down leg.
16.53 IST: Two catching mid-wickets in place now. The line will be straighter now.
18.51 IST: Faf du Plessis runs across to Philander and has a chat with him. Slip moves out and there is an extra man in the inner ring on the off side. The man at mid-off comes a bit straighter.
18.43 IST: FOUR! Saha stretches it to the fullest. Courageous shot! Full delivery on off, Saha clips it aerially over mid-wicket for a boundary.
18.37 IST: Ravichandran Ashwin comes out to bat. Meanwhile, de Villiers gets his finger taped after taking the catch.
18.35 IST: Pandya, who scored 93 in India's first innings, falls for a duck this time. Another one bites the dust! South Africa are ruling the roost in home conditions. Fuller in length outside off, swinging away appreciably. Pandya leans forward and has a tentative push at it but gets a thick outside edge which flies towards de Villiers in the gully region. The best Protea fielder dives to his right and takes a fine catch.
18.30 IST: Hardik Pandya comes out to bat. These kind of circumstances provide an opportunity to emerge as an hero. Does Pandya have it in him?
18.29 IST: WICKET! Rohit departs for 10 runs. IND 76/5, need 132 runs to win. The drop catch of Maharaj doesn't cost the Proteas even a run! Maharaj who dropped him in the previous over is charging in and has a big smile on his face. Uncertainty consumes Rohit Sharma. Good length ball outside off, moving away after landing. Sharma initially tries to run it down to third man but goes at it meekly. makes a huge mistake to push at it tamely and gets a thick inside edge that goes onto hit the stumps.
18.27 IST: FOUR! Nicely done! Full delivery outside off, driven crisply through covers for a boundary. Saha is a gritty player and won't go down without a fight.
18.25 IST:  Dropped! Rohit Sharma gets a life. What have you done Maharaj? You can't get an easier catch than that. Short ball, shoots off the deck and catches Sharma by surprise. He takes his eyes off the ball and pulls it unconvincingly but gets a top edge that swirls in the air towards deep backward square leg. Maharaj lines it up but makes a mess of it. Doesn't even get his hands to it and the ball hits his knee. Ends up spilling a dolly.
18.22 IST: Wriddhiman Saha comes out to bat. India in a spot of bother.
18.21 IST: WICKET! Big blow for India. Skipper Kohli departs for 28 runs. The decision stands and this is a body blow for the Indians! The backbone of the visitors has been broken. Kohli is the man whom you bank upon in a chase. South Africa are over the moon for dismantling the Indian skipper. Fuller length ball on off, swinging in appreciably. Kohli shuffles a bit, is late to bring his bat down on the flick and gets pinged on the pads. Philander doesn't stop in his followthrough and is already celebrating while the keeper appeals. Up goes the umpire's finger. Kohli walks across gingerly to Sharma and consults about the DRS. Decides to review it eventually as this is a big moment in the game. There is nothing on the Snicko. Hawk Eye rolls in, spots three reds and signals the exit for Kohli. The captain was looking good but fails to carry on. Big moment in the game.
18.19 IST: REVIEW! A huge moment in the game! Barring an inside edge, Kohli seems to be a dead duck. Philander was celebrating before the decision was given.
18.14 IST: FOUR! Rabada errs in line and pays the price for it! He goes wide of the crease and angles down a full ball sharply. All Kohli has to do is to get a tickle on it and he does so to beat the keeper and find the fine leg fence.
18.12 IST: Rabada is back on.
18.06 IST: Kohli needs to be careful! Can't afford to gift his wicket away. Back of a length outside off, tapped with an open bat face towards gully. Wants a run and is rightly sent back. The fielder has a shy at the striker's end but misses.
18.00 IST: Philander is back on.
17.58 IST: FOUR! Classy from the bat of Virat Kohli. Vintage Kohli cover drive exclaims Harsha Bhogle on air. Fullish delivery outside off, Kohli leans into it and creams it through covers. Away she whistles to the fence. Textbook stuff from the Indian skipper. All the youngsters out there, this is the way you should play a cover drive. High elbow, feet pointing towards the delivery and the nice extension of arms.
17.48 IST: Drinks are on the field now. Morne Morkel to Virat Kohli, no run. The batsman has pushed it to the cover region. The batsmen have picked up a couple of runs. IND 52/3, chase SA by 156 runs.
17.40 IST: FOUR! Captain Kohli ready to fight after early blows. Easy pickings! Rabada can afford to ease the pressure that has been built up. Fullish and angling down leg, Kohli tickles it past the keeper to the fine leg fence.
17.39 IST: Morne Morkel to Rohit Sharma, no run. A loose shot! A short ball well outside off, Rohit Sharma goes for a full-fledged pull but misses. A productive over for South Africa.  IND 39/3, chase SA by 169 runs.
17.37 IST: Rohit Sharma comes out to bat.
17.36 IST: WICKET! Morkel claims his second wicket, Pujara departs for 4. South Africa have come storming back into this contest! It is turning out to be an edge-of-the-seat game. Can't blame Pujara as it was an unplayable delivery. Good length ball on off, takes off with extra bounce and moves away slightly. Pujara hops and has to try to keep it out but the ball catches the shoulder of the bat and flies behind. De Kock takes a regulation catch to his right. Morkel has taken off and pumps his fists. He is absolutely pumped up. The visitors still need 169 runs to win while South Africa need 7 wickets.
17.30 IST: FOUR! Kohli in action. Not convincing! Shortish ball outside off, leaving the right-hander. He pokes at it and gets it off the outer half past the backward point region to find the fence.
17.24 IST: Kagiso Rabada comes into the attack.
17.21 IST: Virat Kohli comes out to bat. A captain's knock is the need of the hour.
17.19 IST: WICKET! Philander removes Vijay for 13 runs. Vijay's misery comes to an end! A terrific delivery to get rid of him. South Africa are making hay while the sun shines. On a good length in the avenue of apprehension, swinging away. Vijay comes forward and looks to defend it but gets a fat outside edge which flies towards the slip cordon. AB de Villiers dives to his left and grabs a really good catch. That was not an easy catch but with a swift movement, he made that look like a walk in the park. South Africa are still fighting and are definitely in with a chance. India need 178 more to win.
17.15 IST: Cheteshwar Pujara is the new man in.
17.13 IST: WICKET! Dhawan departs for 16 runs. Morkel draws first blood! Dhawan got out to the short ball in his first innings in this Test and again falls for the bait. Shortish delivery, angling away from the southpaw. He hops to counter it but the ball shoots off the deck and catches him by surprise. He fends at it and gets an edge. The ball lobs towards the substitute Chris Morris at gully and he takes it with ease. Morkel always makes it difficult for batsmen. It seems that stones are being pelted from a lighthouse. Uncertain angles, steep heights, prey pounced upon. IND 30/1, chase SA by 178 runs.
17.09 IST: Vernon Philander to Murali Vijay, no run. Peach! Brilliant short of a length ball outside off, moving away. Vijay feels for it and is beaten all ends up.  7 overs gone, IND 28/0 need 180 runs to win.
17.07 NOT OUT! Another judicious review from India! On a good length around off, Vijay uses his feet and fishes at it tentatively and seems to have got a faint nick behind to the keeper. The hosts appeal and up goes the umpire' finger. Vijay goes for the review immediately. Has he again survived? Well, the replays show that there is clear daylight between bat and ball. That was a poor decision from the umpire but has been right overturned.
17.06 IST: REVIEW! South Africa have got their man but Vijay is confident as he challenges the decision immediately. Have the visitors got their review right again?
17.05 IST: Shaun Pollock on air reckons he has seen Faf du Plessis has indicated to Kagiso Rabada that he will be on after one more over.
17.04 IST: FOUR! Vijay gets away with this one! On a length outside off, Vijay pushes at it but gets an outside edge that flies past the gully region. No third man in place now and the ball races to the fence.
16.57 IST: FOUR! Nervy moment! Fuller in length, leaving Dhawan. He drives at it with hard hands but gets a thick outside edge past the slip cordon for a boundary.
16.52 IST: FOUR! A superbly controlled shot by Vijay. Sweet! Full length ball outside off, Vijay leans into it and caresses it through covers to find the fence.
16.47 IST: NOT OUT! Vernon Philander to Murali Vijay, no run. A low ball with a sluggish bounce striking the pads, a loud appeal goes from the bowler, the third umpire called in on this review and it's NOT OUT! Good decision reviewing it.
16.46 IST: REVIEW! Vijay has been adjudged LBW but he has a chat with his partner and finally goes for the review. Seems really close to the naked eye.
16.44 IST: Morne Morkel to Shikhar Dhawan, no run. Fullish delivery, patted back to the bowler.  IND 2/0 in 2 overs.
16.40 IST: With Steyn not bowling further, Morne Morkel will share the new ball.
16.37 IST: Appeal on the second delivery! Leg bye! Vernon Philander to Murali Vijay, one run. A loud shout for an LBW denied! On a length on middle, a bit of nibble in the air and it is angling down. Vijay tries to clip it through but misses to get pinged on the pads. Philander is confident but the umpire shows no interest as the batsmen steal a leg bye.
16.35 IST: With eyes on a humble target, Shikhar Dhawan and Murali Vijay open India's second innings. Vernon Philander ready with the cherry.
16.00 IST: Lunch taken! With two sessions and a day remaining, India are just 208 runs away from victory. There were close to 17 minutes remaining when AB was out, so one would have thought the Indian batsmen would need to bat for at least 1-2 overs before the break. Perhaps, the second session might be a 150-minute one.
15.57 IST: Bumrah claims the scalp of De Villiers (35) again. SA 130 all out, set India 208-run target to win. The catch is legal and South Africa have been bowled out with still some time left in the first session! What an inspiring bowling performance by the Indians. A short ball outside off, de Villiers rocks back and pulls it towards deep mid-wicket. For a second, it seems like he has cleared the ropes but Bhuvneshwar Kumar is placed by Kohli to perfection. De Villiers hits that like an archer shoots his arrow towards a target placed in front of him, and finds Bhuvi to perfection. The umpires check for the legality of the catch and replays show that the fielder is fine. INDIA NEED 208 TO WIN!
15.52 IST: Dale Steyn walks out to bat. Irrespective of how much he scores or how many balls he faces, have to applaud his gamesmanship. Team comes first and he is willing to bear the pain in the hope for some gain for his team.
15.50 IST: WICKET! Bhuvneshwar strikes again, Morkel departs for 2. SA 130/9 lead IND by 207 runs. Bounced out! Let me type that again. MORKEL HAS BEEN BOUNCED OUT. How many times do you see a Saffa player bounced out by an Indian bowler? A short ball, on middle, Morne has nowhere to move as he ducks blindly. He ends up fending at the ball as it comes at his face, takes the gloves and lobs in the air. The entire slip cordon comes charging in but has the sanity to allow Saha to take the catch.
15.48 IST: SIX! What a hit! He is a champion in surveying the field and picking his spots. Fullish delivery around off, de Villiers extends his arms and lifts it over long off to send it sailing over the fence. South Africa need a lot more of those.
15.46 IST: Another man moves out from the slip to the leg side boundary. Deep square leg it is.
15.45 IST: Jasprit Bumrah is back on. Expect yorkers now.
15.43 IST: Morne Morkel is the last man in effectively, as Dale Steyn will not come out to bat. Hang on... Steyn is padding up...
15.42 IST: WICKET! Maharaj  departs for 15 runs.SA 122/8, lead IND by 199 runs. Caught behind! That is the 8th one down! On a length outside off, Maharaj pushes inside the line and gets a thick outside edge behind. Simple catch, India inching closer to batting. That is Wriddhiman Saha's 9th catch in this Test, the most by an Indian wicket-keeper in an away Test.
15.38 IST: FOUR! Maharaj is in an attacking mood. Slashed and slashed hard! A touch short outside off, Maharaj throws his bat at it and and gets it over the slip cordon to third man!
15.36 IST: Bhuvneshwar Kumar comes back for a bowl.
15.34 IST: FOUR! Maharaj slams it with sheer confidence. Hit with authority! Shortish ball around off, Maharaj stands tall and pulls it with aplomb over wide mid on for a boundary. That came right off the screws.
15.32 IST: Hardik Pandya comes back for a bowl.
15.29 IST: FOUR! Fabulous flow from the bat od De Villiers. Pristine! De Villiers need to wait for the loose deliveries and pounce on them as he has done on this occasion. Fullish delivery outside off, de Villiers opens his bat face and creams it through cover-point to find the fence.
15.27 IST: Mohammed Shami to Keshav Maharaj, No run.Terrific yorker, Maharaj is alert to it and does really well to jam it out past the bowler towards mid-off. SA 101/7 in 36 overs, lead IND by 178 runs.
15.14 IST: OUT! Shami removes Philander LBW for 0. Lethal Shami gives another blow to the Proteas! There are many occasions when you tend to falter when the conditions are really conducive for swing bowling but credit to India for behind really disciplined. Fullish delivery around off, swinging in substantially. Philander comes half-forward in an attempt to deal with it but misses it to get hit flush on the pads. The Indians roar in an appeal and the umpire has no hesitation in ruling it out. Looked plumb too. However, Vernon walks across gingerly to de Villiers and talks with him. Challenges the decision eventually. Snicko shows no inside edge while Hawk Eye shows three reds. India only behind by 172 runs behind and need only three wickets to bowl the Proteas out. SA 286 & 95/7, lead IND (209) by 172 runs 
WICKET | Shout for LBW . Philander immediately goes for a review and it's confirmed that it is hitting the stumps. SA in trouble on 95/7 with the lead on 172 #SAvIND pic.twitter.com/dFLfD1h8sQ

— Cricket South Africa (@OfficialCSA) January 8, 2018
14.57 IST: This is huge stuff from India and their fast bowlers - Shami and Bumrah - are on fire. The hosts are in trouble.
WICKET | New man, Quinton de Kock is given out after a review by India. Another caught behind by Saha off Bumrah. SA; 92/6 #SAvIND pic.twitter.com/hQIbEqRr1x

— Cricket South Africa (@OfficialCSA) January 8, 2018
14.56 IST: OUT! Bumrah removes de Kock for 8. This is all going downhill for South Africa! Judicious use of the review from India. Bumrah has been right on the money and brings in another reward for his side. Angles in a good length ball from outside off and extracts good bounce as well with the incoming angle. De Kock hops to keep it out but seems to have got an inside edge as Saha beind the stumps takes it. The Indians appeal in unison but the umpire stays put. Saha is very confident and Kohli opts for the DRS. Time for the replays. The Snicko does confirm a nick. OUT flashes the giant screen and look at Kohli. He is absoutely pumped. South Africa are ahead by 169 runs with only four wickets in hand. SA 286 & 92/6, lead IND (209) by 169 runs 
14.52 IST: A boundary from de Kock to end the over. SA 286 & 87/5, lead IND (209) by 164 runs.
14.46 IST: India have made a dream start! This Test match is wide open now.  
14.44 IST: OUT! Bumrah removes du Plessis for a duck! The skipper departs for a duck! South Africa have been caught in shallow waters and are looking very jittery at the moment. Remember, this was the partnership that had steadied the ship for South Africa. India will be relieved. Bumrah runs in from a bit wide of the crease and lands it on a length in the avenue of apprehension. Extracts appreciable bounce after landing and catches de Villiers in a tangle who comes forward tentatively to blocks it. Is completely taken aback as an outside edge is induced and Saha behind the stumps accepts it gleefully. SA 286 & 82/5, lead IND (209) by 159 runs. Quinton de Kock comes out to bat next.
14.38 IST: SIX! Great shot from De Villiers. He hits Shami for a maximum over third man. Brilliant improvisation! Mr. 360 for a reason, has a wide array of strokes and executes them without breaking a sweat. Back of a length outside off, allows de Villiers to free his arms. He steers it over the slip cordon and the ball just flies over the third man fence. SA 286 & 81/3, lead IND (209) by 158 runs
14.35 IST: Bumrah gives away a single to start with. SA 286 & 74/3, lead IND (209) by 151 runs
14.31 IST: Jasprit Bumrah to have a crack at the two new batsmen.
14.29 IST: OUT! Shami removes Rabada for 5. Double-strike for Shami this morning. He has been bowling nagging lines and lengths around that off stump corridor and reaps the dividends again. Bends his back this time and bowls a back of a length ball on off. Rabada's bat face is a little closed as he attempts to play it defensively with the angle towards the leg side. However, he ends up getting a thick outside edge towards the slip cordon. Kohli is onto it in a flash like a hawk to his right and takes a sharp catch. Runs around in the celebratory mode and his teammates are ecstatic as well. The visitors are making the first hour of the day count. SA 286 & 73/4, lead IND (209) by 150 runs. Captain Faf du Plessis is the next batsman in.
14.24 IST: FOUR! De Villiers hits Bhuvneshwar for a boundary to deep mid-wicket. Ab de Villiers is the new man in. He played a very vital knock in the first innings. Can he stand tall for South Africa again? SA 286 & 73/3, lead IND (209) by 150 runs
14.22 IST: Close shave! It would have been better if Vijay tried at the bowler's end. Good length ball on off, Kagiso turns it towards mid-wicket and de Villiers calls him through for a run. The southpaw hesitates a touch but eventually goes for the run. Vijay runs in and has a shy at the striker's end but misses. Had he hit, still de Villiers would have been in. Wrong end from Vijay.
14.19 IST: Shami bowling superbly well. He didn't leave an inch for Rabada to move. Another maiden for him.
14.12 IST: Great over from Shami! A wicket maiden. SA 286 & 66/3, lead IND (209) by 143 runs
WICKET | The TV umpire confirms that its out. Early breakthrough for India and Shami gets the big wicket of Hashim Amla who is caught at gully for 4. SA now 66/3 #SAvIndia pic.twitter.com/Rl9yhDtt9L

— Cricket South Africa (@OfficialCSA) January 8, 2018
14.10 IST: Ab de Villiers is the new man in. He played a very vital knock in the first innings. Can he stand tall for South Africa again?
14.09 IST: OUT! Shami removes Amla for 4. SA 286 & 66/3, lead IND (209) by 143 runs. Just what India needed at the start of the day. A big, big breakthrough for India. Good length delivery outside off, leaving the right-hander with extra bounce. Amla aims to force it through covers with hard hands but gets a thick outside edge. Sharma lines it up, gets low ahead and seems to have taken it inches above the ground. That's a great grab.
14.03 IST: Bhuvneshwar starts with a maiden! SA 286 and 65/2, lead India (209) by 142 runs. Mohammed Shami to share the new ball with Bhuvneshwar.
14.00 IST: We are set to get rolling. The players and the umpires make their way out to the middle. Hashim Amla and Kagiso Rabada to resume their innings. It will be Bhuvneshwar Kumar to start off the proceedings with the ball today. 98 overs are allotted for the day.
13.55 IST: In contrast, the Indians will be banking on their pacers to make use of the conducive conditions and trigger a collapse. The clouds are still flying around and there will be sideways movement on offer. If Bhuvneshwar Kumar strikes a good rhythm, it will auger really well for the visitors. They will aim to bowl the home side out under 300 and gain a psychological advantage. Be with us...
Just a reminder of where things stand ahead of Day 4 of the Sunfoil Test. Hashim Amla 4* and Kagiso Rabada 2* will resume on 65/2 with a lead of 142 #SAvIND #FreedomSeries #ProteaFire pic.twitter.com/9HwAJhybKX

— Cricket South Africa (@OfficialCSA) January 8, 2018
13.45 IST: South Africa hold the upper hand at the moment but with a day being washed out, they will be a bit disappointed. Also, as the pitch was under the covers for a long time, there will be a lot of moisture underneath. The Protea batsmen need to be on their toes throughout and capitalize on the poor deliveries. If they post a target in the 325-350 mark, they will believe in themselves.
13.30 IST: Hardik Pandya is being interviewed on the sidelines. He says that he had a very good outing. Mentions that helping the team to come out of a difficult situation felt good. Praises Kumar for batting well and supporting him. States that he enjoys playing under pressure situations. Informs that everything was clear in his mind. He wanted to counter-attack and got the results. Reckons that one should always play for the team. Talks highly about Rabada and says that he is a world class bowler. Adds that he can surprise you and it is a nice competition to have.
13.20 IST: After heavy rains lashed Cape Town yesterday and brought relief to the local population which was in the midst of facing a severe drought, it is time to shift back to cricketing action. It is a much brighter day and it is good to know that the forecast is clear for the rest of the game. With still 196 overs to be bowled assuming the pacers will improve their over rate, a cracker of a contest awaits us.
13.17 IST: 
Much better
Much brighter
Much clear
Much sunshine ☀️ #SAvIND pic.twitter.com/xyqHgqm6h0

— BCCI (@BCCI) January 8, 2018
12.30 IST: Great news coming in from Newlands as the weather looks bright and sunny - perfect for the game of cricket. 
Cricket fans we're pleased to alert you that we'll have some action out on the field today #SAvsIND #ProteaFire #FreedomSeries pic.twitter.com/nsnkxrB7mZ

— Cricket South Africa (@OfficialCSA) January 8, 2018
Brief Preview: As rain washed out day three of the first Test, today seems much more promising as the pace builds up. The tempo of the game will surly rise after missing out on a day's play. It poured cats and dogs yesterday and today's forecast has shown that the sun is out but a few dark clouds still loom over. On day two, India finished with 209 runs in their first innings, surrendering a 77-run lead. South Africa were 65/2 at stumps with an overall lead of 142 runs. Hardik Pandya single-handedly kept his side in contention with 93 runs off 95 balls and then took 2-17 as well. Day four will promise some limited series over action as time not on their hands.
India XI: Shikhar Dhawan, Murali Vijay, Cheteshwar Pujara, Virat Kohli (C), Rohit Sharma, Wriddhiman Saha, Hardik Pandya, Ravichandran Ashwin, Bhuvneshwar Kumar, Mohammed Shami, Jasprit Bumrah
South Africa XI: Dean Elgar, Aiden Markram, Hashim Amla, AB de Villiers, Faf du Plessis, Quintin de Kock, Vernon Philander, Keshav Maharaj, Dale Steyn, Kagiso Rabada, Morne Morkel