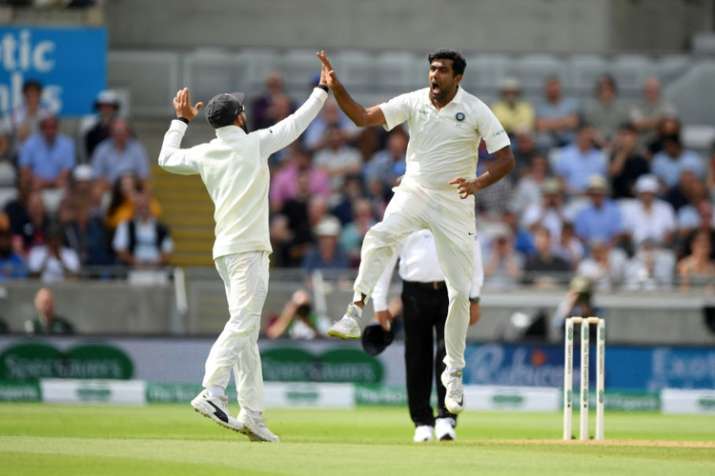 India vs England, Highlights, 1st Test Day 2 at Edgbaston:
What a day of Test cricket! A satisfying one for the purists. It was an action-packed one, filled with all the drama and entertainment. At the start, India wasted no time in picking England's last wicket. Then they came out to bat and their openers saw off the new ball quite decently. The pair of
Murali Vijay
and
Shikhar Dhawan
laid a decent platform but what followed next was nothing less than spectacular. A 20-year old swing bowler, Sam Curran sent the English crowd into a frenzy by running through India's top order in no time. His spell reminded many of the great Wasim Akram with whom Sam coincidentally shares his birthday and he surely made the legend proud. India were in all sorts of trouble heading into the Lunch break but had two of the most accomplished batsmen in
Ajinkya Rahane
and
Virat Kohli
unbeaten at the crease. However, the pair didn't last long. Ben Stokes bowled an excellent spell of seam bowling where he made the ball talk. He gave a glimpse of Andrew Flintoff in his effort and claimed the wickets of Rahane and
Dinesh Karthik
. James Anderson was an unlucky bowler, to be honest. There was a costly drop off his bowling by Dawid Malan and Virat Kohli was the beneficiary of that.
Despite losing partners at the other end, the Indian skipper kept going strongly. He raised a handy partnership with Hardik Pandya and then accumulated 92 runs with the last two batsmen. He made England pay big time for a couple of drops as he notched up his maiden Test century in this part of the world. Courtesy his masterly knock, England only managed a 13-run lead which at one stage hinted to be much more. The wicket of Alastair Cook just before stumps is the icing on the cake as India end the day's play once again in a dominating position, just like yesterday. The pendulum swung towards England in the first two sessions but the heroics of their skipper has single-handedly forced the momentum back in their court. This Test match hangs in balance with England effectively 22 for 1 and Day 3 promises to be enthralling. (SCORECARD | DAY 1 HIGHLIGHTS)
INDIA VS ENGLAND 1ST TEST DAY 2 HIGHLIGHTS FROM BIRMINGHAM:
23.00 IST: England 287 & 9/1 at stumps, lead India (274) by 22 runs in Birmingham. Ashwin 1/5, Jennings 5*. COOK OUT! Sound of timber! Action replay, Cook got out exactly in a similar manner in the first innings! Ashwin has got Cook's number. Plenty of drift on this one as it lands on middle and spins away. Cook is forward in defense, tries to play the line but is beaten by the turn. It goes past the outside half of his bat and hits the top of off stump. A duck for Alastair Cook and that will be Stumps on Day 2.
The man of the hour #KingKohli.#ENGvIND pic.twitter.com/UtX8Ma38tm

— BCCI (@BCCI) August 2, 2018
22.56 IST: Mohammed Shami to Alastair Cook, no run. Shami goes full and gets some movement going. It curls back into the southpaw who just brings his bat down to keep it out towards mid on. A Maiden over by Mohammed Shami. ENG 8/0 in 3 overs.
22.52 IST: FOUR! Jennings made no mistake. This is a poor delivery. Ashwin bowls this one full and wide outside off, Keaton reaches out for it and strokes it through covers for a boundary. ENG 8/0 in 1.2 overs.
22.51 IST: Ravichandran Ashwin to bowl from the other end.
22.50 IST: Mohammed Shami to Alastair Cook, no run. Stays right behind the line and blocks it out. ENG 4/0 in 1 over.
22.46 IST: FOUR BYES! Shami keeps coming from around the wicket and angles it down the leg side once more. This one is too much, even for Karthik to collect, and the batsmen get byes as a result.
22.36 IST: India 274-all out in 1st innings, trail England (287) by 13 runs in Birmingham. Kohli 149, Curran 4/74, Anderson 2/41. Virat Kohli OUT! Absolutely against the run of play! Virat Kohli falls but he has not let India fall in this Test match. A brilliant 149 from him and England have managed just a 13-run lead. Rashid delivers a short ball outside off, Kohli camps back to play the square cut but ends up hitting it straight into the hands of Broad at backward point. He takes the catch and runs in joy towards the bowler. A standing ovation for the Indian skipper as he leaves the field. His wife Anushka Sharma is also applauding the effort of his man. Genius knock. India are all out for 274!
Innings Break!

Virat Kohli gets out after a sensational knock of 149, #TeamIndia all out for 274. Trail England 287 by 13 runs.#ENGvIND pic.twitter.com/7rEKYkur9r

— BCCI (@BCCI) August 2, 2018
22.28 IST: FOUR! BACK-TO-BACK BOUNDARIES TO CONCLUDE THE 74TH OVER. 50-run stand comes up, deficit is under 20 now. A quicker one down the leg side, Virat kneels down and paddles it fine down the leg side for a boundary.
22.27 IST: FOUR! The field came up for this delivery and Kohli makes full use of it. Receives the short ball from the crease and pulls it over mid-wicket for a boundary.
22.20 IST: FOUR! What a shot! Kohli continues to go great guns. Stokes delivers a length ball outside off, Virat is forward with a big stride and spanks it over covers for a boundary.
22.16 IST: FOUR! Nails it! Short in length around middle, Kohli stands tall inside the crease and nails his pull shot through square leg. It's England vs Kohli at the moment. The deficit is 36 only.
22.14 IST: FOUR! AND NOW KOHLI IS SMASHING IT LIKE A BEAST! Stylish! A good length ball outside off, Kohli keeps his weight on the back leg and plays a fluent inside-out shot over extra cover. The fielder chases it but the ball wins the race. IND 247/9 in 70.2 overs.
22.12 IST: Read how lone warrior Virat Kohli slammed his maiden Test century in England.
22.10 IST: FOUR! THAT IS AUTHORITATIVE! Shot! Flighted full ball around off, Kohli goes with the spin and blazes it over extra cover. There is a long off in place but he has no chance of cutting it off. IND 242/9 in 69.1 overs.
22.04 IST: Four byes! A googly, turning down the leg side and beating everyone. Yadav fails to flick, Bairstow fails to collect and it races behind for a boundary. IND 237/9 in 68 overs. 
22.00 IST: Ben Stokes to Virat Kohli, 1 run. Short again, Kohli pulls it albeit with not much control. He still manages to clear mid-wicket and takes a single. Umesh Yadav, for some reason, decides to take off for the second. It's the last ball of the over! Kohli rightly sends him back and he dives to get in. Comical, really. Even his captain is having a little laugh. IND 232/9 in 67 overs. 
21.58 IST: FOUR! Short and angling down, Kohli with a little swivel pulls it down to fine leg. The man in the deep moves to his right but can't get to it. Boundary. All vital runs for India.
21.55 IST: FOUR! Runs will come thick and fast now. A short ball has been smashed through mid-wicket. It speeds through but then loses some venom and just trickles past the rope.
21.53 IST: Virat Kohli hits his 22nd Test century off 172 balls. FOUR! Here it is, the elusive century for Virat Kohli in England. A knock of determination. Not a chanceless one but he has shown tremendous character. England will be hurting. A short of a length ball outside off, Kohli strokes it square of the wicket and it speeds through. The fielder in the deep tries to stop it with a dive but misses. India 221/9, trail England (287) by 66 runs in Birmingham.
💯

Take a bow, #KingKohli.#TeamIndia Captain @imVkohli announces his arrival in the series. Scores his first hundred in England.#ENGvIND pic.twitter.com/mHTnDaw5Qr

— BCCI (@BCCI) August 2, 2018
21.47 IST: Drinks break. The last partnership certainly reduced the deficit but still England have a handy lead in their pocket. Umesh Yadav is the last batsman and he will be on strike. Kohli is on 97 at the other end.
21.46 IST: OUT! Adil Rashid removes Ishant for 5. Ishant Sharma is trapped in front. They appeal and the finger goes up. No DRS taken. Strangely. Rashid serves a googly, landing full around off and spinning in sharply. Ishant ain't forward to this, tries blocking from the crease but is beaten. It hits him on the pads, they appeal and the finger is up. Ishant is distraught and straightaway starts to walk to the pavilion. Hang on, the replays show that it's missing leg. Have India missed a trick? Why didn't Kohli stop his partner? This can prove to be a big moment in this Test match. India 217/9, trail England (287) by 70 runs in Birmingham.
21.43 IST: In comes Adil Rashid. A slip in place. Deep cover, deep square, long on, long off, deep mid-wicket. All covered, offering a run to Kohli.
21.38 IST: Ben Stokes returns.
21.37 IST: Sam Curran to Ishant Sharma, No run. Full in length around off, Sharma keeps it out safely at mid on. The stand moves to 29, deficit is down to 76. IND 211/8 in 62 overs.
21.26 IST: Ishant Sharma Not out! The point of contact indeed is just outside off. Ishant survives again. Jimmy with an inswinger beats India's number 10. Ishant sticks inside the crease to defend but is squared up slightly. It whizzes past the outside half of his bat and raps him on the back leg. The Englishmen appeal and the umpire raises his finger. Sharma takes the help of the DRS and gets the decision overturned.
21.24 IST: Ishant has been once again adjudged lbw! Takes the DRS. Impact looks outside off...
21.17 IST: FOUR! Kohli was trying this shot for some time and finally manages to get it through the gap. There is width on offer outside off, Virat plays it late and with soft hands past the right side of the gully fielder. No stopping this one.
21.15 IST: FOUR! Those wrists of steel! Curran overpitches in the greed to achieve extra movement. Gets a bit of inswing going but Kohli has the line and movement covered. Takes a stride forward and flicks it past the left side of the mid-wicket fielder for a glorious boundary. IND 196/8 in 57.1 overs.
21.07 IST: Ishant Sharma Safe! Definite inside edge there. Otherwise Ishant would have been a goner. An inswinger not read by Sharma who fails to put bat on ball and is thudded on the pads. Looks dead and the umpire raises his finger as well. Ishant is quick to take the DRS, in fact, his skipper was also ready to advice him the same. The replays roll in and as mentioned above the Snicko shows a spike.
21.05 IST: Ishant Sharma has been given out lbw. He immediately takes the DRS. Inside edge?
21.01 IST: OUT! Anderson removes Shami for 2. Dawid Malan redeems himself with a catch. Looks at the heavens. He has relief written all over his face. Anderson dishes out a length ball outside off, holding its line, Shami gets forward attempting a drive, not too sure whether through the line or across the line, anyway that would not matter as the ball has found the edge of the bat. It flies behind and Malan at second slip stretches his hands to his left to claim the catch. India's trail is still over 100 and they have two wickets left. Ishant is in next. India 182/8, trail England (287) by 105 runs in Birmingham.
20.59 IST: Sam Curran to Virat Kohli, no run. Sam arrows in another very full ball in line of the stumps, Kohli gets it away off the thick inside edge towards mid-wicket. Shami is outside the crease and hence the fielder immediately releases the ball at his end. Direct hit would have been interesting. IND 182/7 in 54 overs.
20.54 IST: Meanwhile an update on Jos Buttler's finger injury, says "The x-ray has confirmed no fracture. Jos is unlikely to return today, and will continue to ice his finger to reduce the swelling."
An update on Jos Buttler's finger injury:

The x-ray has confirmed no fracture.

Jos is unlikely to return today, and will continue to ice his finger to reduce the swelling.#EngvInd pic.twitter.com/MoGq6PvX0x

— England Cricket (@englandcricket) August 2, 2018
20.49 IST: FOUR! Another delivery around middle and leg, the pace is a gentle one and not enough movement. Kohli flicks it in front of square leg and this time beats the fielder in the deep. IND 177/7 in 51.3 overs.
20.45 IST: Mohammed Shami is the new batsman.
20.44 IST: OUT! Anderson removes Ashwin for 10. The King of Swing has finally opened his account. And he does so with a beautiful inswinger. Dishes it out around off, Ashwin plays the original but the inward movement means that he ends up playing inside the line. Misses the ball completely and it goes on to rattle the stumps. Beautiful bowling. Ashwin departs without contributing much. India trail by 117 runs. India 169/7, trail England (287) by 118 runs in Birmingham.
20.42 IST: Virat Kohli NOT OUT! England have lost both their reviews now. Anderson bowls an in-curler, landing around off and angling down. Kohli tries to flick but misses and is hit on the pads. They put in an unsuccessful appeal for an lbw and then Root goes for the DRS after consulting his bowler and keeper. The replays roll in and they show it to be missing the leg stump.
20.41 IST: Huge shout for an lbw! Has Anderson got his first wicket of the match. No, the umpire shakes his head. Root comes up to his bowler, has a little chat and then consults his keeper. Gets convinced and goes for the DRS. Looks to be missing leg to the naked eye. 
20.38 IST: FOUR! Very much intentional from Ashwin. This is how he bats. Always looks to score off loose deliveries. Curran has offered width wide outside off, shorter in length, Ashwin lifts it over the slip cordon for a boundary.
20.36 IST: FOUR! Kohli concludes the over with a boundary! Soft outside edge this time. Kohli plays at a length ball away from his body with a loose bottom hand. It takes the outer half of the bat and screams past the slip cordon for a boundary. IND 164/6 in 49 overs.
20.32 IST: Back for the last session. 37 overs minimum left today. Expect plenty of action. India trail by 127 runs with 4 wickets left. As mentioned earlier, the current pair holds the key for them. England to begin with James Anderson, who has been quite unlucky today. Two slips in place. 
TEA BREAK
What a session of Test cricket. This has been brilliant. Some beautiful batting, particularly by Kohli, some exceptional swing bowling, dropped catches, reviews, plays and misses - it's had it all. #TeamIndia 160/6, trail England 287 by 127 runs.#ENGvIND pic.twitter.com/cxlDEBtEdm

— BCCI (@BCCI) August 2, 2018
20.15 IST: A highly gripping session has come to a close. If this isn't going to keep you hooked, I'm not sure what will. And I feel sorry for those of you who aren't tuning in to this. India were going along well with Kohli and Rahane motoring along. But, Ben Stokes upped his game and broke that stand. Went on to dismiss Karthik quickly, ruining his comeback to Test cricket. Kohli continued on with Pandya, a good stand was building, but Curran came to the party again and got rid of the latter with a beaut of a yorker.
20.12 IST: FOUR! A risky stroke but Ashwin has executed that well. Inswinging yorker on off, Ashwin opens the face of the bat and squeezes it out past gully for a boundary.  IND 158/6 in 47.5 overs
20.11 IST: Dropped! Test cricket is an entertaining mistress, isn't it? On the previous ball Kohli got to a fifty calmly, now, he's dropped. Anything can happen in this game. Full outside off, Kohli plays at it and edges it. The ball flies towards Malan at third slip, who dives to his right, gets his hand to it but can't hold on. Single taken.
FIFTY!

Captain @imVkohli leading from the front, brings up his 1st half-century in England off 100 deliveries. It is also his 17th 50 in Test cricket.#ENGvIND pic.twitter.com/nCYc8oOcDp

— BCCI (@BCCI) August 2, 2018
20.09 IST: FIFTY! FOUR! Thoroughly deserved. Captain leading from the front. He's the only batsman who's look assured out there today for the Indians. He opens the face of the bat and runs it down to third man for a boundary. IND 152/6 in 46.3 overs
20.04 IST: OUT! A fourth for Curran and a review lost by India. Bad review taken by the batsmen which does not go in the visitor's favour. IND 148/6 in 46 overs
20.00 IST: A misfield from Broad and India are allowed some extra runs. Hardik wrists it towards him at wide mid on. He lets it go through him and conceded three. Pandya will keep strike.IND 147/5 in 45.3 overs
19.50 IST: FOUR! In the air but that's just short. Not far away at all. Fuller on off, Pandya wrists this towards mid on albeit aerially. Broad there dives to his right, but the ball just falls in front of him and goes through him to the fence. IND 142/5 in 43 overs
19.45 IST: FOUR! Well timed shot Pandya misses the fielder and sails for a boundary. Hit with sheer power. IND 134/5 in 42 overs
19.41 IST: Staying disciplined. This is good stuff from Hardik. It's well outside off so he doesn't bother to play a shot at it. IND 129/5 in 41 overs
19.32 IST: FOUR! Outside edge on Kohli's bat and sails for a boundary to fine leg. IND 126/5 in 39 overs
19.30 IST: FOUR! A boundary for Kohli. It's been a while and a cover drive through the mid-field. Beautiful timing from Virat Kohli. Fuller outside off, he drives this on the up and pierces the gap through the covers for a boundary. IND 122/5 in 38.3 overs
19.25 IST: A hint of outward movement for Broad as he pitches it outside off. Pandya tries to block by reaching out to it but is beaten. IND 118/5 in 37.2 overs
19.21 IST: Some extra bounce for the big man Broad. Serves it on a length on off, Kohli defends it out off the top half of the bat. IND 117/5 in 36.3 overs
19.18 IST: Fuller and angling in on off stump, Kohli comes forward and works it off the inner half to square leg. Runs the first one hard and manages to come back for the second.
Drinks break! A wonderful hour of play for England. Got the ball to move and have half the Indian side back in the hut. India trail by 174 runs. All hopes on Kohli, like always. Pandya needs to keep his head strong.
19.13 IST: Play and miss from Pandya. Length ball around off, just does enough to beat the outside edge of Pandya. IND 113/5 in 35 overs
19.06 IST: FOUR! Another boundary, unexpected from Pandya, but he is bringing in runs after being dropped twice. Similar shot and through the same region. Waits for the ball to come to him and cuts it through gully for back-to-back boundaries. IND 110/5 in 33.3 overs
19.06 IST: FOUR! Deliberately done! Nice from Pandya. Sees the ball outside off, plays the ball away from his body though but hits it in the gap through gully from a boundary. IND 106/5 in 33.2 overs
18.59 IST: Dropped! Oh dear! Malan has dropped Kohli. How costly will that prove? On a good length around off, Kohli goes fishing and gets a fat edge to it. It flies to Malan at second slip who gets low but puts it down.
18.50 IST: Pandya survives! A good review at the end. A fuller ball on middle and leg. It swings back and catches the front leg of Pandya. England appeal and the umpire raises his finger. Pandya has a chat with his skipper and takes it up. Replays shows us that the ball would have gone to miss the leg stump. Pandya and India survive a scare.
Keep them coming please @benstokes38

Clips and scorecard:
➡️https://t.co/SOicj8SiZk#EngvInd pic.twitter.com/pAtZXTuGNu

— England Cricket (@englandcricket) August 2, 2018
18.46 IST: OUT! Bowled 'em! Karthik's return to the Test side is not a good one. Leaves a big gap between bat and pad, so big that even Rishabh Pant could fit in it and it creates his downfall. Good length ball around off, the ball jags back in through the gate and goes on to hit the middle stump. Karthik looks back to see what he has done. That's the 100th wicket for Ben Stokes in Test cricket. Meanwhile, Hardik Pandya walks out to replace him.Stokes sends Karthik back for a duck. IND 100/5 in 29.3 overs
18.45 IST: The Indians are getting a bit jittery here. It's showing. Kohli taps this towards covers and sets off. Karthik immediately sends him back and rightly too. Root gets to the ball quickly and could have inflicted a run out. The visitors losing their captain is the last thing they need right now.
18.39 IST: OUT! Stokes finally gets Rahane. He has been troubling him for a while and the all-rounder finally gets him. On a good length outside off, the ball bounces little more than usual. Rahane is not fully into his late cut and hangs his bat outside. He gets a thick edge to it and the ball flies to Jennings at third slip. He collects the ball at chest height and joins in the celebration. The umpires make Rahane wait as they want to check the no ball but Stokes does well. What's next for India? IND 100/4 in 27.4 overs
18.37 IST: 100 up for India.  Outside edge by Rahane and through the third slip which sails away for a boundary. He plays the ball very late outside Asia and that's why he is such a success. Once again on this occasion waits for the ball and cuts it past the gully fielder towards third man for a boundary. IND 100/3 in 27.3 overs
18.35 IST: Maiden over by Anderson. IND 96/3 in 27 overs
18.31 IST: 4 leg byes. A short-pitched ball and sails to the boundary line. IND 96/3 in 26 overs
18.30 IST: Edge...and once again short of the fielder. Boy! Anderson is doing everything right. What has Kohli had for lunch? Serves this on a good length outside off, Kohli hangs his bat out and gets a soft edge which falls just short of Jennings at third slip. Kohli survives.
18.28 IST: FOUR! Edge but just short. The battle is living up to it. On a good length on that fourth stump line. Kohli pokes at it but plays it with soft hands. The ball falls just short of the second slip fielder. 92/3 in 25 overs.
18.22 IST: INJURY UPDATE!
Injury news: Jos Buttler has gone to a local hospital for an X-Ray on his left middle finger.https://t.co/cxwieTASad#ENGvIND pic.twitter.com/8Xu6NEwqgn

— England Cricket (@englandcricket) August 2, 2018
18.17 IST: Too wide outside off, Rahane stays back and cuts it passed point. They run the first one hard and come back for the second.
18.12 IST: FOUR! A classy drive by Kohli. A sight for sore eyes as well. Gets to the pitch of the ball and creams this through covers for a boundary. IND 85/3 in 21.3 overs
18.12 IST: FOUR! Sails away for a boundary on the outside edge.First one of the session! Kohli will now play more openly rather than just hitting the lose balls. Gets forward to this full pitched ball and cuts it to the third man region for a boundary. IND 81/3 in 21.1 overs
18.07 IST: We are back for the afternoon session. Kohli and Rahane have some repairing work to do. England will know that they need just one wicket to expose up the inexperienced lower middle order. Ben Stokes is given the ball to bowl the first over post lunch. Three slips in for him.
17.39 IST: England's morning! Hands down. No debate about it whatsoever and it's all thanks to their young warrior Sam Curran. England just lasted 10 balls as they got bowled out for 287. India were in a position of power as both Dhawan and Vijay got off to a solid start. Everything changed though when Curran dismissed Vijay and Rahul in a single over, then came back in his next to get rid of Dhawan. With the top order in tatters and India 3 down, Kohli and Rahane have plenty of work to do. The afternoon session is going to be a good one. 
17.32 IST: LUNCH!  India trail by 211 runs as Curran's triple leaves the visitors reeling. Kohli and Rahane will continue after lunch. Don't go anywhere as we will join you after lunch at 18.10 IST
17.29 IST: Adil Rashid is brought in to bowl the last over before Lunch. 
17.26 IST: FOUR! Kohli's defensive shot on the outside edge sails for a boundary on Curran's delivery. Kohli picks it up quickly, positions himself well and opens the face to dab it past the slip cordon. Easy boundary for him. IND 68/3 in 19.4 overs
17.23 IST: Some extra bounce on offer for Anderson. He pitches it just ahead of a length on off, it kicks off the deck and catches the handle of Kohli's bat. He did well to get his bottom hand off that. IND 63/3 in 18.5 overs
17.19 IST: Fuller outside off, not much movement on this occasion, a defensive push from Rahane back down to mid off.
17.15 IST: India in the line of fire now. Anderson bowls this full and swings it away, Kohli drives away from his body and gets a thick edge. It flies low towards gully, where Buttler dives to his left but can't get his fingers underneath it. Cook chases after it as it's rolling down to third man and does well to keep it in. Jennings throws it back in. Two runs taken.
17.13 IST: Coming back in on middle and leg, Rahane blocks it out down the track. This brings us to the end of another successful over from Sam Curran. Brilliant stuff from him.
17.09 IST: OUT! This young lad is throwing fireballs! Get's his third of the day and what a spell this young guy is having. He removes Dhawan for 26. Again, good pace on this as he pitches it around off, makes it go away and this time he draws the edge as Dhawan goes for the drive. Straight into the hands of Dawid Malan at second slip who takes a good catch.  IND 59/3 in 15.5 overs
17.06 IST: FOUR! Outside edge, beats the play at third slip and sails for a boundary. IND 59/2 in 15.3 overs
17.05 IST: Ooohh! Now that will make him think a bit. Kohli had the line covered, but he thought this was going to go away like the others. But it came back in and went through to the keeper. Not too close, but not too far away either from the off stick.
Virat Kohli comes into bat
17.00 IST: OUT! Curran removes Rahul! Second of the over from Sam Curran. A poor shot really from KL Rahul. It's just your second ball, got to avoid it. Full and fires outside off, angling across, Rahul goes for the expansive drive through the covers but gets a big inside edge. Drags it back onto his stumps and they're shattered. Big turnaround for England after a fantastic start for India. IND 54/2 in 14 overs
16.58 IST: FOUR! IND IND 54/1 in 13.5 overs
16.55 IST: OUT! GONE! Sam Curran draws first blood for England. Good decision from Joe Root on this occasion. It's on a length on middle and leg, straightens up after landing and then raps Vijay on the front pad who misses his defense. Big shout, but the umpire doesn't bother with it. After some deliberation, Root decides to review it and takes it upstairs. Replays come in and they show that Vijay is caught flush in front of stumps. Red on all three boxes and he's out of here. IND 50/1 in 13.4 overs
16.47 IST: Makes sweet connection once again but it's straight to the fielder. Dhawan drives it crisply straight to the man at extra cover.
16.44 IST: Too full and too straight on the pads, whipped away by Shikhar to deep backward square leg. One run taken and the 50 is up for India. It's their first fifty stand after 16 innings against England in England. IND 50/0 in 11.1 overs
16.42 IST: FOUR! Well timed by Vijay. IND 49/0 in 10.4 overs
16.40 IST: This is a good start from the visiting team. They have never got a 50-run opening stand in their last 16 innings against England. They look good to get it today.
16.35 IST: FOUR! A full toss and Vijay plays times the shot perfectly to go all the way for a four on Curran's delivery. Leans ahead and creases this in the gap through the cover region. Root runs behind it but cannot stop the ball from reaching the fence. Boundary. IND 44/0 in 10 overs
16.32 IST: Four Leg byes! Another wrong line down the pads, Dhawan looks to help it on it's way. It takes the thigh pad and runs away to the fine leg region.
16.29 IST: FOUR! Off line and gets punished. Dhawan will put that away all day long. Serves this on the leg side, Dhawan keeps his head strong and flicks it away through square leg for a boundary.
16.27 IST: FOUR! Sweet! Right off the middle. Pitched up ball outside off, Vijay gets behind the ball and drives it through cover-point for a boundary. Nobody bothers chasing that one.
16.21 IST: James Anderson to Murali Vijay, no run. Covers the stumps and plays this towards the on side IND 25/0 in 7 overs.
16.13 IST: FOUR! An absolute beauty to watch! Dhawan drives Broad's delivery for a boundary wide off mid-off. Leans ahead to this overpitched ball outside off and creams it through covers. The ball races away to the fence. IND 22/0 in 5.2 overs
16.09 IST: Good running by Dhawan and Vijay, Three runs taken as Dhawan's shot down the ground was stopped by Root who ran all the way. IND 18/0 in 4.4 overs
16.07 IST: Almost! Close call for Dhawan. Fuller in length and tailing back in, Dhawan plays at it and gets an inside edge back onto his pads. It rolls behind, it's going to miss the leg stump but the southpaw doesn't take any chances and puts it away with his bat.
16.05 IST: No ball. Another one from Broad. Dhawan hits this to the on side. IND 15/0 in 3.3 overs
16.00 IST: A huge shout for an LBW. Vijay survives. There was no inside edge but the ball was going down leg. Anderson fires this one full and on the pads. Vijay tries to whip this but gets hit on the pads. On the first look it seemed like an inside edge. The English players appeal but the umpire says no. Anderson has a talk with Root and they take it up. Replays roll and show us no inside edge but the ball would have gone to miss the leg stump. England lose their review. IND 13/0 in 3 overs
15.55 IST: FOUR! Straight down the ground. Overpitched ball on middle and leg, Vijay stands tall and just punches this down the ground. The mid on fielder hares to stop the ball but only comes second best. IND 12/0 in 1.5 overs
15.53 IST: No ball for over-stepping. Broad oversteps and lands this on the leg side, Dhawan flicks it towards fine leg for one. IND 8/0 in 1.3 overs
15.52 IST: Too close to comfort. Misses his line and serves it on the pads of Dhawan who flicks it away through mid-wicket. Broad mobs it up but India take three runs. IND 6/0 in 1.3 overs
15.46 IST: Shikhar Dhawan and Murali Vijay walk out to open for India. James Anderson begins the attack for England. 
15.40 IST: Just what India needed and planned. Took them just 10 balls to wrap up the last wicket. England could only manage to add 2 runs to their overnight score. This is England's fifth lowest score against India batting first in England. They didn't get to the psychological 300-run mark but now have work to do with the ball. India need to bat well and see off the new ball. They're batting in a few minutes. Don't go anywhere.
Innings Break!

Mohammed Shami sets Curran up and picks up the final wicket.

England all out for 287.#ENGvIND pic.twitter.com/DIfZylBNZ2

— BCCI (@BCCI) August 2, 2018
15.36 IST: OUT! OUT! Inswing, inswing and then an outswing which produces the edge. No fifer for Ashwin but a good bowling performance from Shami. Serves this outside off, it moves away, Curran flirts with it and gets an edge which Karthik doesn't drop. ENGLAND ARE ALL OUT FOR 287.
15.33 IST: Shami comes into the attack. He already has two wickets to his name. 
15.32 IST: 2 runs of today's first over. ENG 287/9 in 89 overs
15.29 IST: And we're underway with the second day as the batsmen head out. Sam Curran and James Anderson take the crease as India look to wrap up matters right away. R Ashwin is handed the ball. Let's get started. 
15.26 IST: 
Walking into Day ✌ like 😎#ENGvIND pic.twitter.com/QglvCVzjjB

— BCCI (@BCCI) August 2, 2018
15.20 IST: India will now to wrap up the last England wicket as quickly as possible.
15.05 IST: R Ashwin led India's charge with a four-wicket haul while Mohammed Shami picked up two wickets. Meanwhile, Ishant Sharma and Umesh Yadav got one each.
14.50 IST: Indian bowlers enjoyed a wonderful outing on day one here at Edgbaston. They didn't let the England batsmen settle for long and restricted the hosts to 285/9 at stumps.
14.30 IST: Hello and welcome to our Live Coverage of day two of the first Test between India and England in Birmingham. Stay tuned as we bring you all the latest updates.
Brief Day 1 Report: Off-spinner Ravichandran Ashwin produced one of his impactful performance outside the sub-continent as India reduced England to 285 for nine on the opening day of the first Test in Birmingham on Wednesday. Ashwin (4/60) registered his best figures in Test cricket across South Africa, England and Australia as the hosts lost six wickets for 69 runs in the final session of play to find themselves in a precarious position after opting to bat.
Joe Root (80 runs off 156 balls, 9x4s) scored an unbeaten 41st Test half-century, but the English innings completely got derailed after his dismissal. At stumps, Sam Curran was batting on 24 with James Anderson for a company. (READ FULL REPORT HERE)