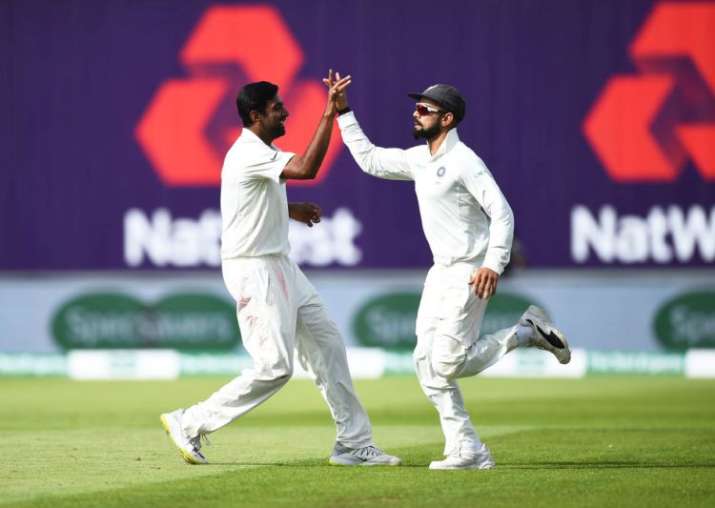 India vs England, Highlights, 1st Test Day 1 at Edgbaston:
India vs England, 1st Test Match, Day 1: The first day of the first Test match between India and England completely belonged to the visitors. They picked wickets at important phases that pegged the hosts back. Ashwin was given the ball early in the day and he did just what his captain asked him to do. Picked up the big fish, Cook, and got Buttler and Stokes in quick time later on. Shami too was substantial with the ball and got a brace for his efforts. Ishant was making the ball move and Yadav who came back strongly after a poor start got a wicket each. England were not bad with the bat but gave up their wickets cheaply. Cook fell to a beauty while the rest fell prey to the visitors. Jennings and Root stitched 72 for the second wicket but two quick breakthroughs post lunch got them on the back foot. Skipper Root and Bairstow then added 104 for the fourth wicket and were taking the game away from the touring side. But the turning point was Root's run out where skipper Kohli's athleticism got him his counterpart. It was all India then as they didn't allow the tail to wag. Had Karthik caught Anderson of the second last ball of the day, India's day would be sweeter. For now, England will come out to bat on Day 2. The tourists will hope to get them out as quickly as possible and get past the total set for them. (
SCORECARD
)
INDIA VS ENGLAND 1ST TEST DAY 1 HIGHLIGHTS FROM BIRMINGHAM:
23.03 IST: England 285/9 at stumps against India in Birmingham. Ashwin 4/60, Shami 2/64, Root 80, Bairstow 70. Mohammed Shami to Sam Curran, No run. England will come out to bat tomorrow. Anderson drives this fuller ball to covers. ENGLAND 285/9 AT THE END OF DAY 1.
That's Stumps on Day 1 of the 1st Test.

England 285/9. A four wicket haul for @ashwinravi99#ENGvIND pic.twitter.com/Ty2FhiFHRr

— BCCI (@BCCI) August 1, 2018
23.02 IST: Curran DROPPED! Oh dear! The slip catching has not been the best and India had a chance to finish the job today itself. On a good length outside off, Anderson gets an outside edge towards the keeper. Karthik flies to his left but the ball doesn't stick. Had he left it, it would have been a dolly for Dhawan at first slip.
22.48 IST: James Anderson is the last man in.
22.47 IST: OUT! Ashwin removes Broad for 1. Brilliant from Ashwin! This one comes back in and that is what does Broad up. Tosses this one up around off and it spins back in. Broad plays for the spin and gets hit on his pads. An easy decision for Alem Dar and Broad walks back. The end is nigh for England. England 283/9 in 84.2 overs vs India at Birmingham.
22.42 IST: Four Byes. Banged in short down the leg side, Broad looks to tuck it away but cannot get anything on it. DK dives full stretch to his right but it ball races past him to the fine leg fence. ENG 282/8 in 83.4 overs.
21.41 ST: Stuart Broad walks out next to bat.
21.40 IST: OUT! Ishant removes Adil Rashid for 13. Plumb! It is not going down leg and Ishant Sharma provides the breakthrough. Lands this on a good length and it comes back into Rashid. Perhaps done by the pace and the ball strikes him on his pad. The Indians appeal but the umpire stays put. Sharma looks confident and asks Kohli to take it up. Replays roll and show us three reds. A stubborn partnership is finally broken. Will India get them all out today? England 278/8 in 83.1 overs vs India at Birmingham.
22.34 IST: Ishant Sharma to Sam Curran, 1 run. Curran flicks it away with a wristy shot to square leg. The batsmen have run through for a single. ENG 278/7 in 82 overs.
22.24 IST: FOUR! Excellent! All timing on that! That's a shot any batsman would be proud of. Stays back and punches it to the gap through covers for a boundary. Holds his pose for the camera men to do their work.
22.19 IST: FOUR! Back-to-back boundaries from Rashid. He's making the best of his comeback. He is no rookie with the bat. Charges down this loopy ball and flicks it aerially over square leg for back-to-back boundaries.
22.18 IST: FOUR! A outswinger from Ashwin. Gets the ball to move the other way and Rashid picks it up well. Guides it late past the first slip fielder to the third man fence. ENG 261/7 in 78.2 overs.
22.10 IST: Mohammed Shami to Adil Rashid, no run. Outside off, left alone. ENG 250/7 in 76 overs.
22.08 IST: Mohammed Shami to Adil Rashid, 2 runs. In the air but safe! Rashid flicks this full ball aerially and just about clears the mid-wicket fielder. A couple taken and that's the 250 up for England.
22.04 IST: Adil Rashid is the next man in.
22.03 IST: OUT! Ashwin removes Stokes for 21. A poor poor shot from Stokes and it has lead to his downfall. A short ball on middle and leg from Ashwin, Stokes had a lot of time to play it anywhere, maybe too much time. He looks to turn it to the on side and gets a leading edge straight to Ashwin. He moves to his left and accepts it with glee. So many hopes were relying on him but he has failed yet again. England 243/7 in 74.1 overs vs India at Birmingham.
21.45 IST: Drinks are on the field. India have made their way back into this game well in this final session. The big wickets of Bairstow and Root, along with that of the big-hitting Jos Buttler has certainly lifted their spirits. Now, Ben Stokes is the last batsman who remains. Can the Indians get rid of him quick and wrap the Englishmen today itself?
21.43 IST: FOUR! Very full and quite straight, Stokes without any trouble flicks it away through mid-wicket and says thank you as he finds the boundary easily. ENG 234/6 in 69.5 overs.
21.41 IST: Mohammed Shami to bowl again.
21.35 IST: FOUR! Beautifully played by Ben Stokes. Umesh angles in a full delivery on middle and leg, flicked through square leg. The placement is good, it's past the square leg fielder to the boundary.
21.32 IST: Sam Curran will be the new man in.
21.31 IST: OUT! Ashwin removes Buttler for 0. Now Buttler is gone! This is plumb. India are well and truly back into the this game. Ashwin loops it up around off, it's quite slow through the air as it turns back in and catches Buttler on the knee roll who looks to work it across the line. Big appeal, the finger goes up and Jos doesn't even bother with the review. He know what the outcome's going to be. England 224/6 in 66.4 overs vs India at Birmingham.
21.28 IST: Jos Buttler is the new man in.
21.27 IST: OUT! Umesh Yadav removes Bairstow for 70. He's dragged it on! Oh, that's a big wicket. He was just taking the game away from the Indian but Umesh Yadav just comes up with a rabbit out of the hat. This is a huge wicket. Back of a length, too close for Bairstow to cut and he's done in. Gets an inside edge back onto the stumps and the fielding side is ecstatic. England 223/5 in 66 overs vs India at Birmingham.
21.23 IST: Ravichandran Ashwin to Ben Stokes, no run. Flatter and shorter in line of the stumps, Stokes is on the back foot as he turns it to mid-wicket. ENG 221/4 in 65 overs.
21.13 IST: Ben Stokes walks out next to bat.
21.12 IST: OUT! Joe Root Run Out for 80. A wicket against the run of play and it's all because of the athleticism of the Indian skipper Virat Kohli. Bairstow works this through mid-wicket and both batsmen set off quickly. They want the second, rush for it but Kohli is quick to the ball. He picks it up, turns and fires it at the bowler's end and actually scores a direct it from a long distance. Unreal. Credit to Ashwin too, he knows where the ball's headed so doesn't touch it at all. Even the dive doesn't save Root, he's gone. Just what India wanted. Can they capitalize on this now? England 216/4 in 62.3 overs vs India at Birmingham.
21.10 IST: Ravichandran Ashwin is back on to have a go. Will he be the one to break this partnership?
21.07 IST: FOUR! Back-to-back boundaries for him. Teaser outside off, well away from his body but Bairstow has good hands. Sees the ball well and hits it through cover-point for another boundary.
21.05 IST: FIFTY! Jonny Bairstow hits his 18th half-century off 72 balls. FOUR! Too full, too straight, too easy for Jonny Bairstow. He comfortably drives it past mid on and finds the boundary line. 18th Test fifty for Jonny Bairstow. Splendid knock so far. England 204/3 in 61.2 overs vs India at Birmingham.
20.53 IST: FOUR! Short of a length outside off, some width on offer which Bairstow uses to his full advantage. Flays it over point and finds the fence.
20.46 IST: FOUR! A boundary to conclude the 57th over. Beautiful shot from Bairstow! That was a boundary the moment it left the bat. Full outside off, Jonny drives it right off the meat and finds the gap through the cover region. No stopping that one. ENG 183/3 in 57 overs.
20.42 IST: FOUR! Poor end to the over from Hardik as he lets out consecutive boundaries. Short and down the leg side, Root just helps it on its way to the fine leg fence.
20.40 IST: FOUR! Too full and angling into the pads, Root is too good a player to not punish this. He leans across a touch and flicks it ever so well through mid-wicket. Even beats the man out in the deep. Superb timing. ENG 173/3 in 55.5 overs.
20.37 IST: Hardik Pandya will bowl from the other end.
20.32 IST: FOUR! EDGED BUT RUNS! This one keeps a little low as it lands on a length around off, Bairstow hangs his bat out and gets an outside edge, which races past second slip. Boundary results. ENG 167/3 in 54.1 overs.
20.30 IST: We are back for the final session of the day. Joe Root and Jonny Bairstow will take their place in the center, while Mohammed Shami has the ball in his hand.
20.12 IST: England 163/3 against India at Tea in Birmingham. Root 65*, Bairstow 27*, Shami 2/27. Joe Root (65*) and Jonny Bairstow (27*) led England to 163/3 at Tea in Birmingham. For India, pacer Mohammed Shami struck twice, dismissing Keaton Jennings and Dawid Malan for 45 and eight runs respectively.
Tea on Day 1 of the 1st Test.

England 163/3 in 54 overs.

UPDATES - https://t.co/HeruIJq0DO #ENGvIND pic.twitter.com/B0RtTltojL

— BCCI (@BCCI) August 1, 2018
20.05 IST: Root and Bairstow complete 50-run partnership stand for the fourth wicket. Ravichandran Ashwin to Joe Root, 2 runs. Both have played well. Quite comfortably too, for the most part. Root plays this square through point and takes two.
20.02 IST: Edged and FOUR! Bairstow doing that for the second time since he's come on. Needs to be a tad more careful. Maybe Kohli needs to take third slip a little wider? Or reposition gully. Full and outside off, Bairstow drives away from his body and gets a thick edge which flies down and across the third man boundary.
19.57 IST: A maiden over by Pandya. Hardik Pandya to Joe Root, no run. Short of a length, on off, Root stands tall and taps it square on the off side. Wants the run but then decides against it. ENG 153/3 in 50 overs.
19.53 IST: Hardik Pandya is called back on.
19.45 IST: FOUR! Angles this onto the pads of Root who uses his wrists and flicks it away to the vacant deep square leg region for a boundary. Easy pickings.
19.40 IST: Umesh Yadav to Jonny Bairstow, 1 run. Stays within his crease and cuts this to third man to retain strike. ENG 139/3 in 46 overs.
19.32 IST: FOUR! Bairstow plays a beautiful shot here. Classic! over corrects his length and pitches it on the up outside off, Bairstow leans forwards and drives it through covers for a boundary.
19.26 IST: FIFTY! Joe Root hits his 41st Test half-century off 107 balls. Ishant Sharma to Joe Root, 1 run. Fifty for Root! 41st Test century and 9th against India. He is carrying on his form from the limited overs and is looking in fine rhythm. Works this to deep square leg for a single to get to his landmark. England 125/3 in 42.5 overs vs India at Birmingham.
19.15 IST: FOUR! Full toss and nicely timed through covers. Ashwin misses his length and gives Root a low full toss. Joe gets forward and drives it neatly towards extra covers for a boundary.
19.11 IST: Jonny Bairstow is the next batsman in.
19.09 IST: Drinks break.
19.08 IST: OUT! Shami removes Malan for 8. Impact is umpire's call and the decision stands! India are starting to claw their way back in this game now. Shami continues from around the wicket and angles it in from outside off. Gets some heavy movement and catches Dawid Malan on the pads. Big shout and the finger goes up. The southpaw though, after speaking with his partner, decides to take it upstairs. Replays roll in and they show that the ball is just clipping the bails. So Malan is gone. Shami has been good with the ball in this session. Good bowling from him. England 112/3 in 39.3 overs vs India at Birmingham.
19.03 IST: FOUR! Joe Root completes 6000 runs in Test cricket. Edge and races away to the fence. Whaaatttaaa plaayyaaa! Not the best way he would have liked to get it but will take. Root rocks back and looks to cut this ball, gets a thick outside edge and the ball flies past Rahane at first slip to the fence.
19.00 IST: Dawid Malan NOT OUT! Malan comes down the track and that's what saves him. Impact over 3 meters. Ashwin gives this air around off, Malan charges to the ball and looks to play it to the leg side. Cannot get to the pitch of the ball and it goes to the third man fence. The players appeal but the umpire doesn't show any interest. Kohli takes the review. Time for the replays and it shows us the ball was more than 3 meters outisde off which puts the argument to bed.
18.56 IST: FOUR! Poor ball and Malan gets his first boundary. Short and down leg, no real bounce on it showing the nature of the pitch. Dawid pulls this fine through fine leg to the fence. ENG 106/2 in 37.3 overs.
18.45 IST: Dawid Malan is the new man in.
18.44 IST: OUT! Shami removes Jennings for 42. How unlucky! Perhaps, this is the luck India need. Shami comes and delivers on his very first ball. This is a back of a length ball on middle and off. Jennings tries to block it down but gets a faint inside edge to it. The ball goes through his legs, spins and goes on to do just enough for the bails to fall. Jennings looks back in disappointment but there is nothing he can do. India celebrate. England 98/2 in 35.1 overs vs India at Birmingham.
Shami strikes straight away. Round the wicket, angling back in. Jennings gets an inside edge on to the pads and then it trickles on to the stumps.

England 98/2 https://t.co/HeruIJq0DO #ENGvIND pic.twitter.com/vWDHuA4h10

— BCCI (@BCCI) August 1, 2018
18.42 IST: Mohammed Shami is called back into the attack as the batsmen try moving a pigeon, who does not want to move near short leg.
18.37 IST: After 34 overs, England are 98/1. Ishant Sharma to Keaton Jennings, no run. Lands it on a good length outside off, it swings and moves away but Keaton shoulders his arms to it.
18.24 IST: Umesh Yadav to Keaton Jennings, 1 run. Full on middle and off, Keaton hits it straight back to the bowler. ENG 91/1 in 31 overs.
18.16 IST: Ishant Sharma will bowl from the other end.
18.14 IST: FOUR! BYES! Oh dear! That went horribly wrong. Lands this on a length way outside off, Jennings doesn't offer any shot to it and leaves it alone. Karthik dives to his left but cannot collect it. The ball runs to the third man fence. Boundary. ENG 87/1 in 28.4 overs.
18.10 IST: We are back for the second session. India have not made the most use of the morning session. Will now have to think out of the box to get these English men out on a good batting track. Kohli has some last few wise words in the team-hurdle. Keaton Jennings will take strike while Umesh Yadav will bowl the first over after lunch.
17.42 IST: A good session for England. 83 runs gathered for the loss of just one wicket. Would have been a touch worse had Ajinkya Rahane held on to the catch which would have dismissed Keaton Jennings. The day started off well for India with Ishant Sharma making use of the conditions on offer and then Ravichandran Ashwin coming on early (As Umesh Yadav was leaking runs) and sending Alastair Cook back to the pavilion. But since then, it's been England all the way as Jennings combined with skipper Joe Root to put the hosts in a good position come the break. The surface is just going to get better and better for batting, so the Indian bowlers will have to get innovative and fast.
17.32 IST: England score 83 for the loss of one wicket at lunch. Keaton Jennings (38*) and Joe Root (31*) powered England to 83/1 at lunch in Birmingham. Spinner Ravichandran Ashwin was the only successful bowler for India as he dismissed Alastair Cook for 13 in the 9th over.
17.28 IST: Pandya to bowl the last over before lunch.
17.22 IST: FOUR! Very well played. Full and fired outside off, Jennings drives this uppishly through the vacant point region. Nobody out there in the deep as well, so it will race away to the boundary line.
17.17 IST: Jennings and Root complete a 50-run partnership stand. Umesh Yadav to Keaton Jennings, 1 run. Around the wicket to Jennings, it's on the pads. The southpaw flicks it to fine leg and changes ends. 
17.13 IST: Mohammed Shami to Joe Root, 1 run. That was close! Could have just as easily been gone. Back of a length cutting back in on off, Root hangs his bat out to block but gets an inside edge which goes agonizingly close past the leg stump. Down to fine leg and a run is collected.
17.00 IST: FOUR! Too much room offered and Root's put it away. Lovely footwork to adjust. Gets himself on the back foot early and cracks the cut through point, beating third man to the fence. ENG 66/1 in 20.4 overs.
16.58 IST: Umesh Yadav is back on.
16.55 IST: FOUR! Shot. A little bit of width and it's put away well by Jennings. Outside off, it's fiercely cut away square through point for a rocketing boundary.
16.53 IST: Meanwhile, Dinesh Karthik's love affair with Hardik Pandya draws hilarious reply from wife Dipika Pallikal (Read full story)
16.50 IST: After 18 overs, England are 58/1. Ravichandran Ashwin to Joe Root, no run. Full from Ashwin, Root plants his front foot forward and blocks.
16.42 IST: FOUR! All about the timing on that. Elegant stuff from the English Test skipper. Length delivery outside off, Root opens the face of the bat and runs it past short third man for a boundary. ENG 53/1 in 16 overs.
16.32 IST: Drinks are on the field. An even hour, but one which should have belonged to India. Ishant started off well and made good use of the new ball, should have had Jennings too had it not been for Rahane's dropped catch. Umesh leaked runs which forced the introduction of Ashwin early this morning. It reaped dividends as he got rid of Cook. Should be another good hour.
16.28 IST: Meanwhile, Ravichandran Ashwin invites praises after he earns the breakthrough for India.
Turn on the first morning and a gorgeous ball from Ashwin. Dream delivery for an off-spinner to a leftie.

— Harsha Bhogle (@bhogleharsha) August 1, 2018
four seamers in XI, bowling first on day one of a Test in England, and India's first wicket comes via a spinner #ENGvIND

— Gaurav Kalra (@gauravkalra75) August 1, 2018
WHAT A DELIVERY !! @ashwinravi99 Absolute Class.. #EngvInd

— Jatin Sapru (@jatinsapru) August 1, 2018
16.22 IST: FOUR! Loose ball again. Too much swing, coming in on the pads, no problem from skipper Joe Root to flick it fine. Beats fine leg and gets it across the boundary line. ENG 45/1 in 11.2 over.
16.18 IST: FOUR! Too straight in line and it's put away! Shorter on the hips, Root tickles it fine down the leg side for an easy boundary.
16.16 IST: Ishant should probably consider coming around the wicket to the left-hander. Over the wicket, he's sticking to that leg stump line. If he doesn't get the prodigious swing, the batsman see it. If it's too full, it's easy enough to play it out. Switching the angle might provide something different.
16.14 IST: FOUR! Edged and away! Not a bad delivery at all, Ishant serves it on a length on off. It goes away late and squares Jennings up. Off the edge and it races away down to the third man fence.
16.11 IST: The skipper Joe Root walks into the middle next.
16.10 IST: OUT! Ashwin removes Cook for 13. Bold move indeed! What an absolute beauty from Ravi Ashwin! Superb. Superb. It's the big wicket of Alastair Cook too. The offie comes from around the wicket and provides a lot of revs as he tosses it up on middle. Cook covers the line, thinking it will spin slightly. Doesn't account for the massive turn and gets undone by it. The ball goes past the outside edge and knocks the bails over. First strike for India. England 26/1 in 8.5 overs vs India at Birmingham
16.06 IST: ENG 25/0 in 8 overs.
15.58 IST: After 6 overs, England are 22/0.
15.51 IST: FOUR! Another one from the willow of Alastair Cook. He will put them away all day long! Umesh really needs to get his radar more accurate. Fires it on the pads, Cook flicks it neatly through the mid-wicket region and that will be a boundary. ENG 20/0 in 4.5 overs.
15.49 IST: FOUR! Welcomes Umesh with a boundary! A tad short and Alastair Cook has put it away. Around off, not much venom on it, so the southpaw rises on his toes and cracks it through cover-point to find the fence. ENG 14/0 in 2.1 overs.
15.45 IST: Look who's showed up! Monty Panesar is seen in the stands.
15.40 IST: FOUR! First boundary of the day for England! Fuller and coming in on the pads, Jennings just clips it off his pads down across the fine leg fence for a boundary.   ENG 5/0 in 2.1 overs.
15.39 IST: ENG 1/0 in 2 overs. Ishant Sharma to Alastair Cook, 1 run. Another easy leave. Cook shoulders arms to let Dinesh Karthik collect it with ease. Testing over from Ishant comes to a close.
15.36 IST: Ishant Sharma to share the new ball. He has three slips in place as well, along with a gully.
15.35 IST: Umesh Yadav to Keaton Jennings, 1 run. Hurled away well outside off, going across, Jennings lets it be to end the first over.
15.30 IST: Well... Finally! We're ready to rock and roll. Alastair Cook and Keaton Jennings stride out to the middle amidst a big English cheer. The Indian players spread out across the field. Umesh Yadav has the new cherry in hand first up. Three slips and a gully in place. 
15.21 IST: Adil Rashid giving an interview says that this series is a good challenge and he is looking forward to it. On making a comeback he says would not have never imagined playing Test cricket so early. He adds saying that the mindset is very important. He wants to have the same mind set as he does for white-ball cricket. He suggest that it is important to stick to his positives. Adds saying that his role in the team is to create chances and says that he is not under pressure. Ends by saying that he will get it his all.
15.12 IST: Here are the Playing XIs
India: Murali Vijay, Shikhar Dhawan, Lokesh Rahul, Virat Kohli (c), Ajinkya Rahane, Dinesh Karthik (w), Hardik Pandya, Ravichandran Ashwin, Umesh Yadav, Mohammed Shami, Ishant Sharma
IND XI: S Dhawan, M Vijay, L Rahul, V Kohli, A Rahane, D Karthik, H Pandya, R Ashwin, M Shami, U Yadav, I Sharma

— BCCI (@BCCI) August 1, 2018
England: Alastair Cook, Keaton Jennings, Joe Root (c), Dawid Malan, Jonny Bairstow (w), Ben Stokes, Jos Buttler, Sam Curran, Adil Rashid, Stuart Broad, James Anderson
ENG XI: A Cook, K Jennings, J Root, D Malan, J Bairstow, B Stokes, J Buttler, S Curran, A Rashid, S Broad, J Anderson

— BCCI (@BCCI) August 1, 2018
15.10 IST: Captain's Corner
Joe Root: We will bat first. It looks a good surface, a bit of cloud cover, there's some moisture which should burn off, looks good to bat. We are ready for this series, the preparations have been good, it's time to deliver now. We are filled with confidence, but this is a new game for the players. The selectors gave us plenty of options for this surface and I am happy with the personnel we have.
Virat Kohli: We were thinking about bowling first. The conditions are overcast, we want to make the most of it. There's always excitement and anticipation, it's a long series and we are well prepared. We are comfortable with our skill-sets. I think we have the bowlers for this pitch, we need to focus on our skills, need to play positively and get the results. Pujara has been left out, KL Rahul will bat at three. Three pace bowlers, Hardik as the all-rounder and Ashwin is the lone spinner.
15.04 IST: India have decided to go in with KL Rahul at No.3 while resting Cheteshwar Pujara. Also, Ravichandran Ashwin is the lone spinner and that means Kuldeep Yadav will have to sit out.
15.00 IST: TOSS! England win toss, opt to bat against India in Birmingham under overcast conditions.
14.56 IST: Meanwhile, IndiaTV cricket expert and former India captain Sourav Ganguly said the pitch has grass on it and will have carry. He said that spinners will not get assistance in the first three days. He concludes by saying that KL Rahul is a must here.
14.55 IST: Sourav Ganguly, Virender Sehwag disagree over India's opening combination for first Test against England. While Sehwag feels Shikhar Dhawan should be included in the Playing XI, Ganguly said KL Rahul would be a better choice in Edgbaston. What's your take?
14.50 IST: The pitch at Edgbaston is making a lot of noise ahead of the match. Here's the chief curator of Edgbaston Cricket Ground, Gary, speaking to IndiaTV on how the pitch will behave over the next five days.
14.35 IST: This is also a historic occasion for the hosts as England will be playing their 1000th Test - the most by any team yet.
14.30 IST: India, on the other hand, face a few selection headaches, the most important being the choice of Murali Vijay's opening partner - Shikhar Dhawan or KL Rahul. We will know the answer soon at the toss.
14.23 IST: England have already announced their playing XI leaving out Moeen Ali in favour of leg-spinner Adil Rashid.
14.16 IST: The Toss will take place at 15.00 PM IST (3.00 PM) and the match will commence at 15.30 PM IST (3.30 PM).
14.10 IST: Meanwhile, Indian captain Virat Kohli is just 23 runs short of achieving 1,000 runs against England.
14.00 IST: Hello and welcome to our live cricket updates of India vs England 1st Test, Day 1 from Edgbaston, Birmingham. The first day should set the tone for an action-packed series which goes on for the next six weeks.
Brief Preview: 
India would be driven by the desire to shed the poor travellers' tag, while England would be desperate to arrest the recent slide at home when the two teams clash in a five-match Test series, starting on Wednesday.
The English side will be celebrating its 1000th Test at Edgbaston, and it will be up to world No.1 India to spoil the home party.
India last won a Test series in England in 2007 under Rahul Dravid, and it will be no easy task ahead of the Virat Kohli-led side to duplicate that feat.
Under Mahendra Singh Dhoni, India failed in 2011 and 2014, losing by heavy 4-0 and 3-1 margins, respectively. In fact, India have only won six out of the 57 matches on English soil.
England's Test form coming into this series is also a cause for concern. Since September 2017, England have only won one out of nine Tests against Australia, New Zealand and Pakistan. (Read Full Preview Here)