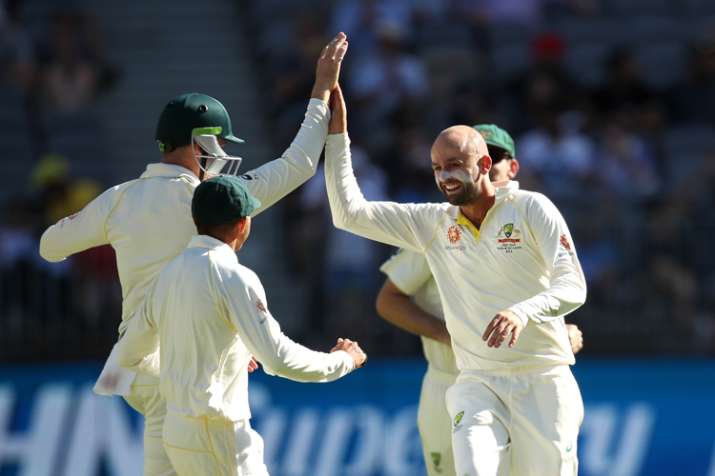 India's wrecker-in-chief Nathan Lyon enjoyed bowling in Perth and was thrilled to contribute in the team's victory that came after a long time.
Lyon took eight wickets in the match including a five-wicket haul in the first innings to dent India's chances at the Perth Stadium and rally the hosts towards a series levelling victory.
Among Lyon's eight scalps were the prized duo of Virat Kohli and Ajinkya Rahane and according to him, picking Kohli in the second innings was special for him.
"Definitely those two wickets (Virat and Rahane) are special. Virat is the number one player in the world, to compete against him and to be able to take his wicket is pretty special," Lyon said.
The GOAT just gets it done.#AUSvIND | @bet365_aus pic.twitter.com/TiQ3kDajSJ

— cricket.com.au (@cricketcomau) December 17, 2018
The off-spinner also praised Rishabh Pant and said it's a great challenge to bowl to him.
"Pant is a wonderful striker of the ball, he's a special talent and it's always a great challenge to bowl to him," the 31-year-old said.
This was Australia's first Test win since the ball-tampering scandal rocked the Kangaroos earlier in the year and the off-spinner relished it and thanked the crowd for the support.
"It is amazing to play a role in a team victory and to have the support here in Perth and all around Australia has been fantastic. Thanks for all the support. It's pretty fair to say we have been in drought and to wrap up their tail pretty quickly was special," Lyon said. 
Lyon bowled more defensively and looked to hit the patches outside rather than attacking the stumps and going for wickets. Speaking about the change in strategy, Lyon said that his role was different to that of what it was in Adelaide.
"My role changed a fair bit to a more attacking role in Adelaide to a defending role here," Lyon said. 
Garry also said that he is concentrating a little more on his batting and his brother his helping him in that.
"My brother (Brendan Lyon) has been helping me with the batting. I am not a very good batter, so I am trying to improve a little bit and play my role," Lyon said before leaving.
The off-spinner is again expected to play a vital role in the next Test at the Melbourne Cricket Ground, which starts on Boxing Day -- December 26.