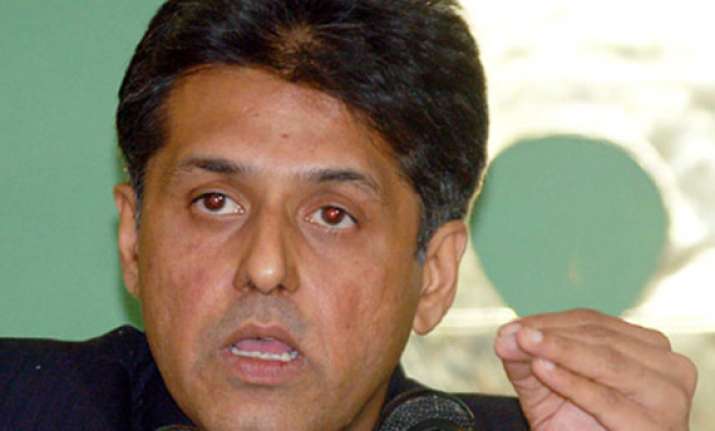 New Delhi, Nov 16: A day after the much-hyped 2G spectrum auction turned out to be a damp squib, both the UPA government and the Congress Thursday questioned the Comptroller and Auditor General Vinod Rai's claim of estimated loss of Rs.1.76 lakh crore in the spectrum allocation in 2008.
The 2G spectrum auction Wednesday yielded only Rs.9,407 crore, much below Rs.40,000 crore the government expected.
Information and Broadcasting Minister Manish Tewari asked Rai why the spectrum auction yield was nowhere close to his estimated loss.
"Mr. CAG, where is the Rs.1.76 lakh crore? I think it is time for some serious introspection. It's time the CAG introspects on his processes and it is high time that the BJP and some of the other opposition parties, which had made this their holy grail and swan song of politics over the last two years, should publicly apologise," Tewari told reporters.
Taking a dig at the CAG, Congress general secretary Digvijaya Singh said: "The CAG should reconsider how far its estimate was right with regard to the report, which it had earlier given and the losses that it had computed."
Singh sought to dismiss the suggestion that the auction yielding less revenue this time is a reflection of disenchantment of telecom companies with the government.
The BJP and the Left criticised the government's reaction.
"The government keeps looking for ways to attack constitutional bodies like the CAG which are acting in an independent manner," BJP vice-president Mukhtar Abbas Naqvi told reporters.
Communist Party of India (Marxist) leader Nilotpal Basu said: "If the government argues like that, it will only be the Devil's advocate. Because, you will always have to remind yourself of the fact that the then telecom minister A. Raja gave out 122 licenses for Rs.9,200 crore."
"The 22 licenses which were out on auction this time have already fetched more than what they had got for all the 122 licenses then," he said.
According to the CAG, former telecom minister A. Raja's decision to allocate spectrum in 2010 at 2001 prices had caused a presumptive loss of Rs.1.76 lakh crore to the exchequer.