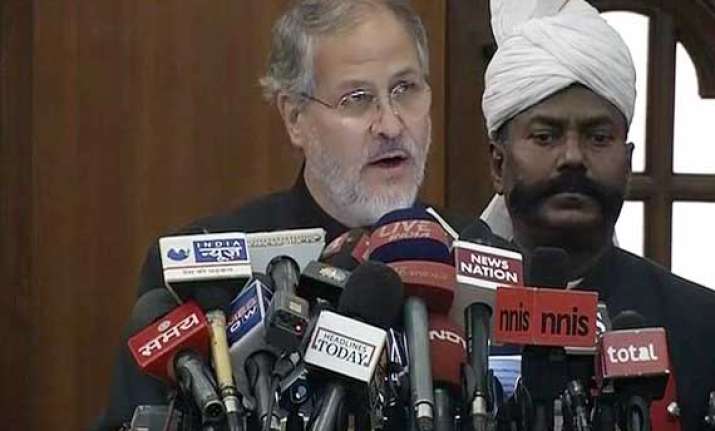 New Delhi:  Delhi will come under a spell of President's Rule and the Assembly will be kept under suspended animation with the Union Cabinet giving its nod to Lt Governor Najeeb Jung's recommendation, rejecting demands of AAP for dissolution and fresh polls.
The decision of the Cabinet, presided over by Prime Minister Manmohan Singh, will come into effect after promulgation of a notification by President Pranab Mukherjee.
It has to be then endorsed by Parliament through a resolution under Article 356 of the Constitution.  Lashing out at Jung, Arvind Kejriwal, who resigned as Delhi Chief Minister yesterday, said that the LG was "openly flouting" the decisions taken by a majority government. 
"I am questioning the logic of his decision (of not recommending dissolution of the House)," Kejriwal said, adding that the constitution says that he is bound by the decision taken by the Cabinet of a majority government. 
In his report to the Centre, Jung did not favour dissolution of the 70-member Delhi Assembly as recommended by the council of ministers headed by Kejriwal when it met last night and decided to quit after being defeated in the Assembly over introduction of the Jan Lokpal Bill.