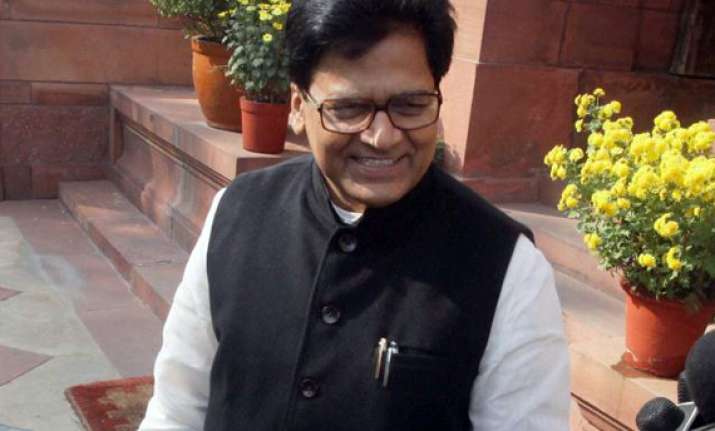 Lucknow, Nov 16:  Samajwadi Party today declared its first list of candidates for the 2014 Lok Sabha elections with its president Mulayam Singh Yadav seeking another term from his Mainpuri seat.
"The party today releases its first list of 55 candidates for the coming elections, including 18 sitting MPs and MLAs, one minister and Speaker of the state Assembly," party spokesman Ram Gopal Yadav told reporters here.
Claiming that the party was taking a lead in declaring its nominees, Yadav said that there was a possibility that there would not be any changes in the list but can be done in extreme conditions.
The SP spokesman said that with the list being released, party nominees would be better placed to start preparations for the elections.
Other prominent names in the list include chief minister Akhilesh Yadav's wife Dimple Yadav, who is the sitting MP from Kannauj and his cousin and sitting MP from Badaun Dharmendra Yadav.
Ram Gopal Yadav's son Akshay Yadav would contest from Firozabad from where Dimple Yadav had lost a by-election to Congress' Raj Babbar.
Speaker of the state Assembly Mata Prasad Yadav would be contesting from Dumariyaganj and former minister Ashok Bajpai from Lucknow.
To questions whether the party would field its nominees from Rae Bareli and Amethi, the traditional seats of Congress president Sonia Gandhi and general secretary Rahul Gandhi, Yadav said that so far 55 candidates have been decided and party was yet to decide on the 25 remaining seats.
When quizzed if the party has gone ahead to declare its nominees after Congress appointed Rahul Gandhi in-charge of the coordination committee for the Lok Sabha polls, Yadav said that it was his party's policy to remain prepared for polls always.
"We had also declared the nominees for the Vidhan Sabha polls in the state about an year before the due date as it helps even those candidates who are not very well off financially to reach out to the electorate", Yadav said.
To questions on the party declaring speaker Mata Prasad Pandey as a candidate, Yadav said that Indian Parliamentary democracy was different from the British one and here the speaker can remain member of a political party even after assuming the charge and so the party can nominate him.
Following is the list of 55 candidates declared by Samajwadi Party for the 2014 Lok Sabha elections:
1. Mainpuri- Mulayam Singh Yadav (sitting)
2. Kairana - Nahid Hasan
3. Muzaffarnagar- Gaurav Swarup
4. Nagina- Yashvir Singh (sitting)
5. Moradabad- Dr. S.T Hasan
6. Amroha- Mrs. Humera
7. Baghpat- Dr. Vijay Kumar
8. Ghaziabad- Sudhan Rawat
9. Gautambudh Nagar- Narendra Bhati
10. Hathras(r)- Ramji Lal Suman
11. Mathura- Chandan Singh
12. Agra(r)-Mahraj Singh Dhangar