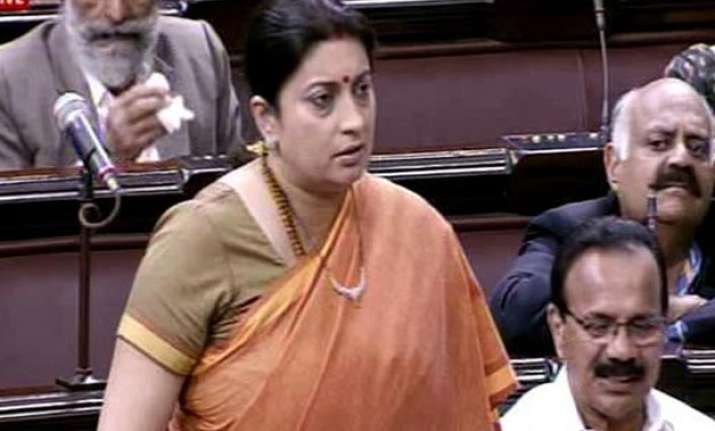 New Delhi: HRD Minister Smriti Irani today strongly defended her remark in which she made a reference to Goddess Durga while taking part in the debate over JNU issue in the Rajya Sabha.
The Minister also turned down opposition parties demand that she must apologize for her remark in the Rajya Sabha about Goddess Durga. Irani said that she will not apologise for her remark as the reference made by her came from the authenticated JNU document.
"There were comments made on veracity of facts yesterday. These are authenticated documents from the university itself. These are not government documents," Irani said.
"I read it because I was asked to explain what is the proof. I am a practising hindu myself and a Durga worshipper," Irani added.
As the House met for the day, Deputy Leader of Congress in Rajya Sabha Anand Sharma raised a point of order saying the Constitution and rules do not permit anything to be raised in the House which is blasphemous and can hurt religious sentiments.
Irani, he said, had read out "insulting" comments made against Goddess Durga "verbatim" in the House hurting sentiments and sought a ruling from the Chair as to whether such comments made outside Parliament against any religious figure or a deity can be read out inside the House.
Members of other opposition parties also agreed with K C Tyagi of JD(U) demanding that Irani should unconditionally apologise for the comments read out by her.
Leader of Opposition Ghulam Nabi Azad said it is a "very serious issue" and the "minister should apologise for what she said yesterday."
Azad said there were campaigns against many religious figures but all this cannot be raised in the House.
To this, BJP members hit back at the Congress saying the opposition party was raising the issue due to the criticism of its Vice President Rahul Gandhi over his visit to JNU.
Coming to his colleague's defence, Minister of State for Parliamentary Affairs Mukhtar Abbas Naqvi attacked Congress and other opposition parties saying it had become a pattern for them to seek a Short Duration Discussion, a couple of Calling Attention Motions and an apology in every session while showing no interest in legislative business.
He also said that Congress was raising the issue as its vice president was criticised for supporting those indulging in activities against the nation.
As the two sides indulged in heated exchanges, Deputy Chairman P J Kurien said there has been a tradition that nothing blasphemous or anything against any community will be raised in the House.
He assured members that he would go through the records and expunge anything blasphemous.
"What I can do now is I will go through the record and expunge anything that is blasphemous. Nothing will be said against any community, that is the tradition of this House. It is a tradition of the House that no blasphemous things will be said here," he said.