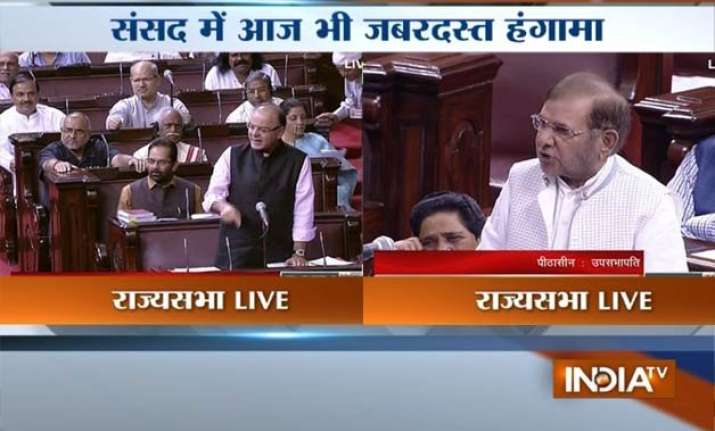 New Delhi: Janata Dal (United) chief and Rajya Sabha MP Sharad Yadav today expressed his anger against the online signature campaign launched by over 15,000 people including top industrialists urging Parliamentarians to allow the parliament to transact business.
As soon as the Rajya Sabha met today, the opposition parties created ruckus on the floor of the House over Lalitgate issue.
The government side urged the Opposition leaders to allow the House to function pointing out that  the nation wants the Parliament to pass the GST Bill and others.
To this, Sharad Yadav said, "Ye himmat karenge Hindustan ke Parliament ko chalane ki? Aap sadan ke maalik hai (They have courage to run the Parliament of India. You are the care taker of the House)."
Jaitley replied quickly, "People of country want Parliament to function. But you are disrupting the proceedings. You don't want the Parliament to function."
Over 15,000 people including the country's top industrialists like Rahul Bajaj, Infosys founder Kris Gopalakrishnan, Pawan Munjal of Hero MotoCorp, Adi Godrej, Kiran Majumdar-Shaw, GVK's GV Sanjaya Reddy, GE India head Banmali Agrawala have signed an online petition on change.org urging lawmakers to allow parliament function.
"Parliamentary protest are not unknown. Parliamentary stalemates can never be permanent. Parliamentary paralysis can lead to weakening of India's democracy. There is a spread of political power between the opposition and the government in Indian Parliament. Both have an important role to play. Both have responsibility to discuss and resolve political issues. Political consensus represents the best practice in Indian democracy," the petition reads.
After change of guard at the Centre in 2014, India Inc expected major initiatives along with forward movement in key sectors like road, power, coal, non-renewable energy.
But the series of disruptions in Parliament since last year, has stalled the growth rate of country. The latest reform stuck in the stand-off with Opposition is the GST Bill.
The Monsoon Session of Parliament has failed to transact business so far. This deadlock prompted the Confederation of Indian Industry (CII) to launch the campaign.
Congress has been demanding resignation of External Affairs Minister Sushma Swaraj and Rajasthan Chief Minister Vasundhara Raje on Lalit Modi controversy and that of Madhya Pradesh Chief Minister Shivraj Singh Chouhan over the Vyapam scam.