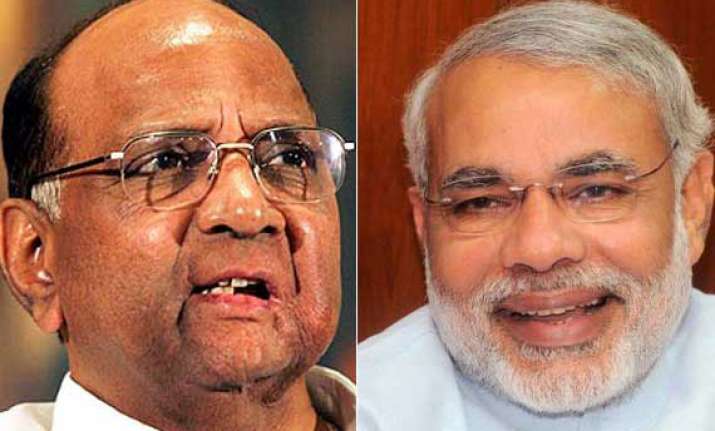 Jalgaon, Nashik (Maharashtra):   Narendra Modi today described NCP chief Sharad Pawar as a "clever" politician and said the Union Minister decided not to contest the Lok Sabha polls this time as he could sense that he would lose the election.
"Whenever people speak about Sharad Pawar, people describe him as a clever politician. Now I understand why he is known to be a clever politician. He sensed the direction in which the wind was blowing and hence decided not to contest elections this time so that he doesn't have to face defeat," Modi said while addressing a rally here.
Pawar, who has been elected to Lok Sabha a number of times, has entered Parliament through Rajya Sabha.
Modi was speaking at a campaign rally for BJP candidates A T Nana Patil and Raksha Khadse from Jalgaon and Raver Lok Sabha constituencies respectively.
Modi sought to know from Pawar why cotton-growing farmers from Jalgaon had to sell their produce in Gujarat.
"The Union Agriculture Minister calls himself a leader of farmers. But then why do farmers, who sow cotton here go to Gujarat to sell it? Why do they not get the proper price in Maharashtra itself?" Modi said and claimed that Gujarat gives them 1.5 times the rate they get in Maharashtra.
Targeting senior Congress leaders, Modi said, "Since the last ten years all the Congress leaders that kept appearing on television, are now running away from elections. Some of them ran away even after filling their nomination."
"During the 50 years of Congress rule, they forgot the Adivasis and Dalits. It was the Vajpayee government which first made a special ministry for them and allotted budget," he said.
Taking a jibe at Prime Minister Manmohan Singh, he said, "PMO told the media stating that PM Manmohan Singh delivered 1,100 speeches in the past 10 years. Is speaking 1,100 times an achievement for a Prime Minister?"
Appealing to the youth, he said, "18-28 is your golden age. Not even a single day of yours should be wasted. If you get a bad government, what will happen to your future? I urge you to vote for the 'mahayuti' in Maharashtra for your good future," he said.