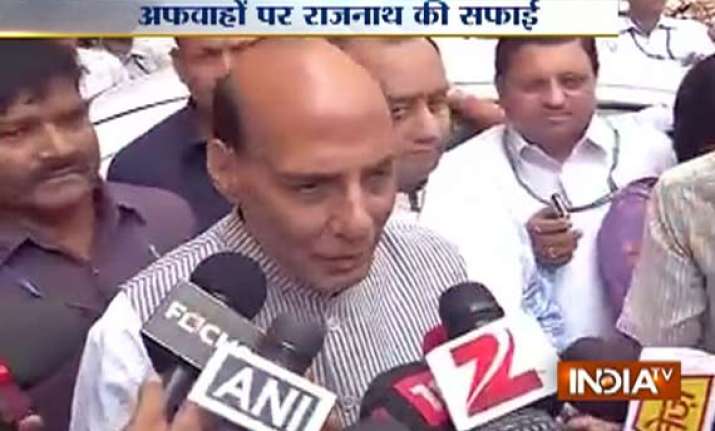 New Delhi: Union Home Minister Rajnath Singh  today strongly refuted reports of Prime Minister Narendra Modi scolding his son for his alleged misconduct.
According to some reports, Rajnath Singh's son Pankaj Singh was scolded by PM himself for his alleged misconduct. These reports had said that Pankaj Singh was denied bypoll ticket because of  corruption allegations against him. These reports also said that Rajnath Singh was unhappy with party for denying ticket to his son.
Rajnath Singh said he would quit politics and sit at home if such charges are even prima facie proved.
He said rumours about alleged wrong doings by his family members have been floating around for the last fortnight.
"In the last 15-20 days, there have been continuous rumours in the air about me and my family. I thought rumours have no basis and these will end in some days.
"But I am seeing that these rumours are gaining momentum day-by-day. I want to assure the nation that the day allegations, even prima facie or even small, are proven against me or my family, I will quit politics and public life and sit at home," he said in a hurriedly called interaction with journalists outside his office in North Block.
The Home Minister said he has conveyed to Prime Minister Narendra Modi and BJP President Amit Shah and both of them have expressed surprise over the issue and termed the rumours as completely baseless.
"I have told this to the Prime Minister and party President Amit Shah when we were sitting together. They have expressed surprise over this and termed it as completely baseless," Singh said.
The Home Minister's reaction came in the wake of media reports that he was unhappy over rumours being spread by "a ministerial colleague" and "party rival" about his son Pankaj Singh being pulled up by the Prime Minister over some alleged misconduct.
Asked who could be behind the floating of the rumours, he said that was something for the investigative journalists to find out.
On the possibility of a political rival spreading these rumours, the Home Minister parried a direct reply, saying, "I have nothing to say on this."
The Home Minister denied that he has complained to the RSS about these rumours.
"I have not talked to the Sangh on this," he said.
Meanwhile in a statement, PMO has rubbished reports about alleged misconduct of Home Minister Rajnath Singh's son.
"The reports are plain lies, motivated and constitute a malicious attempt at character assassination and tarnishing the image of the Government," said the statement.
"Those indulging in such rumour-mongering are damaging the interest of the nation. These reports are strongly denied," added the statement.