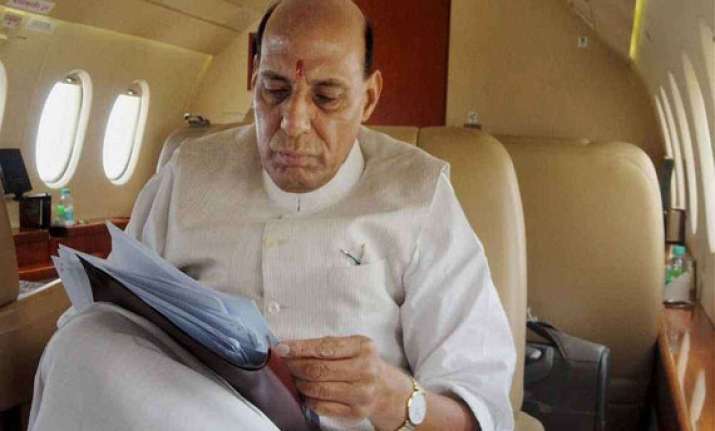 Etah: BJP President Rajnath Singh today attacked Rahul Gandhi over alleged land deals involving his brother-in law Robert Vadra, saying just like the 2G scam there was also a "jija ji scam" during Congress' rule.
Singh said that poor farmers must be given insurance cover for their agricultural land.
"Just like there is insurance cover given to persons, there needs to be insurance of agricultural land as well," he said at a public meeting in Sidhpura under Etah Lok Sabha constituency.
Singh said the Congress had divided the country and the people must be wary of the "shackles of slavery" in the country.
He was campaigning for former Uttar Pradesh chief minister Kalyan Singh's son and BJP candidate from Etah, Rajvir Singh.
The BJP president said that if voted to power his party would provide six months of skills training to unemployed youth and provide loans to render them self-employed.
He also said measures would be put in place to ensure women's safety.
Addressing an election rally at Hathras, the BJP president said that Narendra Modi would be the next Prime Minister and no one could stop him.
Attacking SP and BSP, Singh alleged that by supporting the governments of scam they have caused a huge damage to the country.
He exuded confidence that BJP would win more than 300 seats in the Lok Sabha elections.