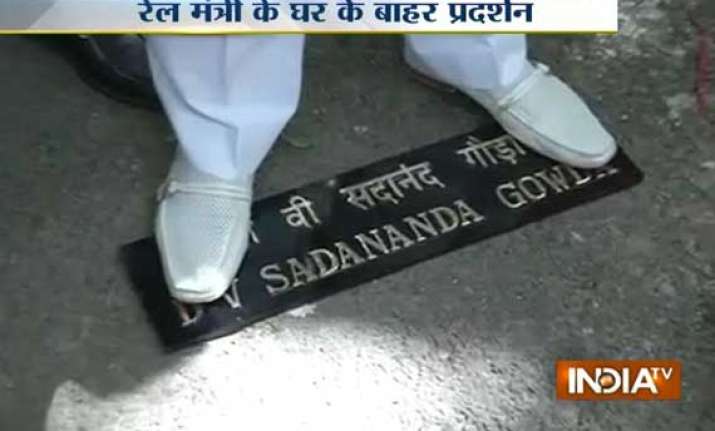 New Delhi:  Terming the Rail Budget presented by Union Railway Minister Sadananda Gowda as "useless", scores of Congress workers led by DPCC chief Arvinder Singh Lovely today staged a protest outside the minister's residence here.
The supporters, including women, gathered outside Gowda's residence on Tughlaq Road in New Delhi around 3 p.m. and staged the protest.
The protestors stopped Gowda's vehicle outside his house.
Congress leader Mukesh Sharma removed the minister's name plate and stamped on it.
Delhi Pradesh Congress Committee president Arvinder Singh Lovely, who was with the protestors, said the protest should be peaceful.
"We have deployed adequate police force, including women constables, outside the residence of the railway minister. The area has been cordoned off. We are trying to stop the protestors from turning violent," said a police official. 
The protesters reached Gowda's 1, Tyagraj marg residence around 3 PM and raised slogans against Prime Minister Narendra Modi and Gowda. They also demanded immediate rollback of the recent rail fare hike.
"Modi government's budget is useless and the bullet train proposal is just an eyewash. They should first roll back recent rail fare hike immediately. With this proposal, BJP-led government has unleashed a 'bullet inflation' on the people of Delhi and as well as country," Mukesh Sharma, DPCC chief spokesperson said.
Yesterday, Congress leaders had tried to gherao Parliament House to protest over the issue of price rise and rail fare hike, but were prevented from doing so due to heavy security in the area.