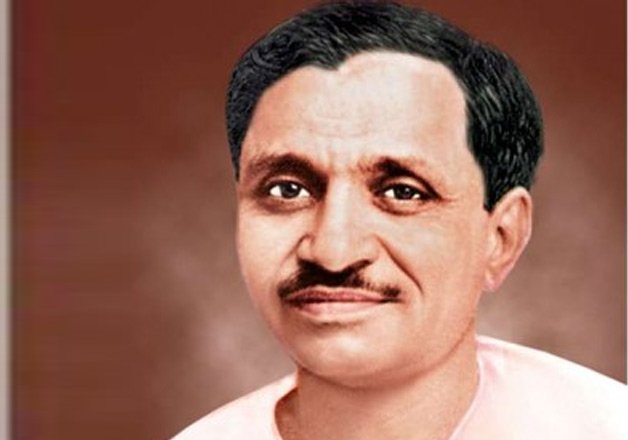 New Delhi: Pandit Deendayal Upadhyaya was born on Monday September 25, 1916, in Nagla Chandraban village in Mathura district.
His father, Bhagwati Prasad, was a well known astrologer. He lost his father when he was less than 3 years old and his mother before he was 8. He was then brought up by his maternal uncle.
Bhagwati had studied his son's horoscope and predicted that the boy would become a great scholar and thinker, a selfless worker, and a leading politician.
In 1935 and 1937, Upadhyaya won gold medals for his performance in matriculation and intermediate exams, respectively.
In 1937, Upadhyaya after obtaining BA degree from Kanpur, moved to Agra to pursue further education. In was in the same year, he joined the Rashtriya Swayamsevak Sangh (RSS) - at the instance of his friend Balwant Mahashabde.
Upadhyaya even had qualified the Civil Service Exam, but he didn't join civil services as he was fascinated by the idea of working with the common people.
India TV brings to you 10 facts about Pandit Deendayal Upadhyaya:
1. From 1942, he dedicated himself to full-time work in the RSS. Upadhyaya, a man of soaring idealism, had a tremendous capacity for organisation. He published a monthly Rashtra Dharma, a weekly Panchjanya and a daily Swadesh in 1940.
2. In 1951, when Syama Prasad Mookerjee founded the Bharatiya Jana Sangh, Upadhyaya became the first general secretary of its Uttar Pradesh unit. Later, he was chosen as all-India general secretary of the organisation.
3. Mookerjee was impressed by Upadhyaya's calibre and the way her served the society. He had said – 'If I had two Deendayals, I could transform the political face of India'.
4. In Hindi, he has written a drama Chandragupta Maurya(1946) and later wrote a biography of Jagatguru Sankaracharya (1947). He translated a Marathi biography of Dr KB Hedgewar, the founder of RSS.
His other renowned literary works include, Akhand Bharat Kyon? (1952), Bharatiya Arthniti: Vikas Ki Disha (1958), The Two Plans: Promises, Performances, Prospects (1958), Rashtra Jivan Ki Samasyayen (1960), Devaluation: A Great Fall (1966), Political Diary (1968), Rashtra Chintan, Integral Humanism and Rashtra Jivan Ki Disha.
5. After Mookerjee's death in 1953, Upadhyaya took the responsibility to of nurturing the organisation. For 15 years, he remained the outfit's general secretary and built it up. He had also contested the Lok Sabha polls unsuccessfully from Uttar Pradesh.
6. Upadhyaya strongly believed that the basic cause of the problems facing India is the neglect of its 'national identity'. He said that it is essential that 'we think about 'Our National Identity' without which there is no meaning of Independence'.
7. Upadhyay conceived the political philosophy known as 'Integral Humanism' which was adopted by Jana Sangh in 1965 as it's official doctrine. It contains visions organized around two themes: Morality in politics and Swadeshi.
8. By 1957, Bharatiya Jan Sangh had 243 regional and 889 local committees. At the 14th annual session of Bharatiya Jan Sangh in Calicut in December 1967, Upadhyaya was elected as the president.
9. He welcomed modern technology but wanted it to be adapted to suit Indian requirements. Upadhyaya believed in a constructive approach. He exhorted his followers to co-operate with the government when it was right and fearlessly oppose it when it erred. He believed in self governance (Swaraj).
10. Upadhyaya boarded the first-class coupe of the Sealdah-Pathankot Express from Lucknow to Patna on February 11, 1968. The next morning his body was found lying parallel to the railway tracks outside Mughalserai station. A probe into the murder concluded that he had been pushed out of the compartment by unidentified thieves and died after his head struck against a traction pole.