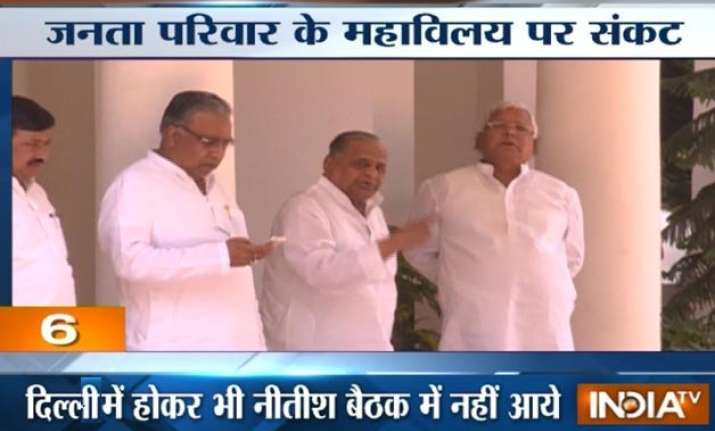 New Delhi: Bihar Chief Minister Nitish Kumar skipped a crucial meeting of leaders of Janata Parivar yesterday despite being in Delhi.
JD(U) president Sharad Yadav was however present in the talks with RJD chief Lalu Prasad Yadav and Samajwadi Party chief Mulayam Singh Yadav, who has been designated as the leader of the proposed entity after a formal merger of six Janata Parivar outfits.
Sources said that the meet was called to iron out the differences with Lalu, who mooted the idea of roping in Jitan Ram Manjhi, a known Kumar detractor, in the anti-BJP alliance ahead of upcoming Bihar assembly polls later this year.
A close aide of Nitish Kumar played down latter's absence from the meeting, saying he underwent a small eye surgery.
"He has been advised rest, so he could not attend the meeting," he said on terns on anonymity.
Lalu, according to sources, proposed uniting all anti-BJP parties including Left parties for Bihar elections at yesterday's meet.
"Lalu ji suggested there should be a grand alliance of all anti-BJP parties," an RJD leader said.
Sources also said that disagreements continue between the RJD and the JD(U) over seat sharing for Bihar elections.
When Lalu was asked about the difference between RJD and JD(U), he said, "I am never upset... no differences with anyone."
The Janata Parivar comprises Mulayam's Samajwadi Party, Nitish Kumar and Sharad Yadav-led Janata Dal (United), Om Prakash Chautala's Indian National Lok Dal, Lalu Prasad Yadav-headed Rashtriya Janata Dal, HD Deve Gowda's Janata Dal (Secular) of former primeminister HD Deve Gowda and the Samajwadi Janata Party.