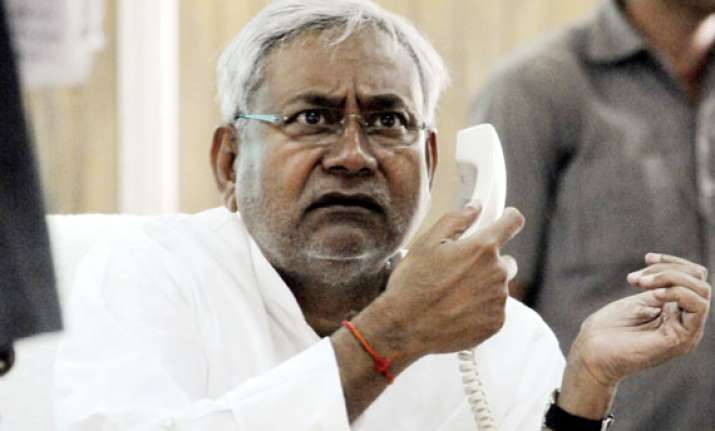 New Delhi, Jun 7: The margin of defeat for the JD (U) candidate in Maharajganj Lok Sabha by-polls is a clear sign of Nitish Kumar falling in his own trap.  
The RJD candidate Prabhunath Singh has trounced the JD(U) candidate and state HRD minister P K Shahi by 1 lakh 37,000 votes.
It was supposed to be a neck-and-neck fight but the poll result shows that the electorate was miffed with the arrogance that Nitish had started displaying in recent times and was waiting for the right time to manifest its anger and Maharajganj by-poll was just the perfect occasion.  
The Maharajganj result is a clear reminder to the fact that Nitish can't rely solely on his well crafted EBC and Mahadalit vote banks.
Neither can he expect the bulk support from the Muslim community of the state that is still standing behind Lalu Prasad. It means that he still needs BJP as much as the BJP needs him. Parting of ways will be suicidal for both the parties. BJP being a national party can still survive the setback but JD (U) will be back to 1995 era. 
It is important to recall the political scenario of 1995 in Bihar.
After breaking off with Lalu Prasad led Janata Dal, Nitish Kumar along with George Fernandes had formed Samata Party and went into assembly elections as an alternative to Lalu regime. But Nitish was shocked to see that the people of Bihar had thoroughly rejected his claims and Samata Party could win just 7 seats. 
It was an eye-opener for  Nitish as far as his political clout in the state was concerned. At that time, George Fernandes who was a shrewd politician advised Nitish Kumar to join hands with BJP notwithstanding its so-called communal image in the aftermath of Ayodhya movement and Babri demolition.