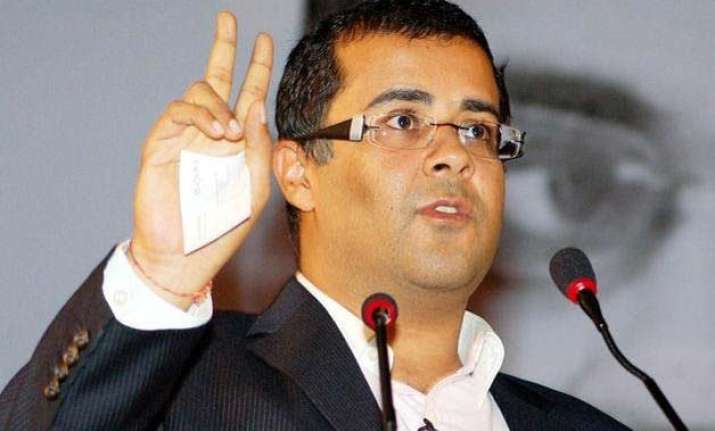 New Delhi: Noted author Chetan Bhagat on Friday said that Prime Minister Narendra Modi and BJP president Amit Shah have come under attack from historians, scientists and artists because they do not belong to the 'privileged class'.
"If Modi and Amit Shah had attended Doon school, spoke impeccable English and were spotted with their English girlfriends, they would not have been attacked so much," the author said as he slammed dissenting intellectuals who are returning their awards citing 'growing intolerance in the country'.
Attributing the recent controversy to the power shift in the country, Bhagat said the privileged class of this country is rattled because the political power has slipped into the hands of people from the Hindi medium.
Taking a dig at the section of intelligentsia for returning their awards, he said that national awards are not given by the government, rather a jury or a panel selects the qualifying people and thus, it's inappropriate to blame the government.
"These are not mere awards, but honours that are given to an individual for his or her individual achievement. How can you later return an honour that you had already accepted?" he said, adding that 'now foreign media has come into play and they are painting a sorry picture of India'.
"They are portraying India as a country which is intolerant," he said.
Meanwhile, reacting to the criticism Bhagat invited for making an indirect jibe at historians, said that he doesn't 'care about personal criticism targeted at him, but foreign media should not be allowed to portray a negative image of India'.
"What do historians do? I am genuinely curious. This happened. Then this happened. Then this. Ok work done for the day," Bhagat tweeted.
Several writers, filmmakers have in recent time returned their awards to protest against 'growing religious intolerance in the country'.