Follow us on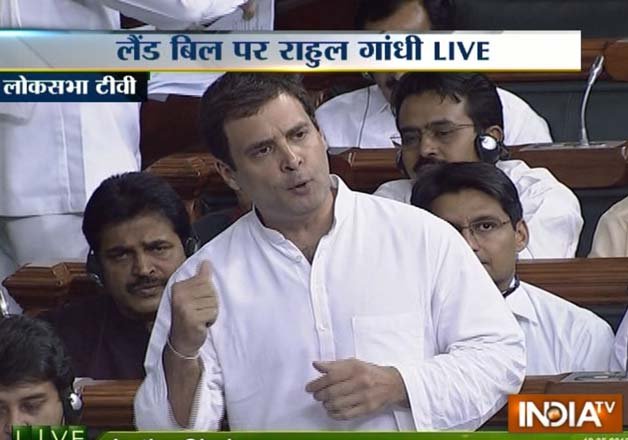 New Delhi: Congress vice-president Rahul Gandhi today accused BJP-led NDA government of 'murdering' 2013 Land Acquisition Bill which was formulated with the support of the then opposition including BJP.
"It took around two years to introduce Land Bill and NDA government murdered that bill in just few days," he said in the Lok Sabha.
He further said that the present government is in haste to pass the legislation which he described as anti-farmer.
"We said there must be social impact assessment, but they (NDA) don't feel any need of social impact assessment. Government is in a haste to pass this bill, so we asked your Finance Ministry, how many projects are pending due to non-availability of land," he said.
Rahul, while citing Finance Ministry data, said that only 8 out of 100 projects are pending due to land.
He also said that the Congress will not allow the government to pass this law at any cost and in case if it forcefully does this, the grand old party will took to street.
"If we can't stop you here (Parliament) we will stop you on the streets," he said.
"This government is anti-farmer. It wants to give land to corporates. We will not allow this suit-boot work," he added.
With no consensus in sight and the government facing a number crunch in the Rajya Sabha, the contentious Land Bill is all set to be referred to a joint committee of both Houses of Parliament.
Almost the entire Opposition is against the Land Bill that proposes changes in 2013 Land Bill.