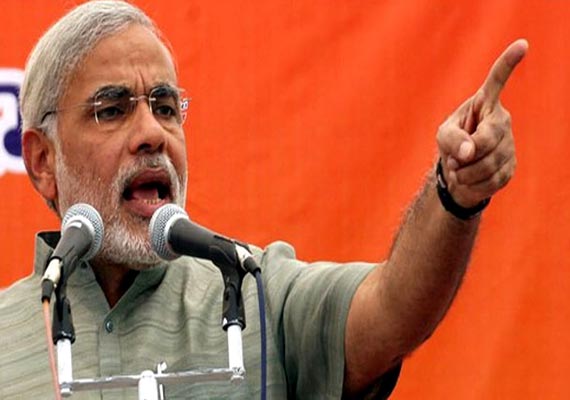 Ahmedabad, Jul 25: Attacking the UPA government for the economic slowdown, Gujarat Chief Minister Narendra Modi today alleged lack of leadership and policy paralysis are responsible for the state of the economy.
Speaking at an awards function here, he charged the  Manmohan Singh government is to be blamed for the middle class losing confidence in the stock market, lack of impetus to the manufacturing sector, Rupee woes, low savings, price rise and the huge current account deficit. 
The Gujarat Chief Minister said it is ironical that though the country has good coal reserves and there are power plants there is no electricity production. 
"The power plants are shut down as there is no leadership and there is policy paralysis. The farmers are not getting power," he said. 
He targeted Prime Minister Manmohan Singh for his comments last year that money does not grow on trees. "In Gujarat, we believe that money grows in the fields, in factories, that money is made by the sweat of labourers. What is needed is the right leadership," he said. 
Modi did not spare Finance Minister P Chidambaram either and countered his suggestion that people should not invest in gold. 
He alleged the stock market is no longer a safe investment option for the middle class and so it invests in gold.
"But with hardly any savings due to price rise, this section is now finding it difficult to even buy gold or invest in real estate anymore".