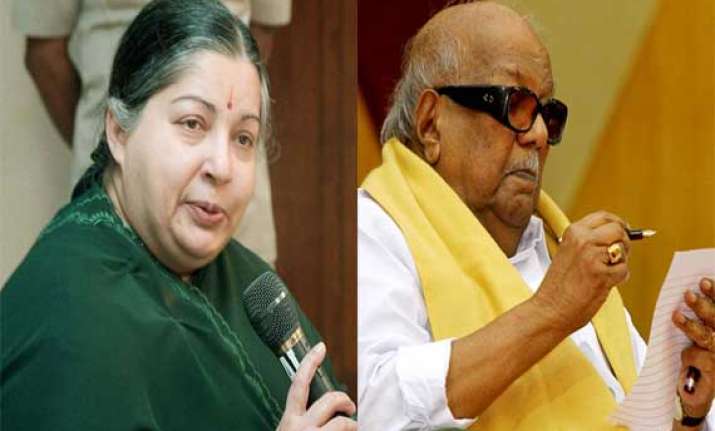 Chennai: In a rare convergence of views, arch rivals Tamil Nadu Chief Minister Jayalalithaa and DMK President Karunanidhi today welcomed the BJP-led NDA government's maiden budget.
Expectedly, BJP allies DMDK, MDMK and PMK in the state also welcomed the budget presented by Finance Minister Arun Jaitely while CPI (M) and Congress criticised it.
"It is a very responsible document which has placed fiscal prudence at the forefront and has a clear fiscal roadmap to contain the fiscal deficit," Jayalalithaa said in a statement here.
Expressing happiness that Jaitley's budget speech had recognised the importance of river linkage, she urged the Centre to have a detailed study done soon.'
She also welcomed a textile mega cluster and development of Ponneri as a smart city, both in Tamil Nadu. She also thanked the Prime Minister for the establishment of National Institute of Ageing at the Madras Medical College.
Karunanidhi expressed happiness that the Centre would set up markets for farmers to sell their produce, an announcement which followed a plea of DMK MP Kanimozhi in the Rajya Sabha.
"On the whole, this budget has more announcements that are welcome," Karunanidhi said referring to a slew of measures, including allocation of Rs.1,000 crore for developing irrigation facilities.
DMK, during its regime, had set up "Uzhavar Sandhai" (farmers' markets) across Tamil Nadu to enable ryots sell their produce directly to consumers.
Karunanidhi had also welcomed announcement of five new trains to Tamil Nadu and safety measures for passengers in NDA's railway budget but opposed the move to privatize maintenance operations and attract FDI in railways.'
DMDK President Vijayakanth said the budget had several measures for the farm sector, allocation for a study on river linkage and steps to prevent rise in prices of essential food commodities.
MDMK chief Vaiko praised the budget as "visionary" and "growth-oriented" adding "there are no new taxes that would impact the common man."
PMK founder leader Ramadoss welcomed the budget which gave priority to agriculture and extended useful tax benefits.
Tamil Nadu Congress Committee (TNCC) President B S Gnanadesikan said the budget was "disappointing" which had "ignored" Tamil Nadu.
CPI (M) State Secretary G Ramakrishnan said the budget had several "dangerous" facets and was "intensifying" Congress's "anti-people policies.