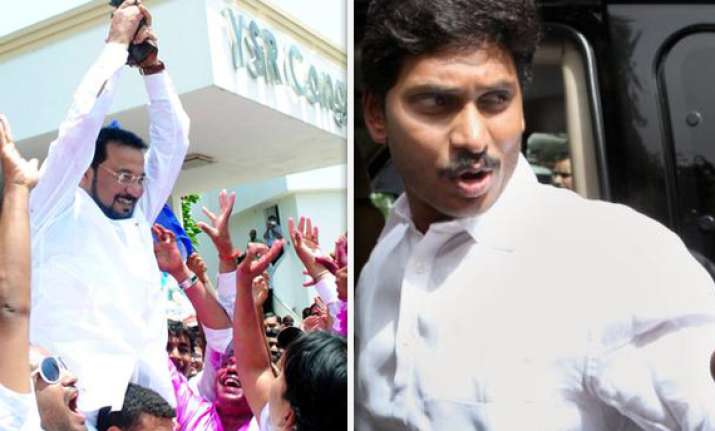 Hyderabad, Jun 15: The YSR Congress on Friday won 15 out of the 18 Assembly seats for which by-polls were held with the Congress retaining two seats while the Telangana Rashtra Samithi (TRS) won the Parkal seat by a narrow margin of 1562 votes.
The YSR Congress candidates won by wide margins in most of the assembly constituencies due to a sympathy wave triggered by Jaganmohan reddy's arrest by the CBI.
The Congress  managed to retain  Ramachandrapuram and Narsapur constituencies in the two Godavari districts while the Telugu Desam party led by N Chandrababu Naidu drew a blank.
In the prestigious Parkal byelection in Telangana region,  the Telangana Rashtra Samiti candidate managed to win by a wafer thin margin of 1562 votes after a neck-and-neck fight against YSR Congress candidate Konda Surekha.
Elsewhere,  YSR Congress candidate in Rayachoti G.Srikanth Reddy won by a record 56,890 votes, closely followed by A.Amarnatha Reddy (Rajampet) with 38,252 votes.  Shoba Nagi Reddy (Allagadda) trounced her nearest Congress rival by 36,796 votes.
In Rayadurg constituency, Kapu Ramachandra Reddy triumphed by 32,474 votes while his counterpart in Anantapur Urban constituency B.Gurunatha Reddy secured 24,701 majority.
Other winning candidates of the YSR Congress are: M.Sucharita (Prathipadu), Dharmana Krishnadas (Narsannapet), G.Babu Rao (Payakaraopet), Tellam Balaraju (Polavaram), Pinneli Ramakrishna Reddy (Macherla), Balineni Srinivasa Redy (Ongole), Mekapati Chandrasekhara Reddy (Udayagiri), K.Srinivasulu (Railway Kodur) and Y.Chennakesava Reddy (Yemmiganur).
The Congress candidates – Thota Trimurthulu (Ramachandrapuram) and Kothapalli Subbarayudu (Narsapur) won with comfortable margins over the YSR Congress candidates. In Tirupati, Bhumana Karunakar Reddy (YSR Congress) was leading by 8,251 votes over the Congress rival.
In Nellore Lok Sabha constituency, the YSR Congress candidate Mekapati Rajamohan Reddy  was heading towards a victory while establishing a massive laid over congress rival T. Subbarami Reddy.
These by-elections were caused by the disqualification of 16 MLA of the Congress and the resignation of actor Chiranjeevi after his election to the Rajya Sabha.
YSR Congress supremo Y Jaganmohan Reddy watched the election trends on Doordarshan from the chanchalguda Central Prison. His mother Vijayamma and sister Sharmila called on him in jail.
Sharmila described the results ast the `people's and God's verdict' and said the results showed that her brother Jagan was innocent.
YSR Congress cadres celebrated their party's good performance in the byelections by slogan-shouting and bursting of crackers outside their office on Road No. 45, Jubilee Hills.