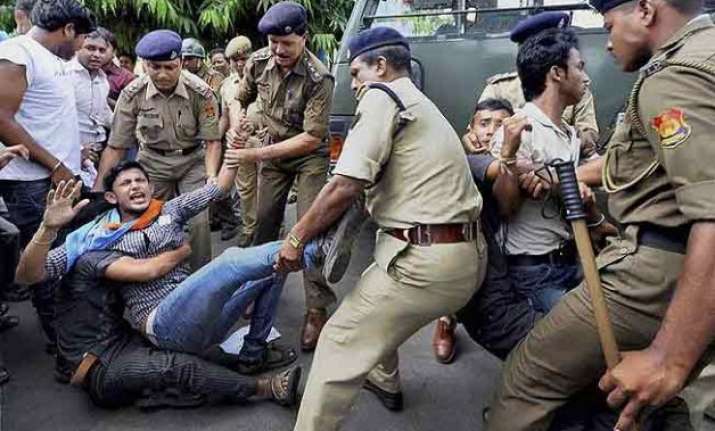 New Delhi: National Student Union of India (NSUI), Congress party's student body, today protested outside Human Resource Development Minister Smriti Irani's residence against the ban on student group in Indian Institute of Technology (IIT) Madras.
IIT Madras has banned a discussion forum of students after an anonymous complaint that the group tried to spread "hatred" against Prime Minister Narendra Modi.
The complaint, received by ministry of Human Resource Development (MHRD), alleged that Ambedkar Periyar Student Circle (APSC) was mobilizing SC/ST students to question government policies on the use of Hindi and the ban on cow slaughter.
The complainant had enclosed one of APSC's pamphlets reproducing a speech which criticised the Modi government and its policies.
The decision was taken after Prisca Mathew, under secretary to the Ministry of HRD, wrote to the IIT director on the issue.
In the letter, dated May 15, Prisca wrote, "I am directed to forward herewith a copy of anonymous letter alleging serious complaints received from students, IIT-Madras along with pamphlet issued by Ambedkar-Periyar study circle on the above mentioned subject and to request that comments of the institute may please be sent to this ministry at an early date."
Students said that they received a mail from the Dean of Students, Sivakumar M. Srinivasan on May 22, informing them that the APSC was being derecognised for "misuse of privileges."
Mr. Srinivasan, when contacted, said that the group did not follow the code of conduct for student bodies that clearly states that such activities should have the Dean's approval.
Members of APSC, however, pointed out that the decision by the IIT is undemocratic as they were denied a hearing. The group questioned how an anonymous letter by a right-wing group could represent the majority opinion of students of the prestigious institute.
A member of the APSC said: "We were not asked any explanation before this mail came. It was only later that we met the Dean, who asked us for an assurance that we will not involve in such activities again."
The members wrote a detailed response to the Director Dr. Bhaskar Ramamurthi on Thursday evening, "Our organisation is engaged in propagating Ambedkar and Periyar thoughts, in helping depressed castes and the caste Hindus to realise the evil of caste-based discrimination taking place in modern India and expose the ideology functioning behind such discrimination."
Created on April 14, 2014, APSC is a group of politically-inclined students from IIT-Madras who work to promote the ideology and writings of B R Ambedkar and Periyar.
The pamphlet that was forwarded by MHRD as the proof of group's activities was the copy of a speech by a Dravidian University academic R Vivekandanda Gopal on the "Contemporary relevance of Dr Ambedkar".
In the event organised by APSC on the campus, Gopal had criticised the Modi regime for "pro-corporate" policies such as the Land Acquisition Bill and insurance and labour reforms.