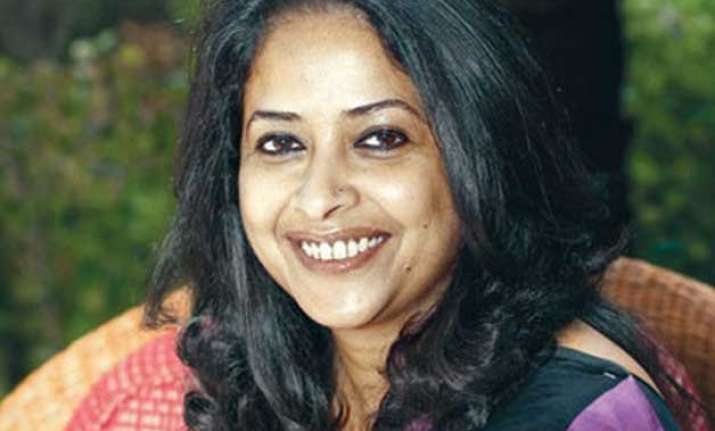 New Delhi: From the sublime world of the arts to the hurly burly of politics. Sharmistha Mukherjee, Congress candidate for the Greater Kailash assembly constituency here and President Pranab Mukherjee's daughter, is ready to tackle real-time problems of blocked drains, congested traffic and parking woes as she makes her debut in electoral politics.
Mukherjee, an accomplished Kathak dancer who has led dance troupes around the world, was named a candidate Thursday for the constituency by the Congress party. She is pitted against Aam Aadmi Party's (AAP) Saurabh Bhardwaj, a former Delhi minister, for the Feb 7 poll.
And contrary to popular perception, she does not stay in Rashtrapati Bhavan but in Greater Kailash-Part II.
"I am staying in GK-II since 1986. I face the same problems like others do, of blocked drains, parking space crunch, congested roads," Mukherjee told IANS in an interview at the local party office.
Though she is relatively new to the political arena, having joined the Congress formally last June, Mukherjee says she is not new to politics and has grown up with it - her father has been a veteran Congress leader and her brother, Abhijit Mukherjee, is a Congress MP.
Mukherjee, 49, does not feel her lack of political experience could be a hindrance to getting votes. "I am a fresh face. I have no baggage. In today's context that is an advantage."
Since she joined the Congress, Mukherjee says she has plunged wholeheartedly into meeting party workers, interacting with people as well as holding "sawaal-jawaab" (question-answer) sessions.
"I am already reaching out to people through sawaal-jawab sessions. Very often I attend three-four such sessions. These are small gatherings of 20-25 people," she said.
Mukherjee, who swears by the Congress ideology, feels that a candidate has a major role to play in influencing voters' choice.
"Candidates play a major role. People want to know if the candidate is genuine, his or her capability, and if the candidate has enough clout to get things done, and also accessibility.. Most voters I have found are not party to any strong ideology," she said, adding that she was aiming to influence such voters.
Being a Bengali, Mukherjee is hoping to attract the 20,000-odd Bengali voters in the constituency, mostly in Chittaranjan Park and also in Chirag Dilli and Kalkaji areas.
Mukherjee, who expresses confidence in pulling off a win, says she feels it won't be a triangular fight with the AAP and Bharatiya Janata Party (BJP) but only between the BJP and Congress. "AAP is not such a big factor here."
She also dismissed any "Modi wave" in her constituency.
If elected, Mukherjee plans to sit with the Resident Welfare Associations and concerned citizens to form a "team of experts" to deal with problems of parking, traffic bottlenecks, women's security, poor lighting, cleanliness, especially in slum clusters like Jagdamba Camp in Sheikh Sarai.
She feels the crowded roads could be well served by implementing the one-direction traffic flow, like in Kolkata.
Mukherjee, who has a personal security officer accompanying her always, has taken to social media in a big way to connect with her electorate.
"I have a team of young and enthusiastic volunteers who are looking after my social media page. My twitter account (@Sharmistha_GK) is an active handle," said Mukherjee, whose Facebook page is SharmisthaGK.