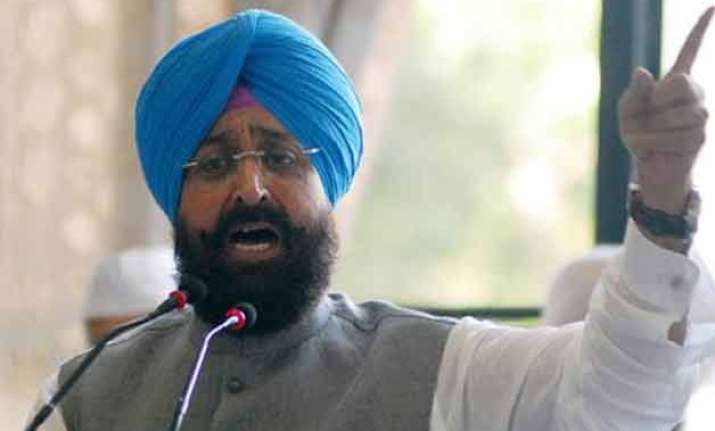 Chandigarh: Congress today sought imposition of President's Rule in Punjab and resignation of Chief Minister Parkash Singh Badal, owning moral responsibility for "complete breakdown of constitutional machinery" in the state witnessing tension over incidents of sacrilege. 
"We urge Pranab Mukherjee to immediately impose President's Rule in Punjab so that people of the state can get justice," Punjab Congress President Partap Singh Bajwa told reporters here. 
"Both Badal and Sukhbir have completely failed in their task of keeping peace in Punjab," Bajwa, who was flanked by five other party MLAs and MP Ravneet Singh Bittu, charged.
 
Demanding a probe by a sitting judge into the series of incidents of sacrilege, especially at Bargari village in Fardikot, Bajwa said, "If Badal and his deputy Sukhbir Badal are concerned about the state they both must tender their resignations immediately." 
Rejecting the judicial probe ordered by the Punjab government into the incidents of sacrilege, he said people of the state have lost faith in Badal, Sukhbir and state police. 
He alleged that the top Akali leadership had gone into "hiding" after the incidents as they could not face the people of the state. 
"Even SGPC chief Avtar Singh Makkar has gone into hiding at his residence in Ludhiana," he charged. 
Attributing the "volcanic eruption" in Punjab to "mal-administration", Bajwa said, "Enough is enough...Badals must leave now...all sections of society are unhappy with them." 
He charged that Badals have "politicised" the bureaucracy, especially police force and "broke down the entire chain of command" which led to "lawlessness" in the state. 
He said the situation in Punjab is similar to what happened in 1978 follwing which the state faced dark days and lost 30,000 lives. 
"Badal has allowed the situation to become tense in Punjab. The Akalis want to divert the attention of people from core issues concerning the state, including the farmers," he said.
Bajwa further charged that Badal had "weakened" Sikh institutions for personal gains. 
"Badal's rural base has eroded," he said, charging that the Chief Minister and state agencies were directly involved in what is happening currently in Punjab. 
Referring to deployment of central forces in Punjab, he said, "It is actually the re-reinforcement of Congress demand." 
Demanding strict punishment for those behind incidents of sacrilege, he, however, said that innocents should not be booked by police on frivolous charges. 
"Some political outfits and Sikh organisations" are trying to take Punjab back to the black days of terrorism, Bajwa, who has written an open letter to Badal seeking his resignation for "failure of constitutional machinery" in the state, said. 
Referring to the incident of disappearance of holy book from Bargari in Faridkot in June, Bajwa wondered why the police had started acting now.
 
20,000 industrial units are shut in the state and traders are facing the heat due to chain of protests in the festive season as protesters have seized Punjab, he said. 
He said the deployment of central forces in the state is a clear indication of collapse of the state machinery. 
"What is happening in Punjab is due to complete intelligence failure of the state agencies," he said. 
Urging people of the state to maintain peace in this hour of crisis, Bajwa said that he along with party MLAs will visit religious places, including Golden Temple from October 23 to 25 to pray for peace in the state.
 
Asked why former Chief Minister Amarinder Singh and CLP leader Sunil Jakhar had made similar demands separately, Bajwa said the party stands united for the sake of the state and its youth and every partyman is doing his work